I finally got around to experimenting with paper tassels and loved the results.
Usually, when you google 'how to make paper tassels' you get results with tutorials on how to make them with tissue paper. But my paper tassels are made with sturdy crafting cardstock.
Why?
I don't know.
It's just a different look and I love it!
I ended up using some of the tassels to redecorate one of the planters I had around the house.
What I love about these cardstock tassels is that they seem to be SO durable, which is something I didn't expect when I was making them.
I can almost see myself making Christmas themed tassels and hanging them on our tree (hhhmmm…I can already feel a new DIY brewing).
Check out the list of what you'll need below to end up with these sturdy, gorgeous paper tassels (they don't even look like they're made out of paper!)
Here is what you'll need:
[ingredients title="Supplies"]
Your favorite set of washi tape in about 5-8 colors
Your favorite indoor plant (succulents are also awesome for this)
Some planting soil if you feel you'll need extra
A pair of scissors
Three to four mini terra cotta planters (you can easily find some at the dollar store!)
A glue stick to add extra stickiness to the tape where it needs it
[/ingredients]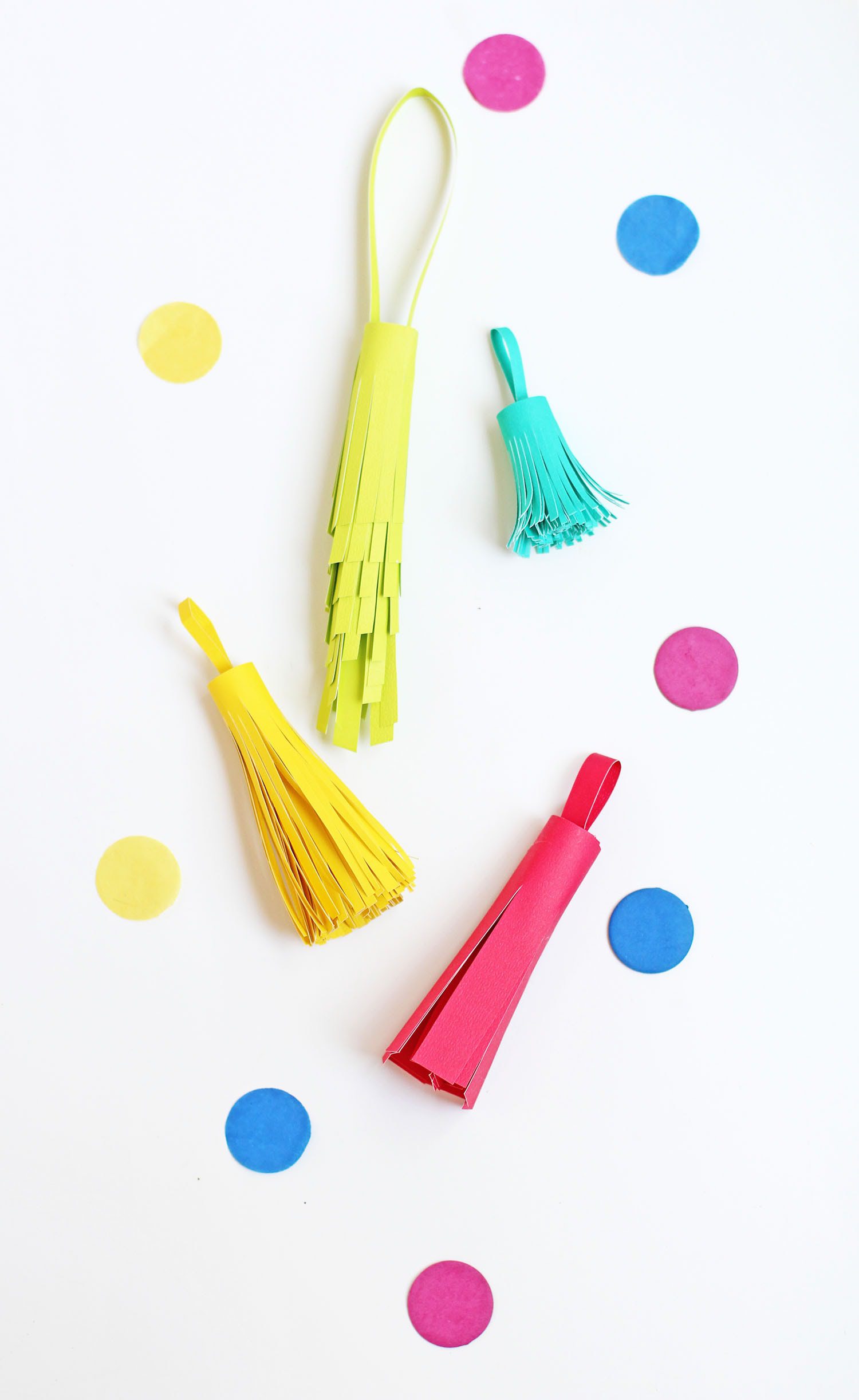 These are some of the easiest tassels you can make. And they'd look so pretty in some many different ways.  Here are some ideas:
Add them to a personal gift envelope
Make Christmas decor tassels for the tree or around the house
Use them to decorate the outside rim of an indoor planter
Add them as keychains for keys you only use sometimes
Create them as charms for your personal planner
Simply create a stack of them and string them together to decorate a room
Making them is simple. All it takes it some cutting and gluing!
[directions title="Directions"]
Decide how big or small you want your tassel to be (lengthwise) 2 inches can work great for a smaller tassel
Take your cardstock and measure a 2-inch wide strip then cut it out
Take your pair of scissors, and cut 1.5 inches diagonal lines into the strip close together without cutting through the strip the whole way (that way it stays together, these will be your tassels, refer to the image below)
Take your cardboard and cut out a thin strip in a length of your choice that you'll fold in half (this will be your tassel handle)
Once you have your whole strip cut through, it's time to start gluing your tassel together
Once your hot glue gun is warmed and ready to go, fold the thin strip (your handle) in half and add it to the beginning top corner of your fringed cardboard.
Now, while you add a bit of hot glue at a time to the whole put of the strip where you didn't cut, glue on your tassel handle, and start winding your fringed cardstock around it tightly, all while adding a bit of glue at a time.
Do this all the way until your strip is completely wound, and you've got yourself a paper tassel!
To add a bit of flair to your tassels, you can taper your piece of cardstock like the image below so it turns into a tiered tassel.
You can also vary the size of your fringe pieces so your paper tassel has chunkier strips (though I recommend sticking to thinner strips since paper isn't as flexible as other material.
And you're set!
[/directions]
Did you try the project at home? LMK below.
More DIY ideas on the blog
DIY Mini Bullet Journal Notebooks How To Make Sugar Scrubs
DIY Party Paperclip Flags For BUJOs And Notes
DIY Galaxy Bookmarks Fruit Bookmark With Free Printable Template How To Make 3D Paper Stars DIY Genius Bookmark Idea Where You Can Keep Track Of Your Reading List DIY Tiered Succulent Planter 5 Genius Washi Tape Ideas You Can DIY In 5 Minutes Free Printable Measuring Charts How To Make A DIY Printable Planner DIY Yarn Tassel Wall Hanging 19 DIY Unicorn party Ideas For Your Next Celebration!