If you're here, you might be wondering how to paint mason jars so they don't look so plain.
There are absolutely gorgeous mason jar ideas out there that can inspire you to make your next great mason jar craft project.
Mason jars are pretty useful for a ton of things, like meal prepping, canning (their original use), baby shower centerpieces, wedding decorations, organizing your office, keeping your toiletries in one place, or even a nice rustic vase for your favorite flowers.
With just a few materials, like glitter or chalk paint or even ribbon, you can come up with some pretty cute mason jar craft ideas!
We've rounded up 31 gorgeous painted mason jar crafts that you can use for your next party or to simply decorate your space.
Related: DIY Bath Bombs: How To Make Easy Bath Bombs That FIZZ
To paint some mason jars you're gonna need a few tools to get you started on the right foot. While these might not be all the materials you may need, they're the basics that you can build off as you go.
Some common mason jar painting questions
If you've never painted your own mason jars, you might have some initial questions. Especially ones about which paints are best to use. Here is a breakdown of the most common questions when it comes to painting mason jars.
What kind of paint will stick to glass?
Really, any basic paint will stick to glass. But if you want a paint job that will go on well and that will last you a very long time, in terms of spray paint, the best type to use is krylon spray paint. But acrylic or chalk paint can work as well.
How do you distress painted mason jars?
To distress your painted mason jars:
Paint your mason jars with your desired color with a painting sponge
Let dry completely
Take some sand paper and lightly sand paper your jar until you get the desired 'distressed' effect
Voila! You've got a beautifully distressed jar like the ones you see on Pinterest
How do you paint glass jars with acrylic paint?
To paint mason jars with acrylic paint, make sure they're wiped down with rubbing alcohol, and then for best results use a painting sponge so your color goes on smooth. If you don't mind the paint finish being a little messy, then you can use a regular paint brush with your acrylic paint. 
Let's dig in! Here is a list of starter supplies perfect for mason jar crafts that will be useful if you try any of these DIY projects:
Related: 29 Easy Canvas Painting Ideas You Can DIY At Home
Pastel chalk paint
Folk Art
Chalk Paint is awesome for mason jar painting because of the pretty effects you can create with this particular type of matte paint. It's also great for repainting furniture, so you can always be sure that, if you're crafty, you'll definitely be using it for more than one thing.
Gold spray paint
Krylon Gold Spray Paint will be useful for your gilded and distressed mason jar creations and a must if you want to create some elegant jars (especially for the holidays). You can pick up a quick can for a couple of bucks.
Set of mason jars
 And of course you can't forget your good old set of mason jars to make sure you've got something to paint in the first place. Grab a whole set of 16 oz mason jars and just have fun with it.
How to paint mason jars: 31 gorgeous ideas
Via Teal Notes
One of the easiest ways to create some kickass painted mason jars is to use some chalk paint and sandpaper for a distressed look. Head to the post to get full step-by-step directions on how to get the 'distressed' look.

Chalk paint is a great way to decorate a plain mason jar, especially if you color coordinate them with the theme that you're going for. I love this combination of monochromatic colors from It All Started With Paint.
Via Creek Line House
Here's a cool way to paint your mason jars: Paint their insides for a different and smoother effect. There are tons of possibilities with what you can do once you get to painting.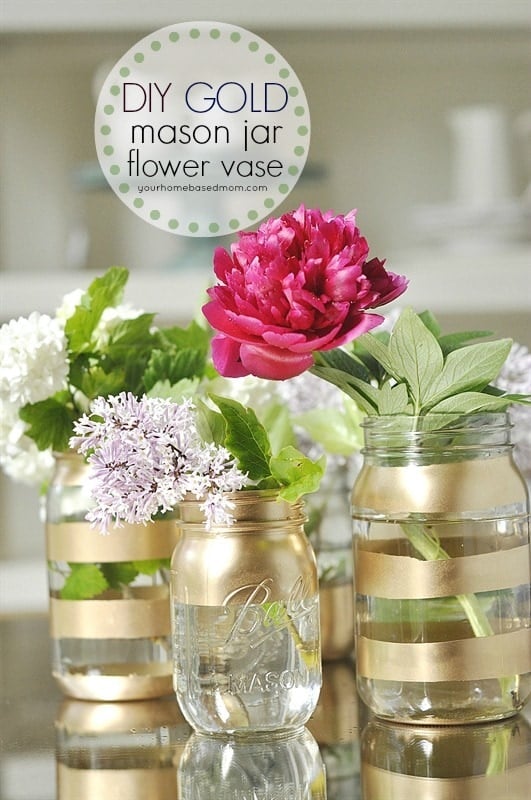 Gold on mason jars just seems to work so well for some reason. Add some stripes to that and you've pretty much got yourself a winning combo. I love that you can peep through and see your flower stems through the unpainted areas. Total mason jar genius.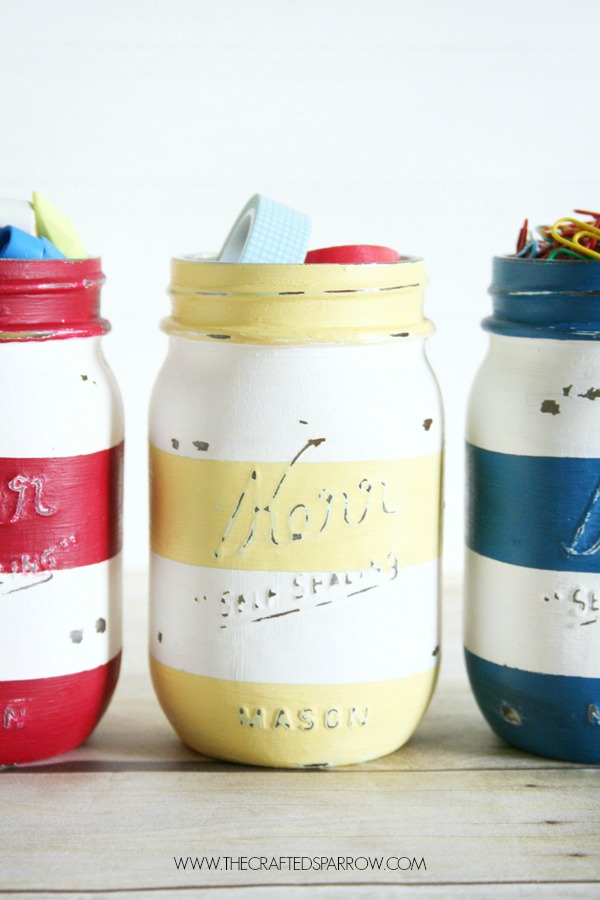 Going off the stripe theme, here's another way to beautify your jars, create a white paint base for them, and then use a nice bright color to stripe them. You can make your stripes as thick or as thin as you want. I often find I like the look of thick stripes the best.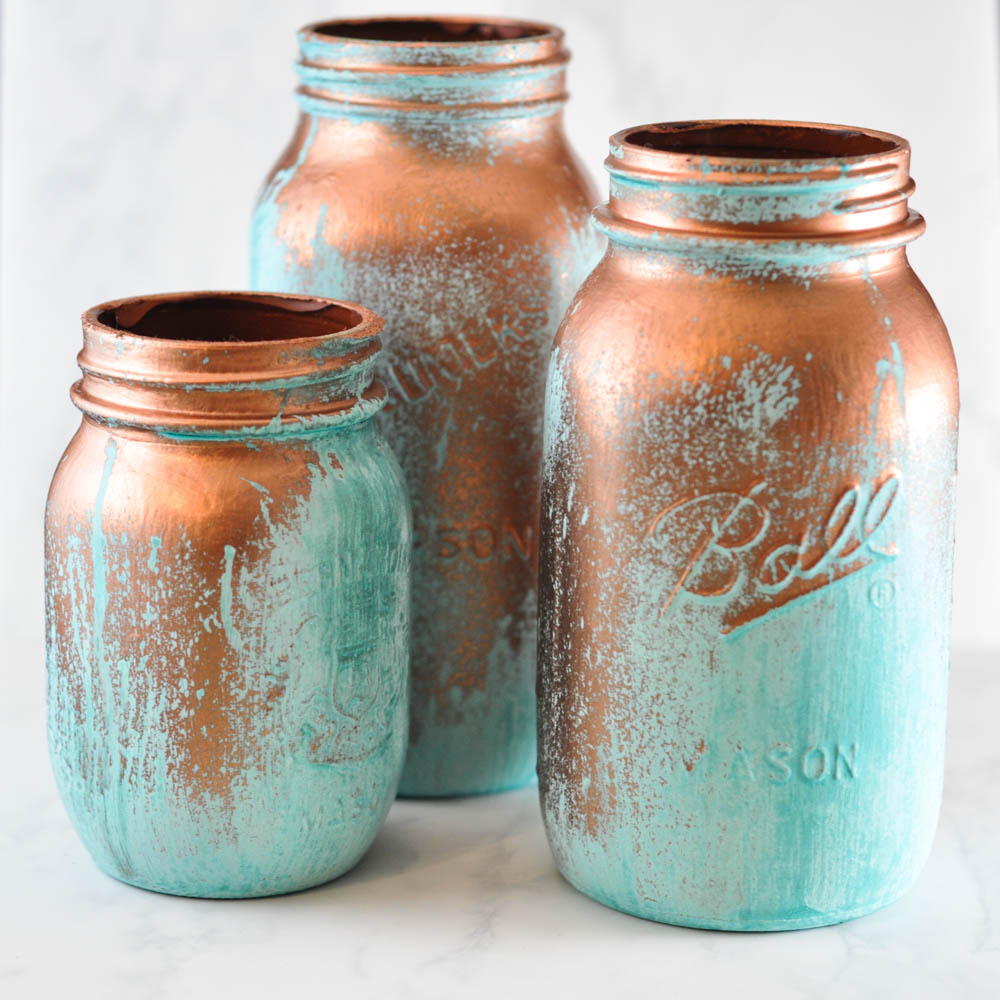 Via Suburble
As I'm sure you can tell, teal is a pretty predominant color on this lifestyle site, and for good reason. It is simply a universally flattering color and when paired with some distressing techniques and a gold undertone, you can come up with these mason jar beauties. Make sure you check out Suburble for the complete set of directions!
Watercolors don't just have to be on paper. You can watercolor your favorite set of mason jars too! You can combine more than one color on each jar or even freely splatter your favorite colors on them once you paint it white. It makes for a great mason jar craft that you can share with your kids.
Related: How To Paint Mason Jars With Chalk Paint
Via Kastyles
These semi distressed pink mason jars are awesome and make for a great valentine's day gift. You can always add extra little details to personalize it and make it your own like small heart patterns for example.
These striped glitter jars are the absolute prettiest and can be fitting for a ton of different occasions, like Valentine's Day, Easter, Christmas, or even birthday parties. They can definitely make cute party favors if you fill them with your favorite candies.
Via Home Sweet Eats
Try adding some glitter to the rim of your jars. You can take it a step further and add that glitter to the items IN your mason jar to color coordinate it.
via Kastyles
These mason jars are at the top of my favorite mason jar painted looks. The rose gold ombre color is absolutely stunning. You can definitely pair it with some white peonies and you've got yourself a winning combo.
Via Emmaline Bride
now THESE…these painted mason jars are some that I'd like to keep forever. Especially if they're wedding favors! They are downright absolutely stunning and look super fun to make.
Get creative and pair gold with glitter. It's definitely a more in-your-face mason jar design but if it's your style then definitely give it a go.
Via Fun 365
Aren't these fruit jars just gorgeous? I LOVE the vivid color scheme that all complements each other and I love the fruit detail on top of the jars. Learn how to make this cute mason jar craft at Fun 365.
If you want to create some futuristic looking mason jars look no further than these painted beauties. I'm pretty sure they were designed with metallic spray paint and you can make them in a matter of minutes.
Now, these mason jars aren't exactly painted. They're made with ribbon on the inside. It's pretty neat, figuratively and literally, if you don't want to get messy with paints.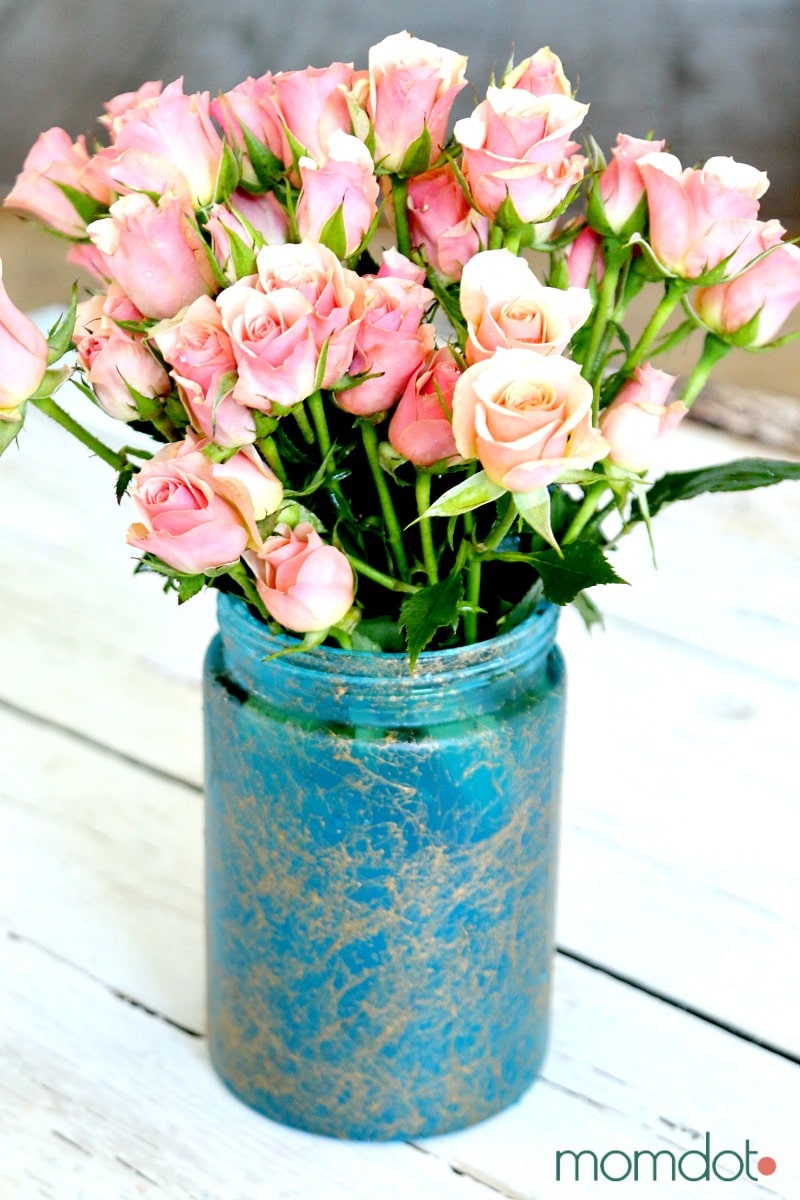 Via Mom Dot
These cute jars add a twist to a one color mason jar and adds these almost Pollock like metallic splatters to a blue base. You can marbolize the jars to your liking with a few of your favorite colors. Head on over to the full instructions by the artist at Mom Dot.
Your classic black and white stripes can make it on your mason jars too for a stunning look. I feel like this mason jar would go great with a black on black decor color scheme or even with beach inspired home decor.
Via Blog.Ooly
Kawaii mason jars are super cute and don't require too much artistic ability to end up with some downright adorable jars. I love this idea for keeping your office supplies. Especially if you love color and don't take your decor too seriously.
Here's an easter egg inspired mason jar craft idea you'll love making. Wrapping the twill on the lip of the jar just brings it all together and makes for a beautiful mason jar creation.
Via Color Made Happy
If you mix kawaii mason jars with some fruity mason jars you'll get this fusion: a totally adorable and creative set to organize whatever you can fit in them.
Via Tory Jane
Forget about the mason jar itself, how about the lids? Add some decor to your lids without touching the actual jar for a nice touch of personality! In this case, they stuck and painted their favorite animal figurine to each lid. Awesome!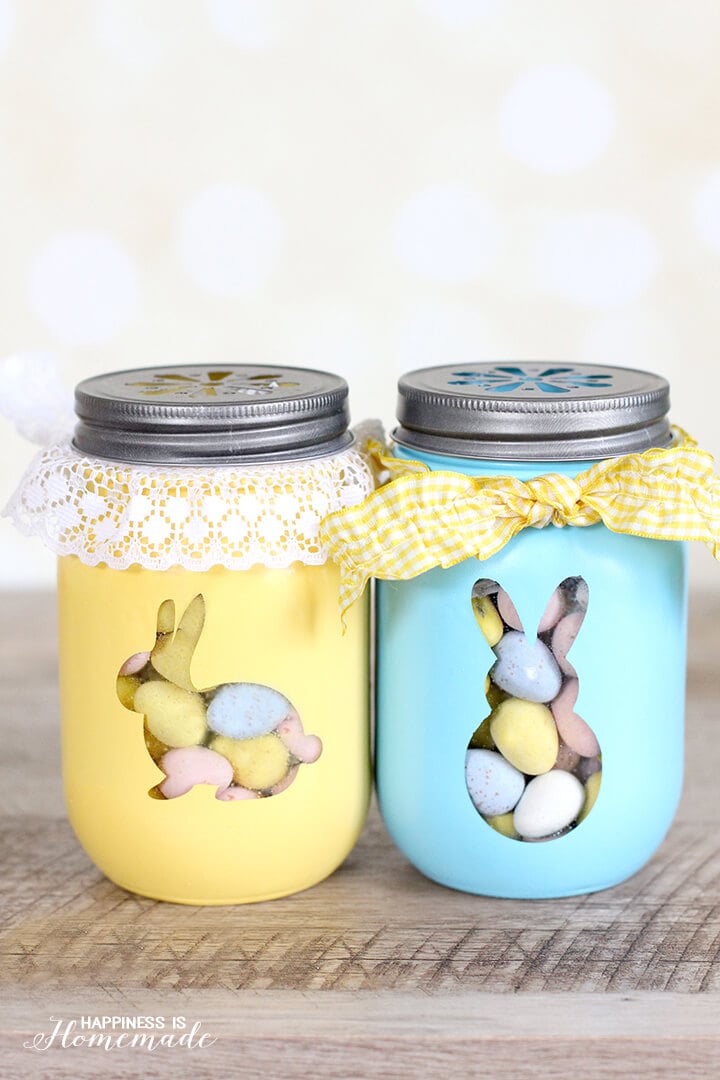 Use some bunny cutouts to paint the space AROUND it for some awesome peep through mason jars that you can fill with candy. For easter, make sure you stick to a more pastel color scheme for some beautiful creations that go with the season.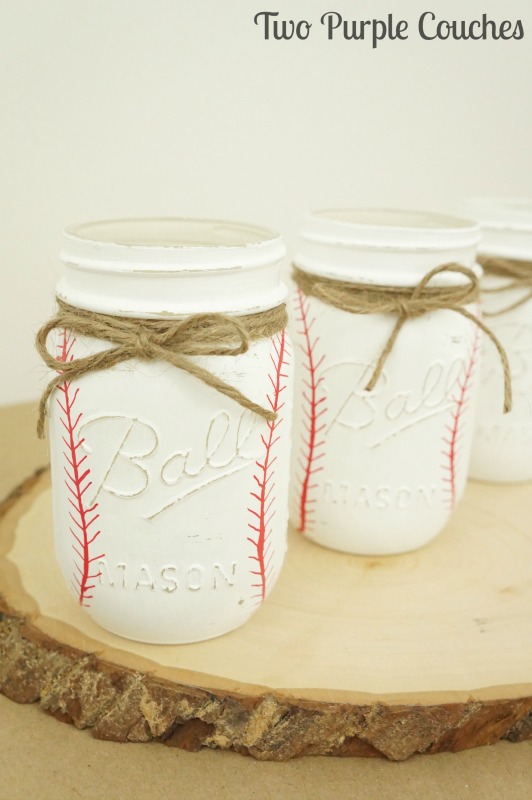 If you love baseball these are the mason jars for you. I can totally see these jars becoming a piggy bank once you open a small slot in the lid. A great gift idea for someone that loves sports.
Via Pro Flowers
This stunning candy cane mason jar idea is THE perfect centerpiece for your holiday celebrations.It's so pretty its kind of hard to stop staring at it…I could so print out the picture and frame it its so darn pretty. Head on over to Pro Flowers to learn how to make this mason jar craft idea.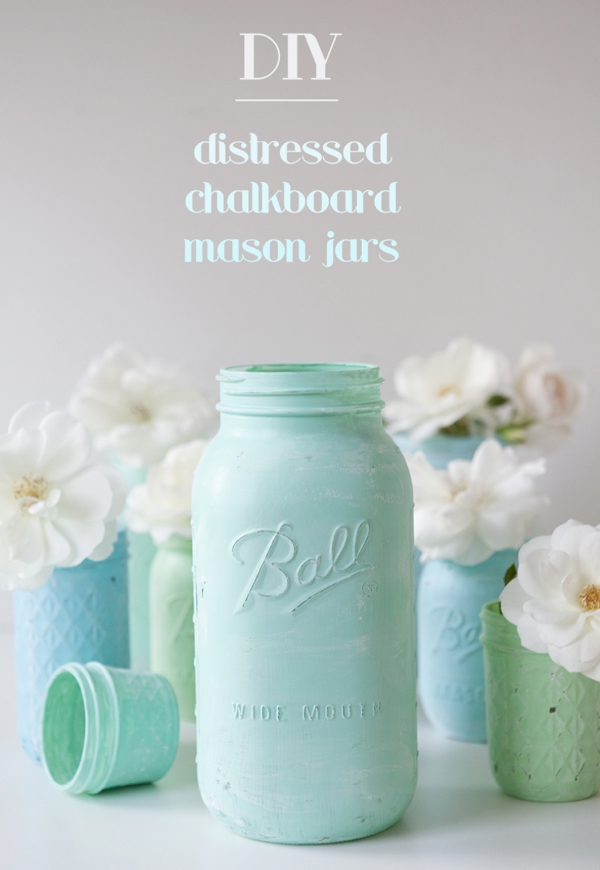 Here's another beautiful example of distressed chalk mason jars. The different hues of blue is what makes this mason jar set come together. An absolutely gorgeous idea by Something Turquoise.
Via Gros Grain Fab
Have you ever thought of decorating your jars with some henna art? Your results can be as stunning as this jar. The contrast in the brownish red and the blue jar makes for an interesting mason jar creation.
Let's not forget about our classic polka dots! Use all kinds of color polka dots on your mason jars to give them a cute twist. This paint idea can be particularly cute for a baby shower.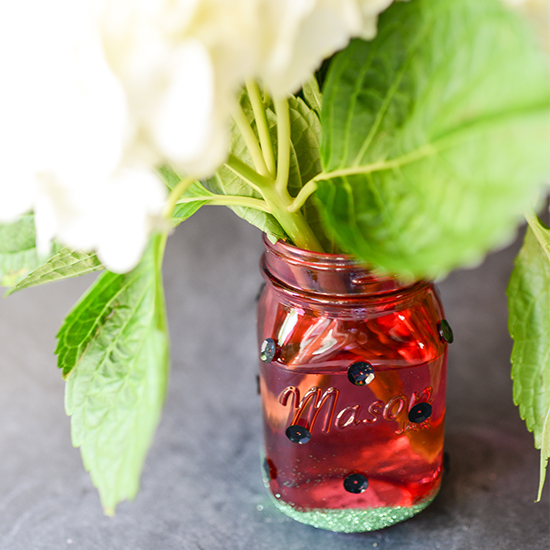 Try creating a watermelon themed mason jar for the summer! It can be a great summer activity for kids and there's no telling what you can use it for.
This mason jar paint idea makes it right up there with one of my favorites. I love the chalk paint look for the bottom half of the tall jars, and the succulents look just perfect inside each jar. I super great mason jar idea for sure.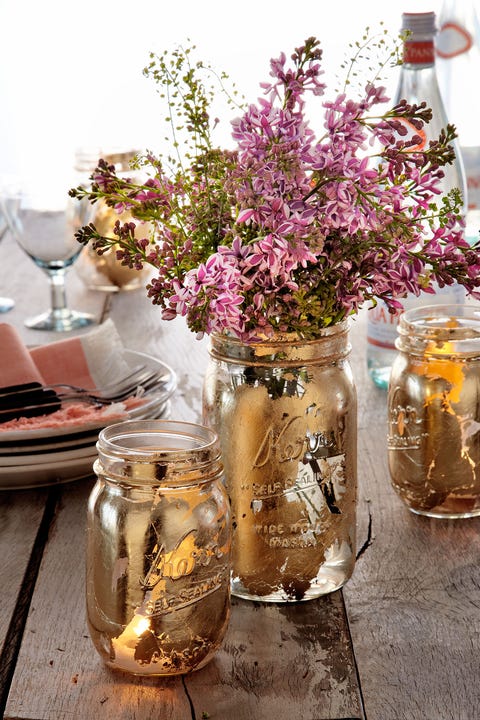 Via Country Living
Mason jars can be made to look extra upscale too. You only need some gold paint and a few extra materials to get the gilded look. Then just compliment it with your favorite flowers…like violets or peonies.
Mason jars are easy to create
Now that you've seen plenty of glorious mason jar craft ideas, its time to get crafty (and possibly a little messy). You can get mason jars in bulk for pretty cheap off Amazon or even if you go looking through your local second hand store. The paints are pretty easy to come by as well and shouldn't cost you too much.
Happy crafting! 🙂