Do you love washi tape ideas?
I do! There's no telling what you can create and decorate with the tons of different washi tape colors and patterns.
You can decorate pretty much anything, from kitchen utensils, to your walls, or even your clipboards.
For the most part I use my washi tape in my bullet journals, but occassionally I'll use it to decorate something that seems bland or could use a pop of a few colors.
That's one of the great things about washi tape. It's not hard to remove at all, it comes in all the colors you can imagine, and it's easy to use (and not too sticky and messy).
Related: 9 Washi Tape Ideas You Can DIY In 5 Minutes
Consider this your washi tape ideas scrapbook.
Here are a few more ideas to inspire you to start crafting and experimenting with your own washi tape ideas!
Washi tape kitchen utensils
Via Honey We're Home
These kitchen utensils look so pretty with the matching washi tape colors on the handles. You can definitely get creative with how you criss cross and combine each piece of tape.
Washi tape notebook covers
Via Lia Griffit
You can decorate the boring covers of your notebooks with patterned washi tape. It might take some time, but the results can be gorgeous. Check out the full idea on Lia Griffit! It makes a great washi tape idea for school.
Washi tape party decorations
Once I saw these party decorations made with pure washi tape while finding washi tape ideas on Pinterest, I knew I had to feature it! It is just so pretty how these party jugs came out and how the flags on the straws all match too. Check out Con Botas De Agua for more ideas.
Washi tape magazine organizer
This is a simple yet genius way to use any washi tape that you have just lying around, use a cereal box and redecorate it to put all your papers and magazines in. Especially helpful if you have a home work area that could use some organization. 
Washi tape letter print
Via Living Locurto
We all know about the letter print craft. But it takes on a whole new life when instead of using paint or a printing method you simply use some washi tape to spruce it up. Genius!
Washi tape wall mirror
Via A Beautiful Mess
This beautiful wall mirror idea isn't one you see everyday. You can decorate just about any mirror, from your bathroom to your hall mirror to the mirror in your bedroom. The good things is that you can get creative and discard the tape later if you don't like the look after all.
Washi tape gift paper pattern
Via Poppy Talk
Don't have any gift paper for that upcoming birthday party? Just make your own with some washi tape! It can be a great way to create unique wrapping paper and create a truly personalized gift they won't get anywhere else. 
Washi tape faux feathers
Via Stampington
Who knew you could make pretty washi tape feathers and use them as gift toppings. It definitely beats using the traditional bow especially when you wan to go for wrapping that's a bit more creative and personalized. 
Washi tape cupcake toppers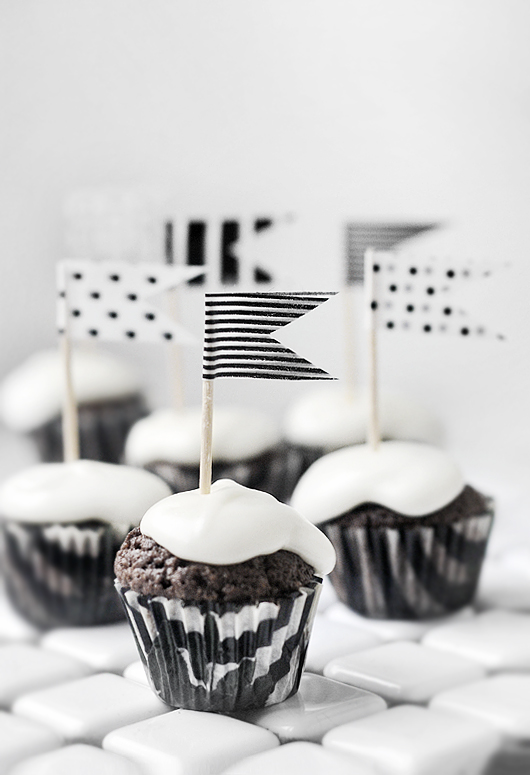 Via Trendenser
if you didn't think cupcakes could get any better then now you know. All you have to do is add a washi tape topping to it for an extra creative look.
Washi tape card decor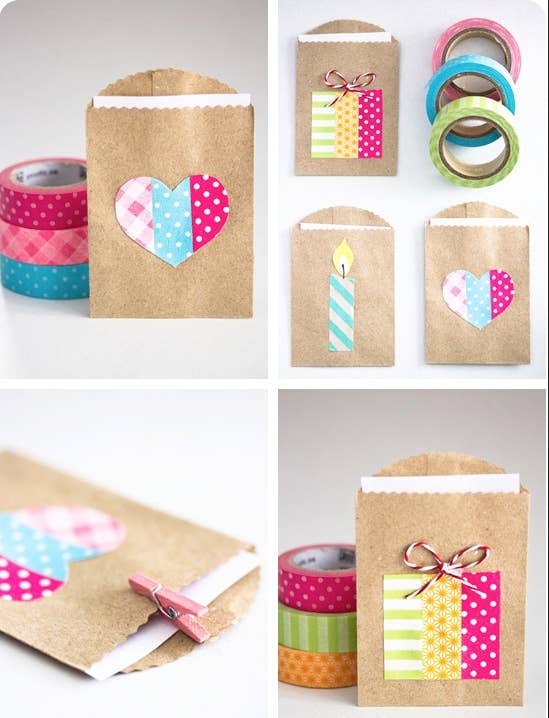 One of the best kept washi tape secrets is that you can make tons of card decor and packaging with it for all kinds of occasions. It can be as simple as creating a heart washi tape for the cover. 
Washi tape garland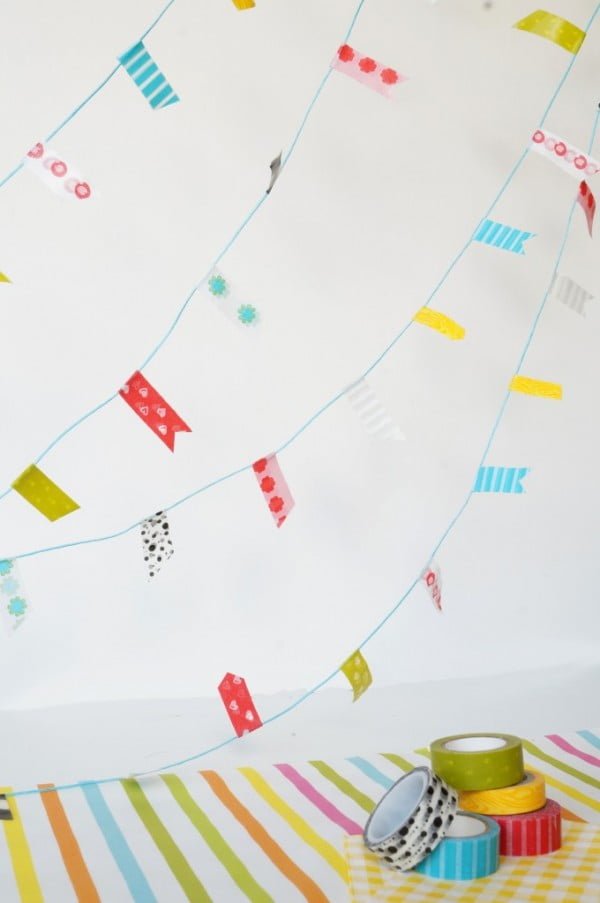 Wall garlands are always a great idea for just about any party. One of the easiest and best ways to make them is with washi tape. For this project though, you want to make sure you use a thicker washi tape so it's easier to create. Get the full run down on Maggie Overby Studios.
Washi tape utensils
You can also decorate your spoons and forks with washi tape in under five minutes. Perfect for a kid's birthday party! 
Washi tape pallet coasters
Coasters! You've gotta love a good set of coasters for the summer. You can easily recreate these DIY washi tape coasters right at home for a fraction of the price of buying them. 
Easter washi tape wreath
Ever thought about creating a washi tape wreath? This easter idea does uses washi tape in a genius way. Get the full tutorial on Tater Tots And Jello. If you're looking for washi tape craft ideas for adults this is definitely a good place to start, since it's a little more complicated. 
Framed washi tape letters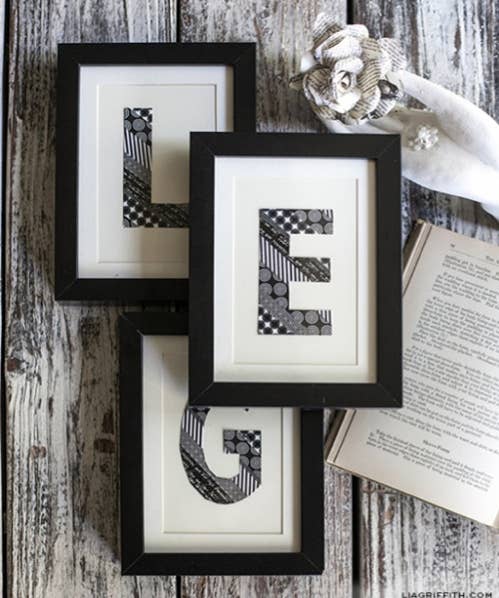 Via Kollabora
These washi tape letters can go with just about any decor especially because of their black and white themes. They're easy to make and pretty enough to keep for a long time. See more on Kollabora. 
DIY washi tape vase
Via Four Generations One Roof
Take a boring washi tape vase and decorate it however you want with some simple washi tape. Don't forget to match it with the flowers for a more uniform look.
Washi tape wall decor
Via Anne Kelle
Washi tape wall decor takes your wall to a whole other level with color and creativity. Something as simple as colorful stripes can add the touch of color that your room needs. And all you need is washi tape and a ruler to get started. Get the full directions on Anne Kelle!
Washi tape clothes pins
Via Make Life Lovely
Washi tape clothes pins are a cute little project you can work on that can take you less than 10 minutes to put together either for your home or for a kid's activity. 
DIY washi tape lamp shade idea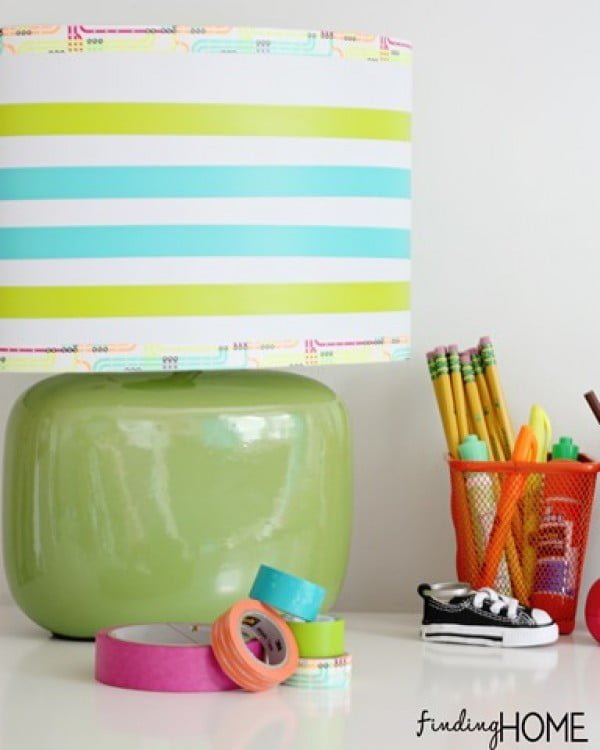 Via Finding Home
Spruce up a boring lamp shade with some washi tape for a brighter work space. It doesn't have to just be striped. You can create polkadots, stars, or even exe's on your lamp shade. With a bit of imagination you can come up with awesome washi tape ideas. 
Related: DIY Washi Tape Pencil Holder