Hearing FREE printables is like someone saying FREE candy.
Eye candy, that is.
Some of them are so pretty you can barely bring yourself to write on them. I mean just look at some of them! (or all of them).
This is a compilation of all types of organization printables that you might need.
Everything from framable quotes and watercolor images, to meal planners, budgeting, to even 'organize your taxes' printables (who knew).
Related: How To Start A Bullet Journal For Beginners
Make sure you take a peek at each organization printable to find which one you like best and which one fits your style better.
Remember, if you want some of your own resources to make pretty things yourself, you can always grab some gorgeous FREE fonts and templates.
I mean, who doesn't love anything printables? AmIRight?
---
Don't Know Where To Start? 
I recently published a set of organizational printables to keep you organized beautifully! If a bullet journal seems hard to start on your own, then this printable kit was created with you in mind.
The Bullet Journal Starter Kit is almost like a pre-made bullet journal. Perfect if you think you aren't that artistic or don't want to spend a lot of time drawing monthly or weekly layouts. 
It's a steal of 80 BEAUTIFUL pages to help keep your life on track.
---
53+ Of The Most Beautiful FREE Life Organization Printables To Organize Your Whole Life
Free Budgeting Printables
Printable Source: Teal Notes
You can't go wrong with a free budgeting planer. Especially when that budget planner comes with a ton of other pages to help you organize the rest of the things in you life (like a printable calendar). They would go great in a home management binder.
Printable Source: Clean And Scentsible
If you like printables with lots of categories for all your expenses then this printable blue and red set is a great option. I love that it has a separate income and expenses category so nothing gets confusing.
Printable Source: Printable Crush
If you like bright and colorful printables then Printable Crush has designed some BEAUTIFUL business budget printables that you can download instantly. 
Printable Source: Home Printables
Home printables has an awesome watercolor budget planner that can help you get your finances organized once and for all. Whenever a budget planner is well designed and pretty, its a win-win if you're trying to get your money in order!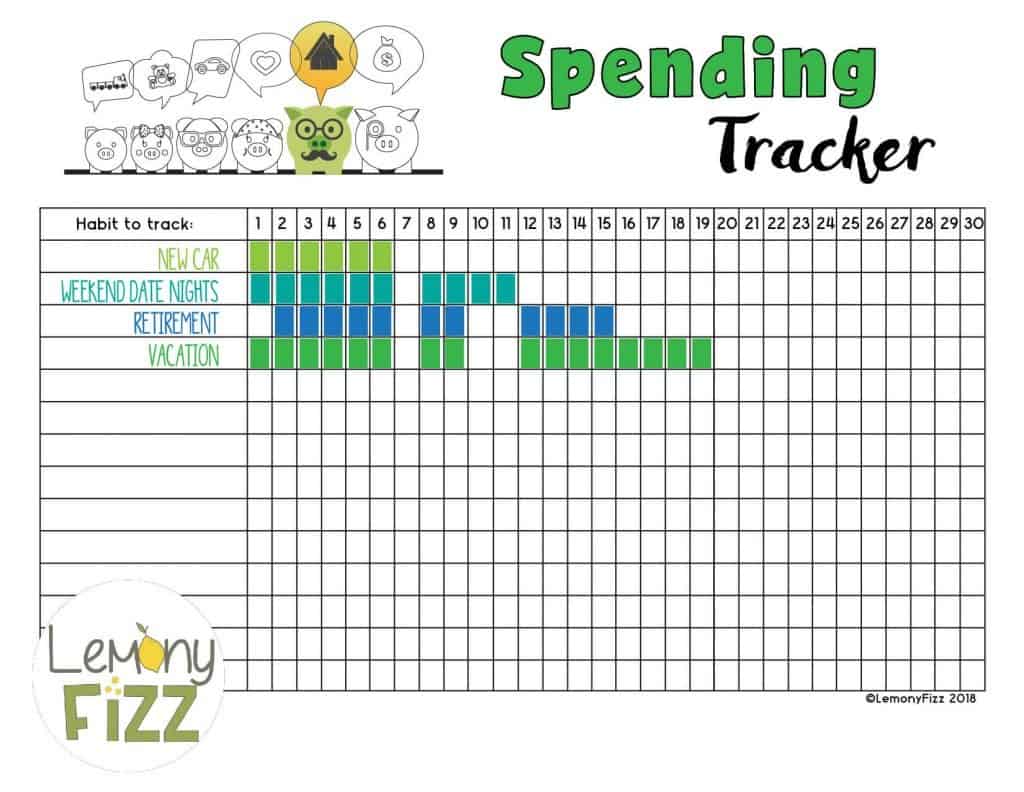 Printable Source: Lemony Fizz
Printing out a spending tracker is a genius way to make sure you aren't spending more than you're making. It can be a great reminder of how much you're spending and how much you get to save. All you have to do is head over to Lemony Fizz to print it out and use it everytime you spend on something!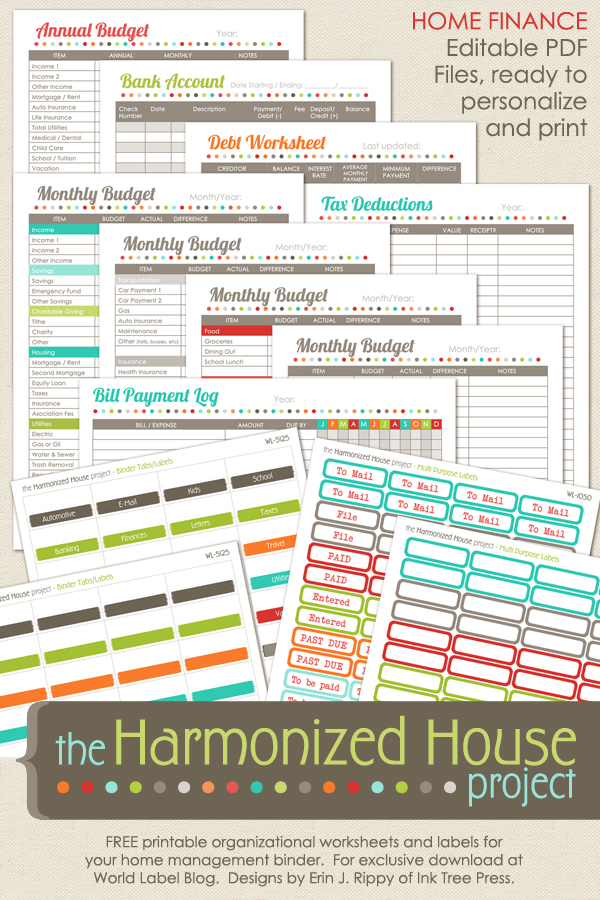 Printable Source: Blog.WorldLabel
If you want a hard core printable budget that spans a great portion of all your finances, including a debt worksheet and a bank account tracker then this is a printable budget worth checking out. 
Printable Source: Printable Crush
Printable Crush always makes some pretty awesome budget sheets that you can print out and start using in no time. What makes them stand out and POP are all the bright colors it uses without being too much!
Printable Source: I Should Be Mopping The Floor
If you want a pretty budget worksheet in three designs then this is one worth printing and using. The triangle border makes it hard to miss and it makes you want to actually use it.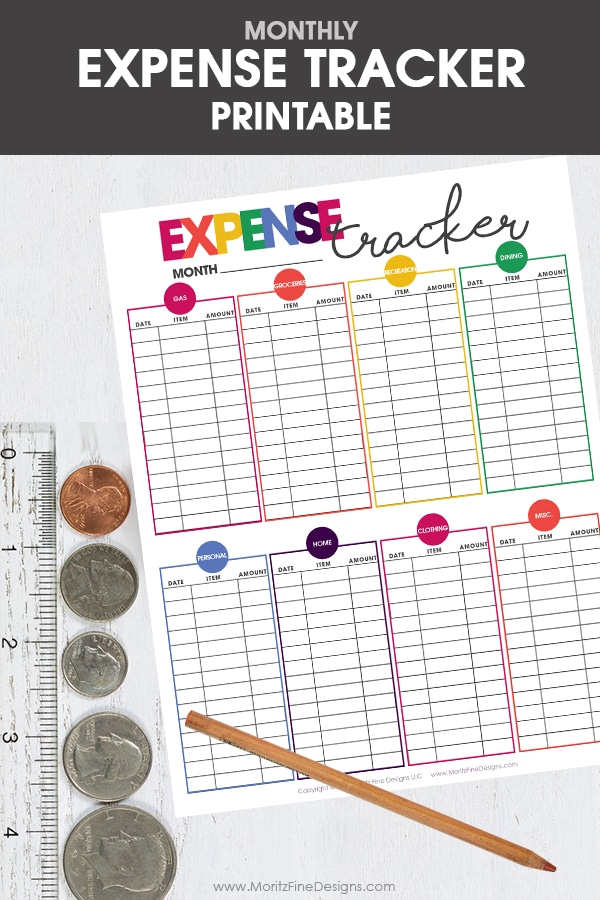 Printable Source: Moritz Fine Designs
We all know that an essential part of using a budget is keeping track of your expenses. So if you want a colorful expense tracker thats broken down into categories this printable expense tracker is a good place to start.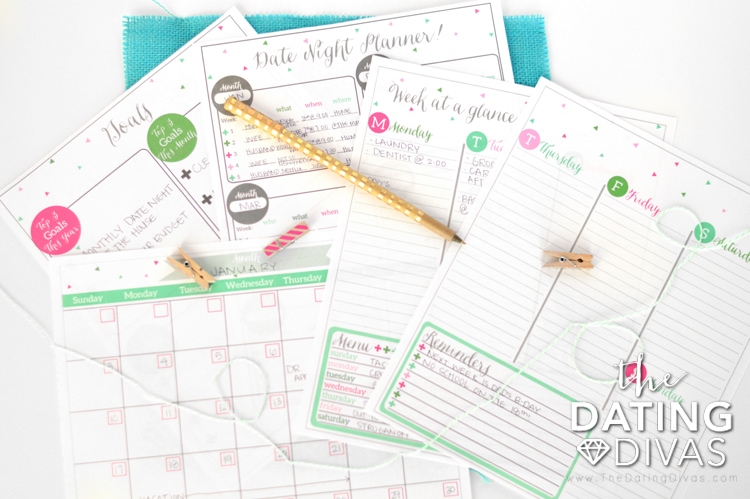 Printable Source: The Dating Divas
The Dating Divas always have an awesome selection of free printables and this one is no different. it's perfect if you're trying to get and stay organized.
Free Meal Planner Printables
Printable Source: Teal Notes
If you're looking for a one page free meal planner then this one's for you! It's simple to use, not too cluttered, and can help you make sure you have your dinner plans ready for the upcoming week. 
Printable Source: Teal Notes
If you're into meal prep Sundays then this three page printable meal prep planner is perfect for your meal planning goals. It helps make sure you're always on track with what you need for the week!
Printable Source: Crystal and Comp
Now, if you love pastel colors and like to print something out that you can stick in your planner or put up on your fridge here's a cute meal planner you can download and print. 
Printable Source: Where The Smiles Have Been
This meal planner printable is genius because you can print it out, laminate it, and then write your meal plans down with an erasable marker. This way you can use the same meal planner printable again and again!
Via Teal Notes
Here's a one page meal planner you might find handy, especially if you like pink (I know I do!). It has a slot for every meal for the day, including breakfast, lunch, dinner, and snacks and makes it so that you can create a shopping list by each day so its less confusing.
Printable Source: Dear Crissy 
if you want a meal planner complete with a baking conversions chart then look no further than this one by Dear Crissy. It helps you make sure you're keeping track of just about anything in your kitchen and doesn't let you miss a single thing!
Printable Source: Jasper And Willow
Jasper and Willow has a beautiful set of meal planners that you can easily download and use. It even brings a completely separate grocery list page broken up into categories so you're as organized as you can be!
Printable Source: Printable Crush
You can create your monthly meal plan with this meal planner printable by Printable Crush. The color combinations never cease to amaze me and it makes them super fun to print out and use.
Printable Source: Family Growth Life
What makes a printable meal planner even better? When it includes a healthy eating plan right along with it! This meal planner comes with everything you need to make sure you make your healthy eating week a success and help you stick with the habit. Get it over at Family Growth Plan.
Free Travel Printables
Hairs Out Of Place has a bunch of beautiful printables that you can find in their printable vault. You can find anything from budgeting, savings bingo, to even travel planners.
Calendar Printables
Printable Source:
Teal Notes
A printable calendar can be a great way to stray on track with goals and time management. There are lots of ways to keep track of your to-do list. And a printable 12 page calendar is a great way to do that!
Organizing Printables

Printable Source: Diary Of A Journal Planner
If you're in for an organization overhaul. This checklist is great to make sure you aren't overlooking anything. It also makes sure that you stay on track with each of the items separated by category.
Printable Source: Easy Organized Home
It's always a good idea to keep a spring cleaning checklist to make sure there isn't a single corner in your house that goes without cleaning. Its a simple yet effective way to motivate you to start your cleaning plans!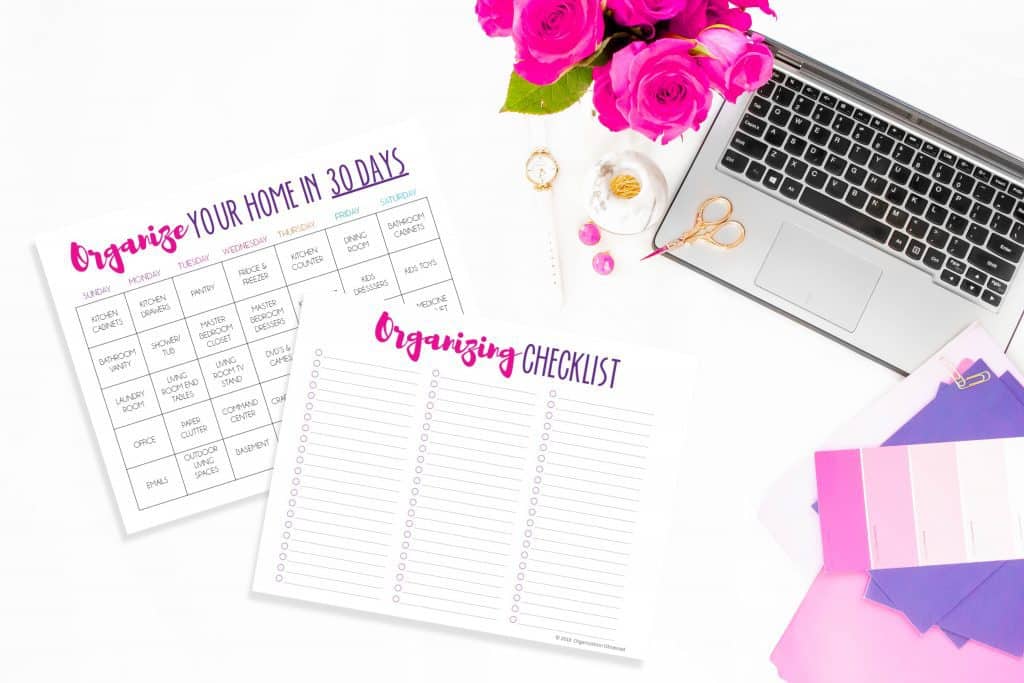 Printable Source: Organization Obsessed
Organization Obsessed has TONS of organizing printables that can help make sure you keep your household in check. This Organize Your Home In 30 days printable makes sure to help you get started tidying up! 
Printable Source: My Tuesday Therapy
Are you planning a baby shower soon? Make sure you stay organized and keep it tidy with this gorgeous baby shower planner! You can keep it together in a binder for a stress free party!
Free Weekly Planner Printables
Printable Source: Whim Magazine
Whim Magazine has some amazing printable planners and calendars that you can print out and bind or hole punch to put them in a binder. If you like floral accents and lots of colors that remind you of spring, then these are the printables for you.
Printable Source: Teal Notes
Not too long ago I created this desk pad organizer that I use every time I need to take a quick glance at my overall week. It's printable and undated which means you can print it out over and over and even print out a couple at once to make a sort of weekly planner booklet you can keep at your desk. 
Printable Source: Mom Beach
If you want a massive planner to organize your life for the rest of the year and beyond, Mom Beach has a HUGE printable planner with more than 160 pages to make sure you don't miss organizing anything.
Printable Source: Design By 9
If you love florals and want a straight forward planner then this planner can be just the one to help get and stay organized. It even breaks your day down by the hour.
Printable Source: Shining Mom
Sometimes all you need is a single page printable that'll get the job done and help you organize a quick to-do list whenever you need it. 
Printable Source: Lovilee
Going off the one page planning this is another beautiful floral page that you can use to make sure your day is as organized as it can be. You can definitely print out more than once copy for each day of the week.
Printable Source: Teal Notes
Recently, a big part of planning has been keeping track of all the good habits that you're doing (or not doing). Download the printable habit tracker to add it to your printable planner!
Printable Source: Make + Tell
If you like the landscape printables better then this page is perfect for you! It also has floral accents (really, whats not to love about flowers) and makes sure you get a peek of your to-do list for Sunday through Monday.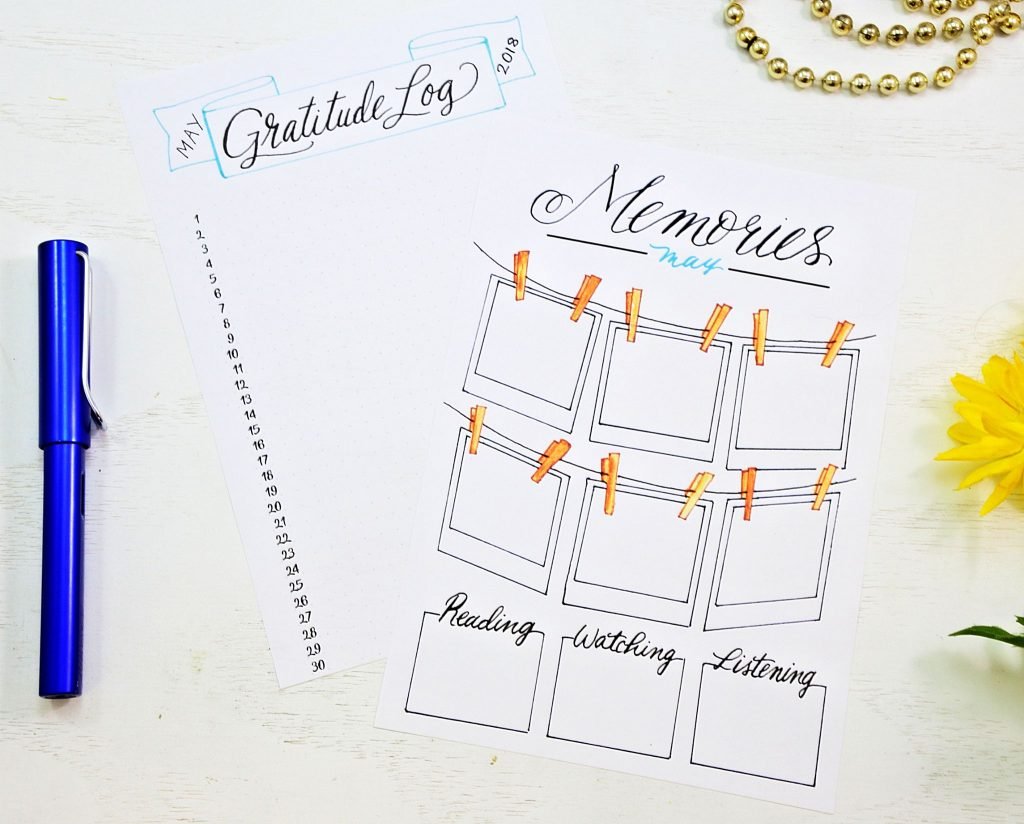 Printable Source: Sheena Of The Journal
Part of preparing for your your week can be taking the time to write out the things you're grateful for. This can make sure you're enable to start your week the best way possible. Sheena Of The Journal provides tons of sheets that you can use in your own bullet journal that you can easily download and print!
Printable Source: How Joyful
If you need daily, weekly, or monthly sheets to help make sure you never miss anything on your to-do list make sure you grab access to these beautiful printable pages. They are great for a binder planner that you can put together at home.
Free Wall Art Printable
Printable Source: Teal Notes
Lately I've been having a lot of fun creating printable wall art that you can frame to decorate just about any space in your house. One of the things I like about this one is the message it carries. It's something that we can all be reminded of every now and again. A printable is a great way to do that!
Printable Source:
How Joyful
How Joyful has beautiful black and white wall art printables that you can easily print out and frame in minutes. And it doesn't cost you a thing. It makes a perfect kitchen decor idea!
Printable Source: Printable Crush
I love this Share the Good printable! It's super vibrant and has lots of color and hearts that would make it perfect for Valentine's day.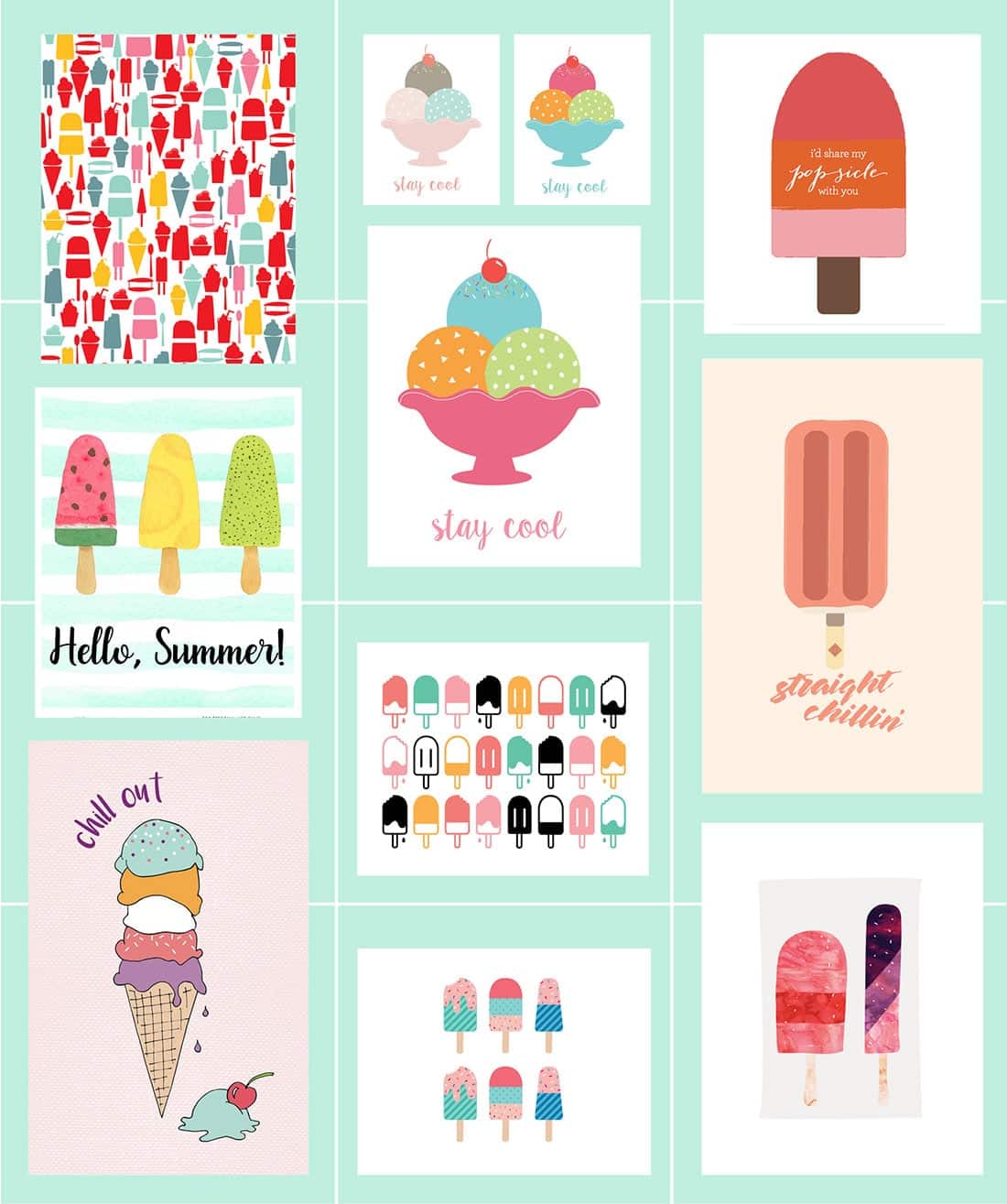 Printable Source: Little Gold Pixel
I couldn't leave out summer prints as part of this list. Especially because some of these popsicle wall art printables are SO pretty to look at. If you print them out and frame them with matching frames there's no telling how beautiful they turn out!
Printable Source: Wildflowers And Wanderlust
If you're looking for beautiful free flower prints then these are a great option. Especially if you love vintage style images. There are more than 10 flowers to choose from and you can easily frame them and hang them up.
Printable Source: Teal Notes
This is probably one of my more favorite wall art printables and I currently have this one up on my wall. The colors are just downright beautiful, they go well together, and its a heart warming message that can even make a great printable gift idea!
Printable Source: The Mountain View Cottage
Want some printables that you can put in your bathroom? Try these for a nice refresh! They're sassy and are all black and white so you can pair it with lots of different color combinatins without overdoing it.
Printable Source: Teal Notes
Isn't that right? I love this printable I made because I feel like it speaks a lot of truth to lots of us who are going through life and just figuring things out.
Printable Source: The Cottage Market
This cute little printable would make a great nursery hanging. The Cottage Market has this and many other printables that are totally free you can use to decorate each room in your house.
Printable Source: Green and Lyme
If you're looking for a home warming printable you can frame and hang this one is  a great option if you like florals and script fonts. 
Printable Source: Ink Struck
I'll pretty much take any summer art printable since its almost guaranteed that its going to be amazingly beautiful and full or pretty colors. And this one, by Ink Struck, is no exception.
Printable Source: Teal Notes
I love the watercolor background of this printable and it makes it nice and bright and even a little different. With the white paint splatter brush it almost makes it look like a starry sky, which is gorgeous. If you need an uplifting printable that helps remind you of good things this one will do!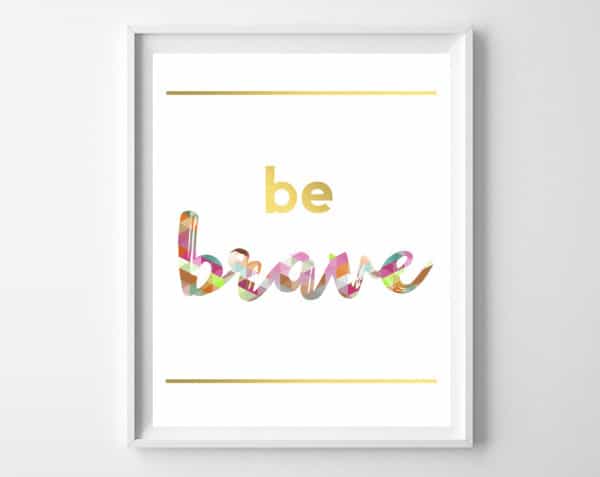 Printable Source: Burlap and Blue
Be Brave! That's a nice printable to have around especially when you're aren't feeling so brave as the weak wears on (haven't we all been there?). Print it out, frame it, and put it somewhere where you can see it!
Printable Source: Curbly
If you're looking for a set of printables that go well together you can try these and pair them up. They've got all kinds of illustrations and images. I especially like the Monstera leaves and how beautiful they look on a pink background!
You've gotta love free printables
There are tons and tons of free printables out there for just about any taste you can imagine. Hopefully this list gave you some ideas whether you're looking for free printables, life organization printables, free home management binder printables, or even a binder organization system that you can print and use at home.