Can we take a minute to appreciate the downright prettiness of farmhouse decor?!
I had a total ball putting this list together, to say the least.
There are way too many decor ideas to put them all on here, but I made sure to compile the best ones.
There are all kinds of ways to make a farmhouse decor theme a success whether it's in the bathroom, living room, or the whole house.
For farmhouse monograms and framed printables, I LOVE to use these gorgeous fonts and images.
They help me create the look I want without having to spend a ton of money.
The cool thing that has always been appealing to me about farmhouse decor is the rustic old feeling of it all.
Related: How To Make Your Home Smell GOOD With These 17 Genius Tips
I especially like the distressed furniture that looks like it's 100's of years old.
With farmhouse decor, you can get away with mixing new and old items and still making it look good.
For now, that's enough farm talk. Let's look at 25 gorgeous farmhouse home decor ideas you should steal.
Hanging Floral Plate Arrangement
Image Source: Monarchsalive.com
This is one of the last ideas I came across and the one that made me perk up the most. A vintage plate arrangement for your dining room or living room (or any place in the house that gets a lot of traffic) is pure genius because you can either do it with pieces you already own, or you can visit a second-hand store to pick out vintage floral plates of different sizes to arrange together.
I just can't stop looking at this arrangement it's so pretty. And if you take the time to put it together, your guests are sure to take notice too. It's a super cheap and ultra creative home decor idea.
Rustic Hanging Pails 
Image Source: Lakeside.com
Apparently, pails aren't only for hauling water anymore. Hang them from a hook in an arrangement for three and you're automatically left with some great looking storage that doubles as rustic home decor. It is a great cheap farmhouse decor idea that can instantly liven up just about any room.
The great thing is you can use them to store almost anything you can think of, like linens, kitchen utensils, toiletries if you hand them in your bathroom.
You can easily find pails at yard sales or second-hand stores and distress them yourself for an extra rustic feel.You can find more ideas like these here.
Doily Table Runner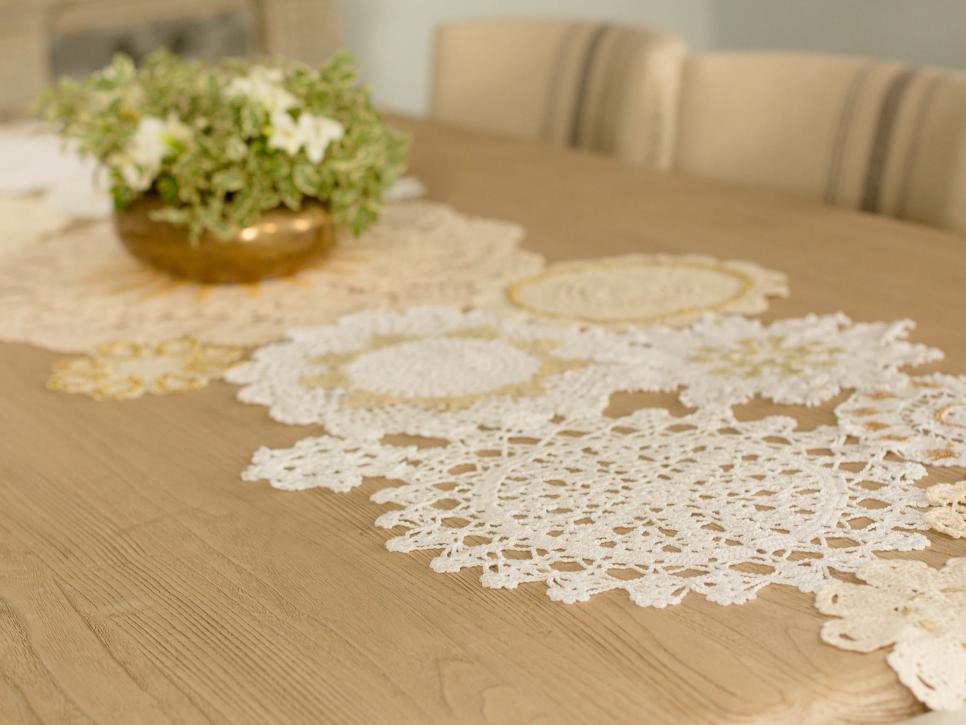 Image Source: Hgtv.com
Doilies aren't just for your grandma's house! They're great table decor items if you know hot to put them together (you can look at the tutorial here for full instructions).
Doilies help add a bit of nostalgic decoration to your living room coffee table or your main dining room. And as with many things on this list, it doesn't cost you much at all to put it together and liven up your place.
Galvanized Canisters
Image Source: Galvanized Canisters
Canisters are a great kitchen accent because they serve as decoration and convenient storage compartments for an endless array of kitchen items.
Galvanized Canisters are even better because they add to the rustic feel of your farmhouse decor style and they don't take up too much space. The faded colors give it that extra old feel.
You can buy the canisters here and add them to your collection.
DIY Cotton Bouquet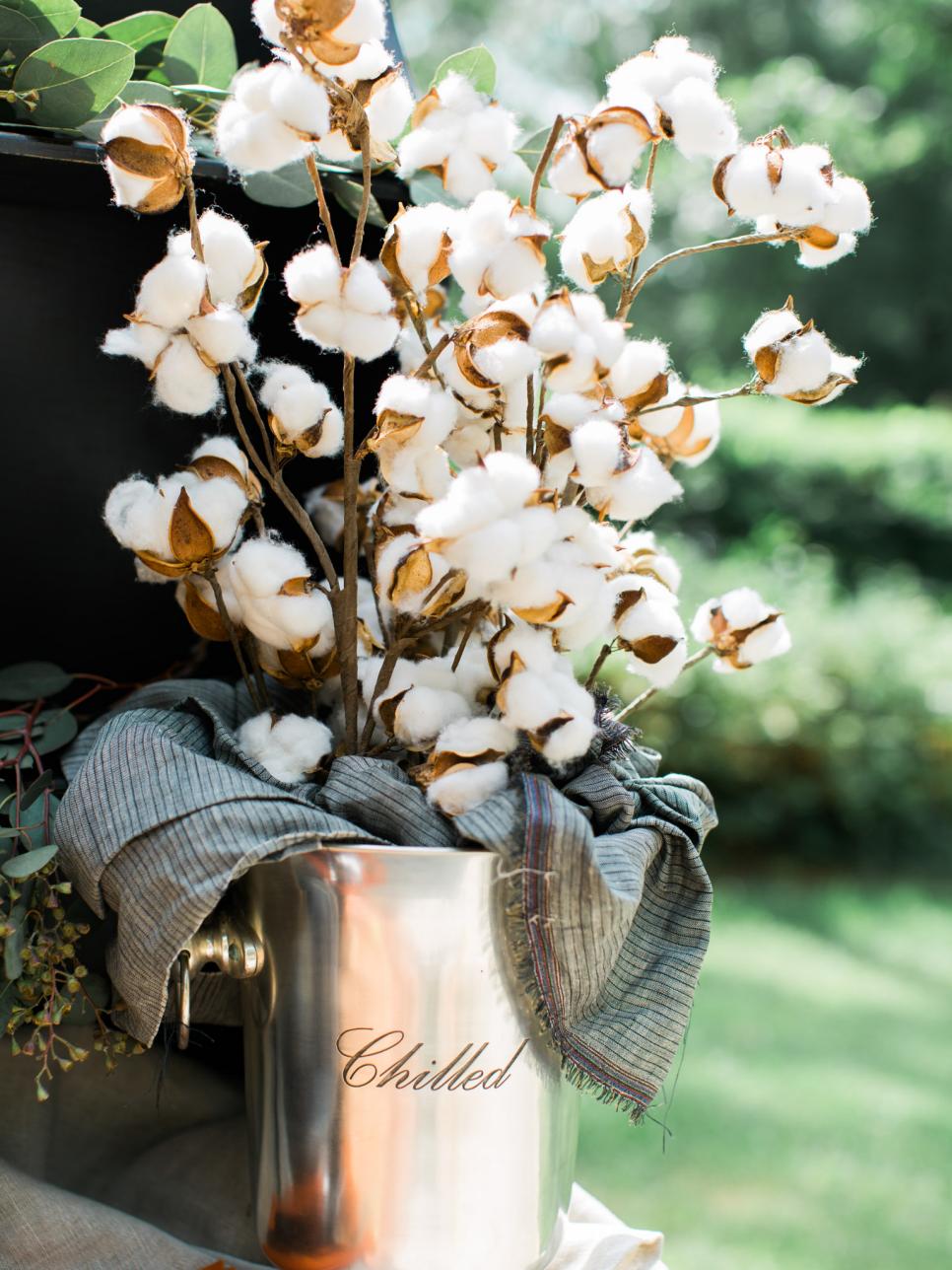 Image Source: Hgtv.com
This cotton bouquet is so creative, and it seems like a particularly southern flower arrangement idea. When I found the idea, I had to do a double take because I found out the cotton stems are actually homemade not grown.
If you want to take the rustic farmhouse decor feel to the next level then a cotton bouquet is a great way to do just that.
Farmhouse Chic Decor Cushions
Image Source: Cushions
You can't go wrong with flannel cushions! They are great accents to faded couches and/or beds and super cozy too. For farmhouse decor accents, the cushions are a no-brainer.
You can't get much more farmhouse than kitchen table cloth-like cushions to add brightness to your living space.
To get the cushions, you can find them here.
Oversized Knitted Blanket
Image Source: Chunky Throw Blanket
Nothing screams farmhouse like an oversized knit blanket that looks like it was put together by your grandma's two arms. Oversized knit blankets are all the rage right now and the best part is they fit right in with the whole farmhouse decor scheme. If you'd really like a diy project for your free time, you can learn to make a chunky throw blanket.
But if you want to skip the learning curve, you can always just buy it here (and pick your favorite color).
Tiered Organizer
Image Source: Lizmarieblog.com
Every time I log on to Pinterest, it seems like I can't keep myself from wasting time gawking at all the beautiful tiered organizer types out there. There are simply too many to include in this list.
When I came across this one, it helped me decide which one to include in this list because its so attention-getting.
Everything about it screams farmhouse and is beautiful, from the colors to the distressed paint and the wooden material. You can find more where that came from right here.
Mini Jar Salt Shakers
Image Source: Mason Jar Caddy
These are just the cutest?! Need I say more? I get to thinking they'd also make a great gift idea for that farmhouse friend. As soon as I came across it I knew I had to include it in my farmhouse roundup.
I'd love to see a pair of saltshakers like these on my kitchen breakfast table even if I wasn't going for a farmhouse look. They're simply too cute to pass up.
If you want to get the salt shakers for yourself, you can get them right here.
Mason Jar Arrangements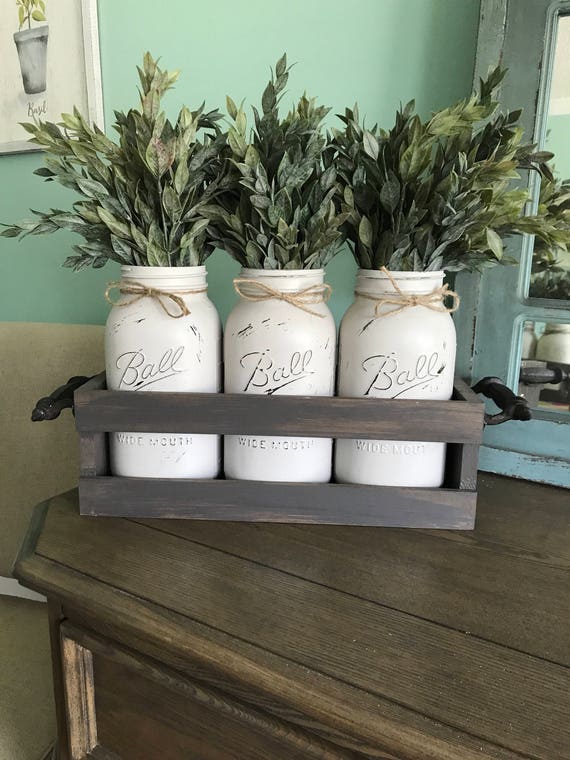 Image Source: Etsy.com
This mason jar idea is a multipurpose look. It looks like it could go right in your living room but at the same time it can be perfect for wedding decor too.
I like that its unusual in that it doesn't include flowers, only greenery. The imperfect paint on the jars makes it rustic and brings it all together inside the wooden crate.
This is something you can easily put together at home over a weekend and have a nice little bouquet to decorate your place. You can find the original creator of it here.
Mud Pie Water Spout
Image Source: Mud Pie Water Spouts
Whoever came up with this idea deserves a farmhouse prize. As soon as I came across it, it immediately caught my farmhouse eye. Isn't it gorgeous and clever?
It's especially great if you're tired of your same old bathroom/kitchen soap containers and want to jass it up a bit.
Get the Mud Pie Water Spout Set here!
Laced Pots
Image Source: Littehouseoffour.com
This creation is an unusual one I hadn't come across before and it hits the farmhouse spot just right. These go great anywhere, the bathroom, the patio, the kitchen windowsill, even your living room side table.
it's a simple as getting some pots, painting, distressing, and adding a trim of your favorite lace. You can get complete info on how to put it together successfully here.
Milk Bucket Bouquet
Image Source: Milk Bucket Bouquet
Revamp a milkmaid bucket and add a wildflower arrangement to it for a cute farmhouse staple. With farmhouse decor, you don't have to use the conventional containers to put things in.
I'd say that's a fundamental farmhouse decor rule because I can even see this bucket be used for holding kitchen utensils too. And you don't even have to try decorating or painting it, because it's already beautiful by itself.
To get the milk bucket bouquet if you'd rather not put it together yourself, you can find it here.
Re-purposed Cheese Grater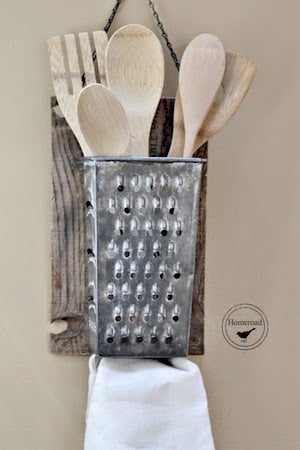 Image Source: Homeroad.com
If I can use one word to describe this idea it would be clever. Farmhouse wall decor is a must on anyone's farmhouse redecorating list for sure.
Sometimes I wonder who thinks of these decor ideas, some are too good to ignore. You can easily repurpose an old grater with some string, a wooden plank, and some nails. In the end, the more rustic it looks, the better.
Bonus points for the upside down handle where you can hang a napkin from to wipe your hands with.Find more ideas like these here.
Windmill Wall Clock
Image Source: Windmill Clock
Ah, a windmill clock is probably the ultimate farmhouse decor accessory. It's such a clever idea and can go great over a table arrangement like in the picture or as the central focal point of a wall arrangement in a living room.
I'm glad I came across this windmill wall clock because it helps make this farmhouse idea collection awesome.
Get the clever Windmill Wall Clock here.
Rustic Floating Shelves
Image Source:
Reclaimed Wood Shelves
We all need shelves, and for the farmhouse look, these rustic shelves are perfect (and not too pricey either). They are a simple way to create a farmhouse feel and you can use them to store your books in.
One other good thing about these shelves is that they don't only go with one decor theme but can easily be mixed and matched to fit your needs (and you can even paint them yourself).
Get the floating rustic shelves here.
Chicken Mesh Hamper
Image Source: Themerrythought.com
A hamper but not be what you think about when farmhouse decor comes to mind. I know I sure didn't think of it, but then I came across this one and thought it was a pretty cool DIY idea.
It's one of those projects that don't take that long to put together and can be useful once finished. Get the full step-by-step instructions here.
DIY Shelf Arrangement
Image Source: Cherisedbliss.com
Another way you can decorate your house it to put together a shelved arrangement. If you have smaller pieces that would go great together then you can put them together on a pair of floating shelves like the ones pictured above.
The only thing I would change about it would be distressing the stark white lamps (which can be as easy as using a brillo pad to distress wood). Time to add some shelving to your farmhouse house plans!
Exposed Lamp Shades
Image Source: Sawdustsisters.com
Did you know these are just lamps with the covering removed? Isn't that clever? And to bring it all together, you can just add some spray paint. It looks like something you'd buy straight out of home depot but its actually a DIY project the Saw Dust Sisters put together that you should definitely check out.
These lamps would go great in a bathroom or for outside porch lights and make great vintage farmhouse decor!
Farmhouse Tray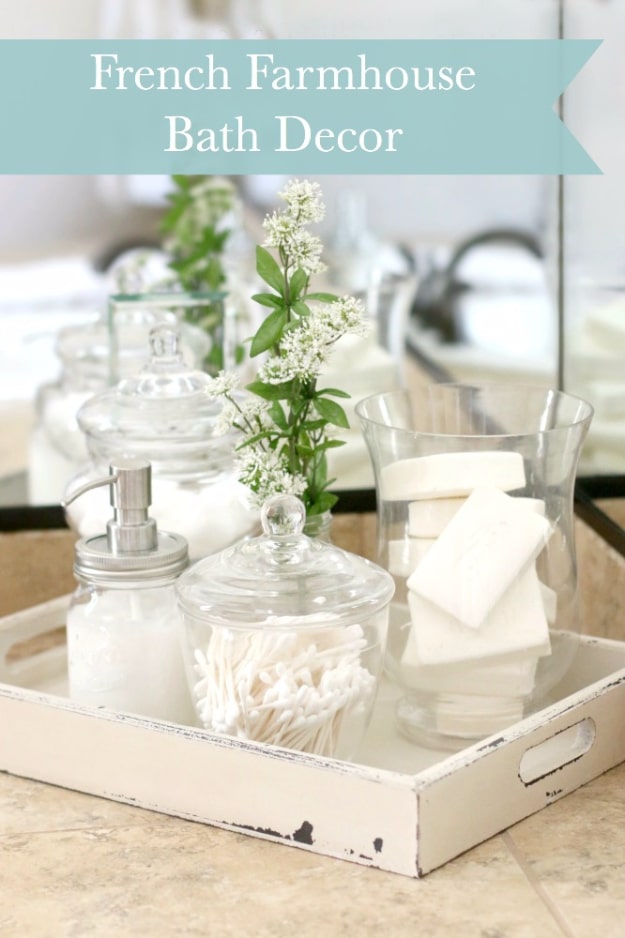 Image Source: Kristineinbetween.com
Trays are good for many parts of your house, including your living room coffee table if you want to get fancy. The distressed paint makes it even more interesting than if it would be perfectly painted. This little tray accent makes a nice pairing with farmhouse style furniture.
There is something about aged looking wood that often makes it more visually appealing than perfect wood. You can find more ideas like these here.
Driftwood Mirror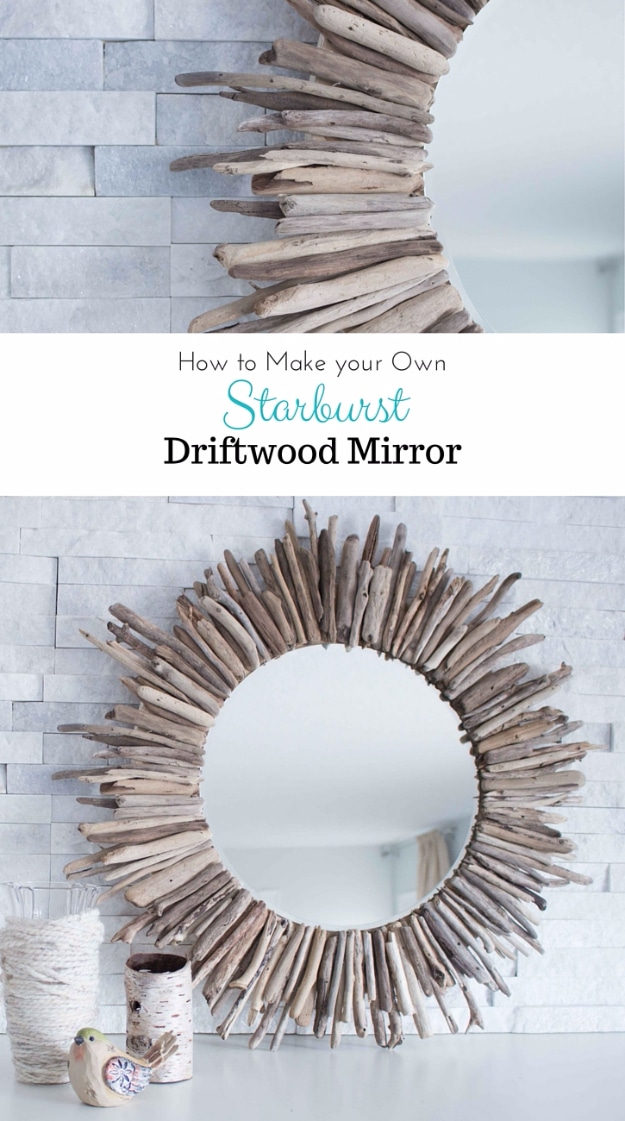 Image Source: Sustainmycrafthabit.com
Adding mirrors to any space makes it look bigger and livelier, so you can't go wrong with adding this twig accented mirror (for which you can find most of your materials right at home). Variations of this mirror can easily be found in a farmhouse decor catalog or even online.
It also makes a great centerpiece for a thoughtful wall arrangement and helps you create depth. If you want to take it an extra step you could even spray paint and distress the twig accents.
Farmhouse Decor Coffee Station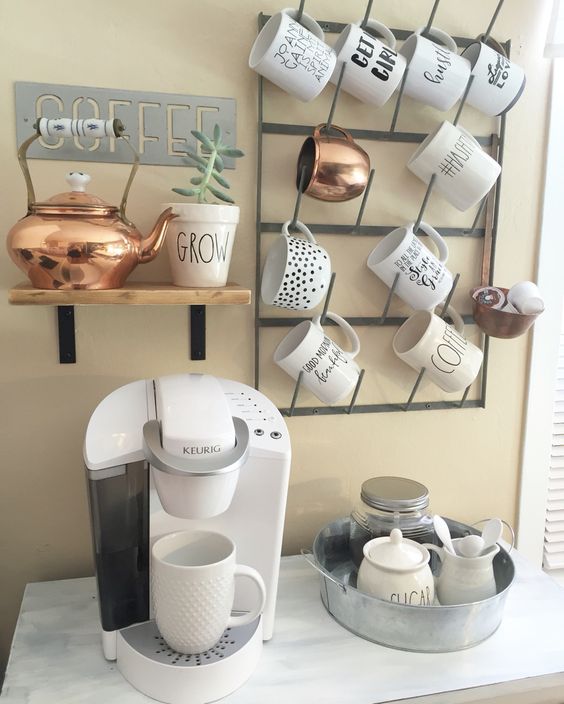 Image Source: Guiaparadecorar.com
Make your own farmhouse coffee station (isn't the tea kettle beautiful?). You can use farmhouse accents like pails to hold your coffee condiments, and DIY coffee mug hangers right above it to bring it all together. You can't get anymore country farmhouse decor than this.
Extra bonus points for you if you can color coordinate it with a faded color scheme or a rustic look of your choice. Here's where that idea came from.
Washboard Bulletin
Image Source: CountryLiving.com
With some magnets, a hook, and some pins, you can make your perfect washboard bulletin and ditch the boring corkboards. This is such a clever idea and it doesn't take long to put together. The pins at the bottom can even be used to hold your keys, or you can get more creative and add hooks to the metal part for extra handing options. This is a great antique farmhouse decor piece.
Yet another great addition to your farmhouse decor accessories that you can make right at home.
Mini Fruit Stand
Image Source: The Wood Grain Cottage
A fruit stand is the perfect kitchen accent for your farmhouse home decor. The chalkboard sign in the front brings it all together and gives it an extra vintage farmhouse look.
The fact that its wood makes it a great accent that can go with many counter types and blend right in with the rest of your decor.Find more ideas like these here.
Embroidery Framed Fabric 
Image Source: Homestoriesatoz.com
This one is a great way to finish off this list.
Phew! Hopefully, by now you are pretty inspired and you have a good idea on what farmhouse decor direction you want to take and start making it your own. Your farmhouse floor plans would be farmhouse chic styled with these clever patterned fabric pieces.
This clever idea came from Home Stories A to Z and I would have never been able to think of it myself. It's similar to the plate arrangement at the beginning of the list except it's made with your favorite fabric pieces you might have lying around.
Farmhouse Chic Ideas Are Gorgeous
I hope you liked these farmhouse chic ideas as much as I did and get the most out of the list. There are lost of places where you can find farmhouse decor for sale, it's just a matter of wading through all the different styles (there are TONS out there). You can find anything from down to earth rustic farmhouse pieces to industrial farmhouse decor and even decor that would fit more modern farmhouse plans.
When it comes to farmhouse decorating, the sky is the limit with the direction you can take it and the colors you can choose.
Any farm decor ideas worth mentioning? Let me know below.