Have you ever looked at a plain notebook and imagined all the possibilities it holds?

(I certainly have.)

As someone who thrives on organization and loves the idea of creating a personal space to track my life, turning a simple notebook into a fully functional planner is like a burst of creative energy.

It's not just about keeping track of tasks and appointments; it's about curating a tool that reflects your unique style and needs.
Imagine flipping open a notebook that not only helps you stay on top of your schedule but also captures your goals, habits, and reflections.

It's more than just a planner; it's your personal sanctuary for productivity and self-discovery.

In this guide, I'll walk you through the process of transforming that blank canvas into a planner that's tailor-made for you.

So grab your favorite pens, stickers, and let's dive into how to make your own planner from a plain notebook that's as vibrant as your aspirations.
1. Choosing the Right Notebook
When it comes to turning a plain notebook into a planner, the first step is selecting the right foundation.

While any notebook can be transformed, choosing the one that aligns with your preferences and needs is essential for a successful planner makeover.
Remember, your notebook is the canvas for your planner journey. Personally, I chose a medium-sized, dot grid notebook with a durable cover that allows me to express my creativity while staying organized.
2. Setting Up Your Planner
Now that you have the perfect notebook in hand, it's time to transform it into a well-organized planner that suits your lifestyle.

This section will guide you through the process of setting up your planner, step by step.
As you set up your planner, make it a reflection of your personality. Add inspirational quotes, stickers, or even small drawings to make each page uniquely yours.

Remember, the goal is not just to organize your life but to create a planner that brings you joy and helps you thrive.
With your planner set up and ready to go, you're on your way to a more organized and intentional lifestyle.
3. Adding Custom Sections
Now that you've laid the foundation of your planner, it's time to infuse it with personalization and purpose by adding custom sections that cater to your specific needs and goals.

Let's explore some key custom sections that can take your planner to the next level.
By adding these custom sections, your planner becomes a holistic tool for personal development and organization.

Remember, the power of a custom planner lies in its ability to adapt to your ever-evolving needs.

As you embrace these sections, you're creating a planner that's more than just a schedule; it's a reflection of your aspirations and a roadmap to success.
Now that you've explored these custom sections, let me know if you're ready to dive into personalizing your planner with colors, stickers, and a touch of creativity.
4. Personalizing with Colors and Stickers
Now that your planner is taking shape with essential sections, it's time to infuse it with your unique style and personality.

Personalization goes beyond just functionality – it's about creating a planner that resonates with you on a visual and emotional level.

Let's explore how to use colors and stickers to make your planner truly yours.
As you experiment with colors and stickers, remember that there's no right or wrong way to do it.

Your planner is your canvas, and you're the artist. Embrace the process and let your creativity flow.
Realize Your Potential with My Free Bullet Journal Templates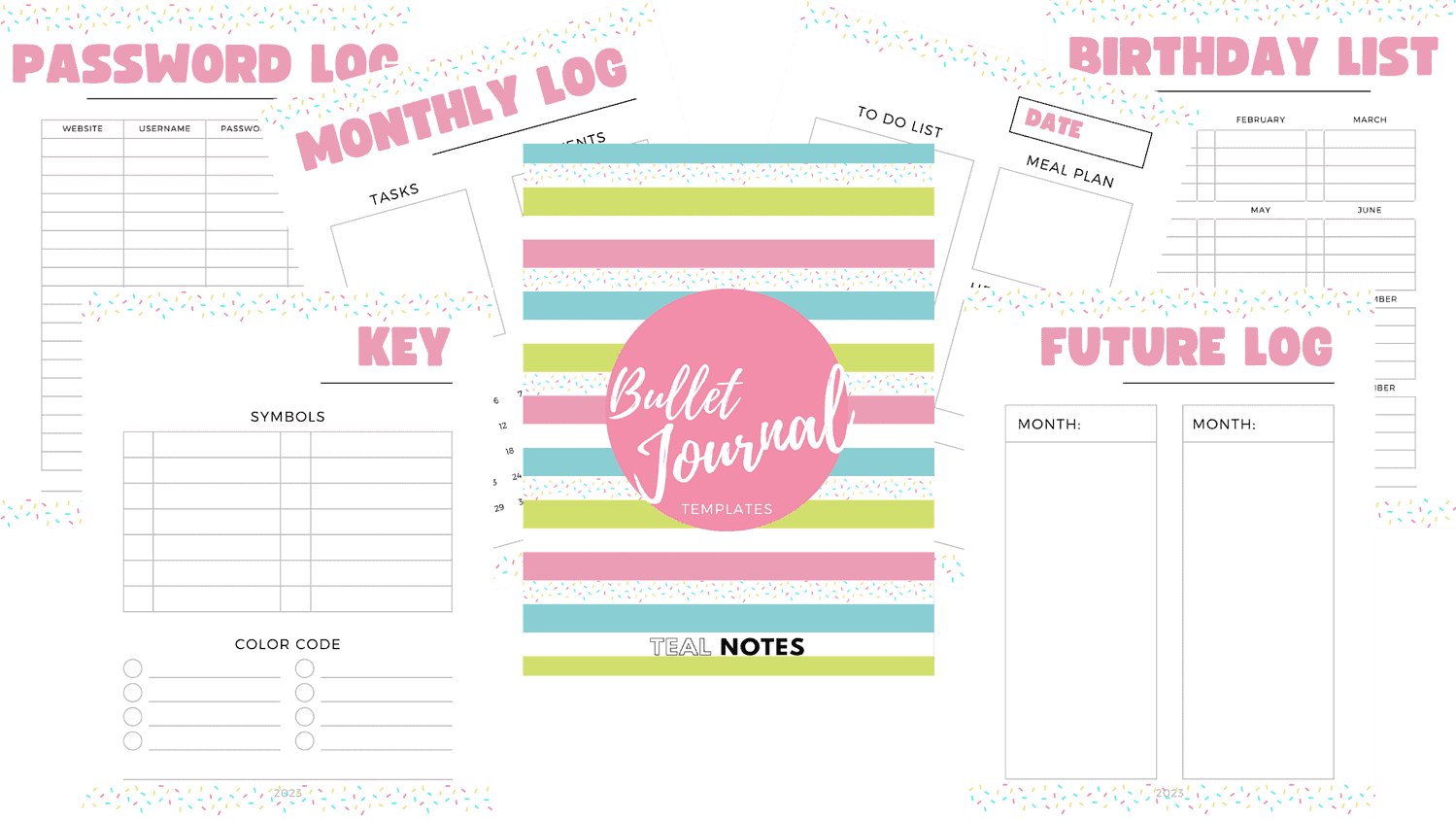 Now that you've experienced the joy of crafting your personalized planner, why stop here?

To help you take your planning game to the next level, I'm excited to offer you a collection of free bullet journal templates.

These templates are designed to complement your custom planner, offering you a range of layouts for different needs – from weekly spreads to habit trackers and more.
By using these templates, you'll streamline your planning process and free up more time for what truly matters.

Imagine having beautifully designed layouts at your fingertips, ready to be filled with your plans, goals, and dreams.
Don't miss out on this opportunity to enhance your planning journey. Click here to access your free bullet journal templates and unlock the full potential of your personalized planner.
Thank you for joining me on this planner-making adventure.

Remember, your planner is more than just pages – it's a reflection of your unique journey and a testament to your commitment to a more organized and fulfilling life.
FAQ's
Can you use a regular notebook as a planner?
It's time to get organized. And the best way to do that is with a planner. But hold on, you don't have to run to the store and buy an expensive planner, you can make one from a notebook.
How many pages should a planner have?
(For a standard planner, with a cover page, back cover, one page for each month, and one page for each week, you'd need 66 pages.)

If you're printing your planner at home using normal paper, you can use the standard print dimensions of a 9.5×11 sheet of paper.
Is it worth keeping a planner?
Effective scheduling is a crucial part of time management. You achieve the best results when you prioritize and plan your tasks before working on them. 

Using a daily planner to schedule the exact time for office tasks, personal errands, appointments, and so on ensures that you prepare well for these events.
Why do I like planners so much?
I love my planners because it's like another form of scrapbooking. I have always wanted to document my life but never found time to do it.

With planning, I am able to plan my days ahead, but also come back and check up on my day and write a little note or memory of the day.