Free adult coloring pages are a pretty great way get rid of stress and relax on your free time.
Printable coloring pages for adults can be a virtually cost-free way to self care at home and is a great creative outlet that doesn't necessarily involve messy paints or lots of materials.
While you can go ahead and buy a full blown adult coloring book you don't really have to when there are TONS of printable coloring pages floating around just about everywhere.
During my free time I often like to bullet journal and when I get the chance I like to fill in a coloring page I'm working on little by little.
Sometimes, if they turn out well enough, I'll frame them and hang them on my gallery wall for a pop of color!
Through the use of coloring pages, I recently found out about a cool way to manage stress and anxiety with Zentangle.
It's basically a structured way to doodle that helps you de-stress and you're left with a beautiful, coloring-page like creation you make yourself. It's just another way to practice self-care.
Related: The BEST Adult Coloring Books You Can Get For Under $10
Now, let's look at more than 30 FREE adult coloring pages you can print out and use!
This is one of about 7 new printables (Teal Notes originals created by yours truly) that you can head on over to check out and download through the link. It's an instant download. This free feather coloring page is one of my favorites on the list!
Mandalas are some of my absolute favorite things to color, so I thought I'd create a page with lots of mini mandalas as a personal coloring challenge. You can definitely fill out this intricate coloring page in one sitting or you can do it by bits. It's totally your call.
Get It Via Teal Notes Here
Pineapple coloring pages are fun to color! Especially this one, with all the intricate flowers inside. You can head on over the post I created with a couple new printable coloring pages you can instantly download!
Flowers are always a treat to color in, because they're so intricate and beautiful. I love that you can make your way around the page and color each part piece by piece with your favorite colors!
Get It  Via Alisa Burke
A fruit coloring page can always be refreshing (see what I did there?). This printable coloring page is an awesome way to use those bright colored pencils just sitting in your closet collecting dust. Whip em out and start coloring!
Get It  Via Monday Mandala
Mandala's are absolutely beautiful and a great way to de-stress when you're having a particularly hard day. Heart coloring pages in the shape of Mandalas make beautiful coloring pages too.
Related: Free Coloring Pages: 21 Floral Coloring Pages You Can Print And Color
Get It  Via Favoreads
This is probably one of my favorite pages in this adult coloring page collection. Like a Boss can be a great reminder of trying to seize the day while you color the page. It can even make an awesome framable printable!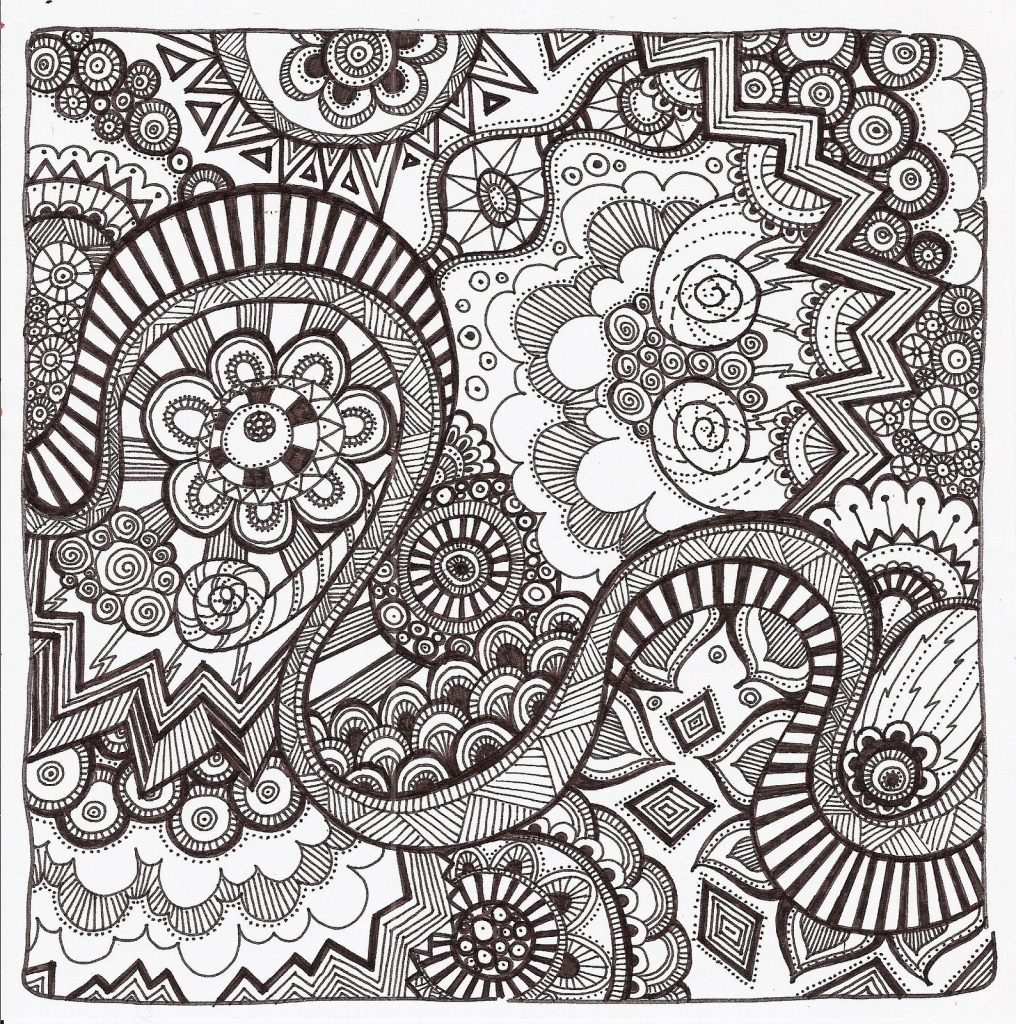 Get It  Via Best Coloring Pages For Kids
This is a crazy coloring page that lets you have fun with shapes, shades, and patterns. t's a pretty snazzy printable coloring page that you can add to your collection.
Get It  Via Pokolorujswiat
A beautiful feather pattern that is just creaming to get colored! I love this coloring page design and it's also a great framable printable option.
Get It Via Dabbles and Babbles
This one is for all the owl lovers out there that love good printable coloring pages for adults (though this one can be for kids as well!). Owls are some of the cutest animals out there, why not get some to color in with your favorite shades to de-stress?
Related: Free Printable Coloring Pages: 7 NEW Printable Coloring Pages For Your Enjoyment
Get It Via Crafts On Sea
Color in some butterflies on your free time. This free adult coloring page is from Crafts by the sea and it is absolutely beautiful and intricate…so you'll bet it'll take a while to fill this one in.
Via Nerdy Mama
Nature is always a great option for a free coloring page. This one is filled with awesome repetitions of flowers and leaves.
A peacock is a beautiful animal, but a free peacock printable page is even more awesome (kind of). Try this printable coloring page to relieve stress and anxiety.
Via Nerdy Mama
This coy fish printable is great and has lots of curvy lines that help give it a nice fluid fell. Try it out as a coloring page if you haven't already.
Via Pat Catans
This coloring page is so pretty and has a nice round repeating pattern of smaller mandalas in one page. I love it! I've printed this out a few times and have loved coloring it with a different color palette every time.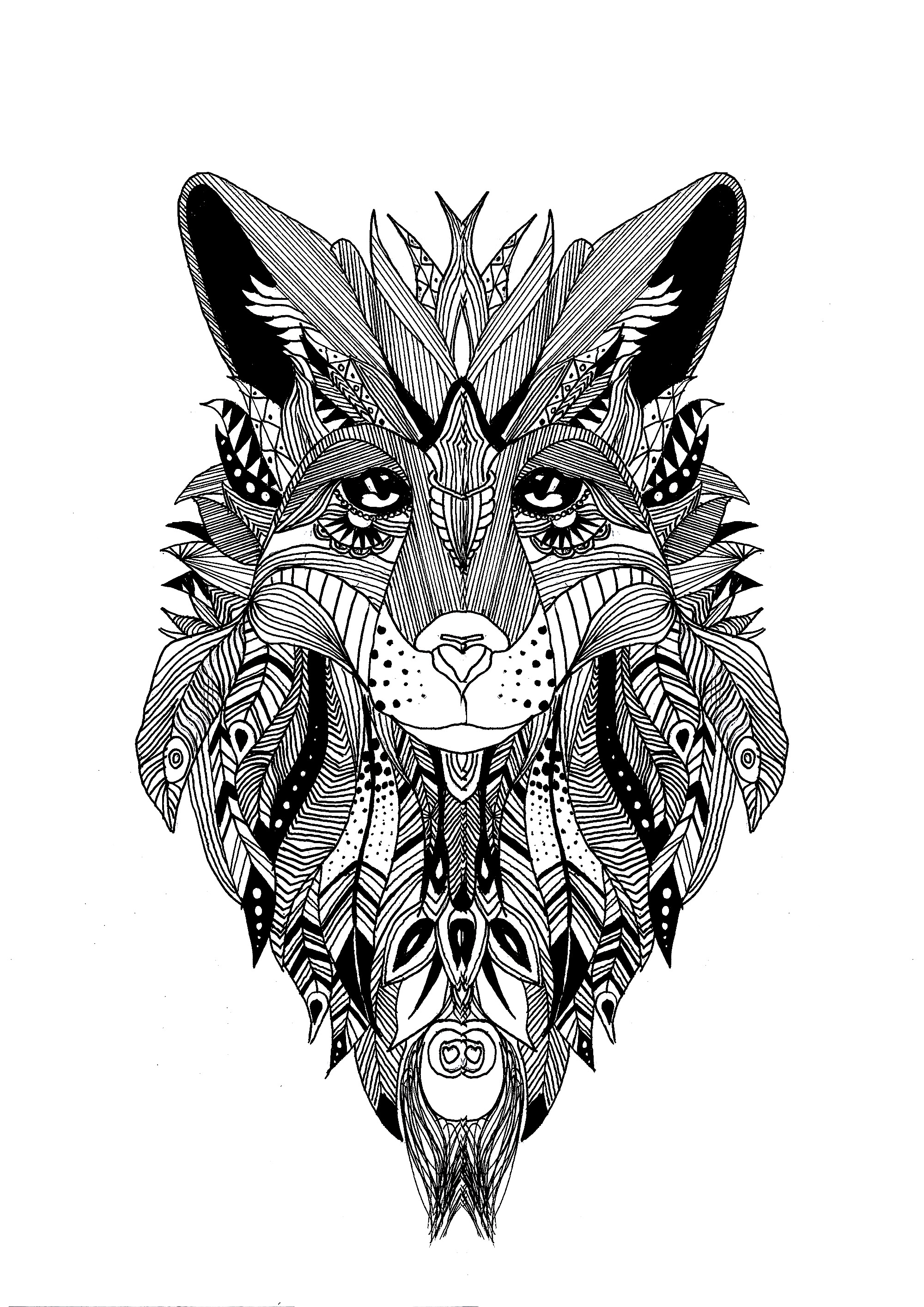 Via Just Color
This free coloring page of a fox is to die for beautiful! It's most definitely a frame worthy printable and its one of those pages you won't easily get bored of coloring.
Via Advocate-Art
This is the perfect page for people who like paying attention to small details and having fun with that. Though it can be a time consuming coloring page that you might not get to finish in one sitting. You can always break it into smaller coloring sessions.
Via Pixabay
Here's another Mandala coloring page. Pretty, simple, and to the point. Sometimes that's exactly what you need in your life! 🙂
Via Scarnio Publico
This is an intricate page not for the faint of heart (or coloring for self-care newbies). But if you want to spend lots of time focusing on coloring each bit and piece of this page all you have to do is download it and give it a quick print out.
Via Pixabay
Mandala coloring pages are never going out of style, so you can always count on them to give you a quick fix for your coloring habit. Make sure you grab this one to add to your collection.
Via Just Color
Once you set eyes on this lion coloring page you simply fall in love. The lion has always been a symbol of strength and it can be a great reminder of that when you color it in. This one is a must print!
Via Gifts
All good things and wild and free (like all these coloring pages). Uplifting quotes that you can color in are the best of both worlds.
Via Pixabay
Another Mandala to add to your collection. Mandalas are gorgeous and they allow your imagination run free whether you're designing one yourself or simply coloring them in.
Via In The Playroom
Owls are gorgeous and make for an interesting adult coloring page. It is an awesome coloring option for when you're bored and want something creative to do with your free time.
Via Dels Doodles
If you want a challenge with some intricacy, look no further than this beautiful page. It has an awesome pattern structure of flowers and it seems to go on forever.
Via Pokolorujswiat
This free camera coloring page is such a creative idea that I don't think I could have come up with myself. It's gorgeous and deserves a print!
Sometimes we just need to be reminded that everything will be ok. This coloring page makes sure to remind us of that.
Via Alisa Burke
Alisa Burke has a downright BEAUTIFUL collection of free adult coloring pages you can check out and print for your own enjoyment. This one is an absolute favorite and makes for creative color combinations!
Via Just Color
Color in some beautiful giraffes on your free time and get rid of the stress and anxiety you've been dealing with all day. All you have to do is go to Just Color and print out this free adult coloring page.
Via Quotes Gram
This is yet another coloring page that you should print out and hang in your bathroom mirror its so pretty and the message is super positive.
Via Coloring-Pages
Who doesn't like diamonds? Better yet, who you doesn't like diamonds you can color in? This diamond filled free coloring page is awesome and a little something different than the usual mandala. Try it out.
Via In The Playroom
Today is going to be an awesome day is always a nice thing to say to yourself each morning. The problem is we often forget that! So print out this coloring page, color it in, and hang it somewhere where you can see it everyday!
Via Joking Art
If you particularly like 'potty mouth' printables, this one is most definitely for you!
This page is full of repetition and lines. Perfect for people who want to keep busy and stay coloring for quite a while. It's a nice coloring page with a combination of round and straight lines.
Via Gifts
Elephants are beautiful animals that have long been symbols for peace, harmony, and family. Why not use this free online coloring page for adults as part of your 'zen' coloring self-care time?
Related: 25+ Free Adult Coloring Pages To Print And Color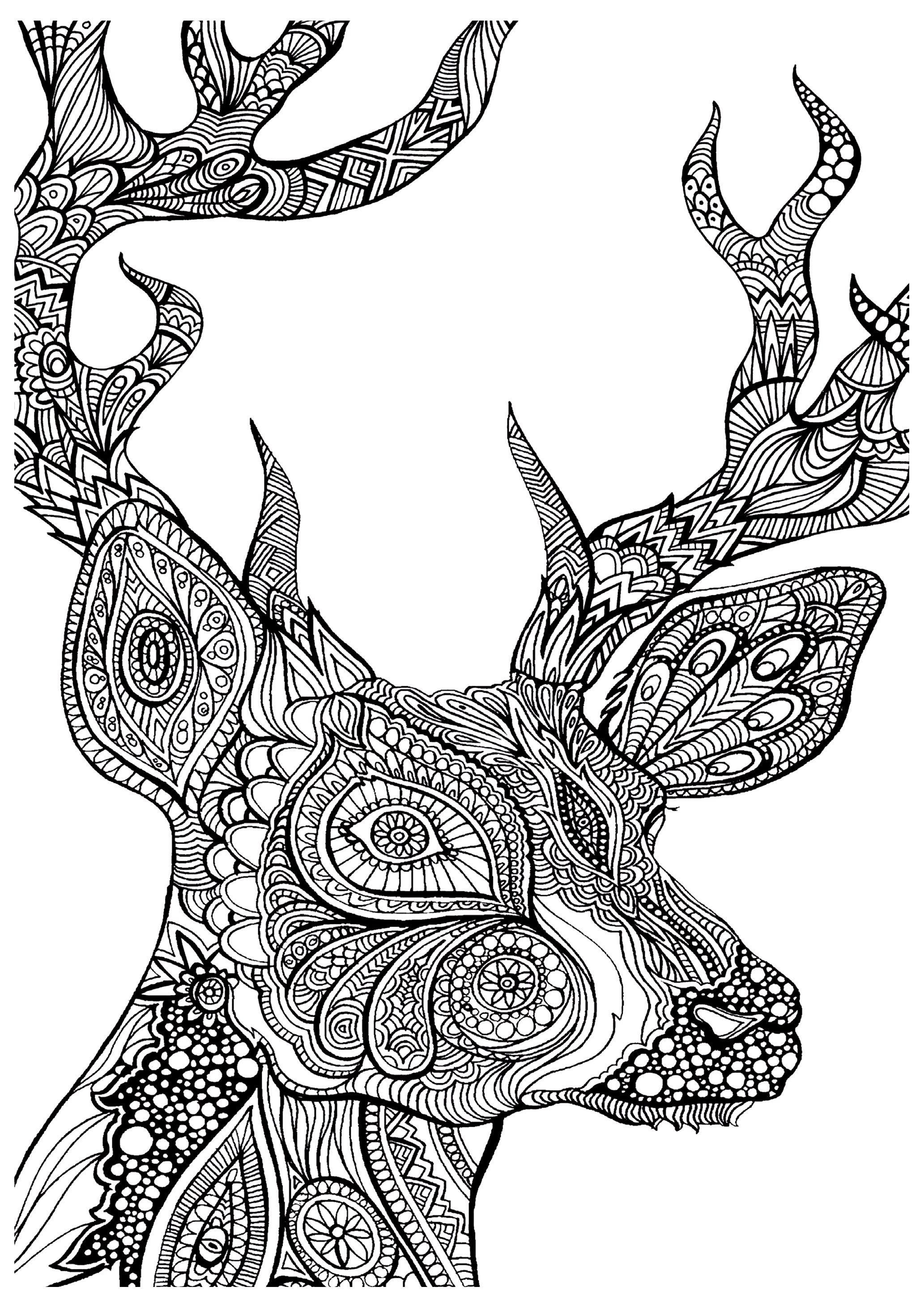 Via Just Color
A stag coloring page can make a great holiday de-stressor. Isn't it just beautiful? There are TONS of free adult coloring pages out there, this list is just a highlight of a few of the best ones floating out there.
Related: 5 Quote Coloring Pages To Color And Relax
Printable coloring pages are fun
complex coloring pages you can print is a great way to let go of stress and create something pretty. Printables in general are super fun and useful for either coloring or getting organized!
What there any page you liked in particular? Let us know in the comments.