Let's face it, sometimes you simply run out of bullet journal page ideas.
Not because there aren't about a bajillion weekly spread page ideas out there, but because you might just burn out and lack inspiration one day (trust me, it happens).
I've recently discovered bullet journaling as a way to not only get my life organized but to help me de-stress and work on self care while I do so.
The coloring and the creative part of keeping a bullet journal with lots of blank pages is the absolute best.
Related: The BEST Bullet Journal Supplies For Beginners
It means you can bring just about any bullet journal layout idea to life and make it your own.
Now, if you're here and you don't quite know how to start a bullet journal, learn all about it here in this ultimate guide. 
There are tons of bullet journal list ideas out there. And that's without exaggeration.
---
Don't know where to start?
---
The most popular bujo idea is the bullet journal weekly spread. Weekly spreads help you make the most out of your week by going through what you need to do daily. Granted, you might not have time to create a full-blown piece of art weekly spread in your bullet journal, but even a simple one can make sure you have a better handle on your day.
No need to get fancy and best of all, no need to be perfect. It's all about having fun with each bullet journal entry and keeping track of the important things in your life. If you haven't yet found a great bullet journal you'll love, then you need to check out the nifty pro version dotted bullet journal.  It's my current BUJO obsession at the moment!
Some basic bullet journal page ideas include:
Goals and rewards
Cleaning Calendar
Budget Tracker
Social Media Password Tracker
Brain Dump
Seasonal To-Do List
Monthly Spreads
Recipe Banks
Life Milestones
A bullet journal index
Mind maps
A title page
Bullet journal key
Contacts list
Passwords list
Favorite quotes and passages
Daily Affirmations
some bullet journal basics you should have down are:
Bullet journal key
Do you have a bullet journal key in place? If not, learn how to create the perfect bullet journal key first to start off on the right foot.
Bullet journal notebook
Do you have your notebook yet? Head on over here to read about which notebook I recommend if you're a BUJOer. If you don't yet want to invest in a notebook, but want to try it out, I have some FREE bullet journal dot grid paper I created exactly for that.
Print out a few pages for a bullet journal test trial!
More bullet journal ideas
You can find more bullet journal posts as I make them right here. So you can follow along in my bullet journal journey…or you can also subscribe too! 😉
There are lots of bullet journal page ideas to explore and find inspiration from. I'll be listing additional page and tracking ideas under each category. Let's dive in!
Related: FREE Printable Bullet Journal Habit Tracker PDF
Bullet journal weekly spread
There are lost of things you can track in your bullet journal weekly spreads. Here are just some ideas of how a weekly spread can help you organize your life:
Daily to-dos
Daily goals
Daily meals
Appointments
Morning Routines
Important reminders
Weekly chores
Weekly tasks
Weekly devotions
Via Teal Notes
I created this spread as a nice and simple idea for when you want to draw out a quick recap of what the rest of your week will look like. It's complete with a notes and appointment areas so you write down the most important things for the week.
Via Bujospace
This weekly spread is pretty straight forward and to the point. Bujospace, the designer, makes sure to include all the important elements of a weekly spread in a clean yet beautiful and sleek manner. This is a great weekly spread for people who don't enjoy clutter and likes white space a lot more.
Related: 33 FREE Adult Coloring Pages To De-stress
This weekly bullet journal spread is the perfect one for the lover of all things flowers. It's a great theme for tracking your ideas during the spring months (or whenever you feel like it really). This weekly spread is an awesome example of how you can let your imagination go free while still planning productively.
Via Es La Moda
If you like doodling, this is the bullet journal weekly spread for you. It doesn't take itself too seriously and gives you space to have fun while listing your most important to-dos for the week.
Via Christina77star
Christina is one of the absolute favorites in the bullet journal space and they never fails to come up with absolutely GORGEOUS bullet journal spread after spread. This comic strip inspired weekly spread is a great way to keep track of what you're doing for the week, especially if you have the time to make it extra special.
Via Nicoles.journal
Related: Free Printable Adult Coloring Pages: 35+ Pages To Choose From
This is a weekly spread that I wouldn't mind going back to and re-reading long after the to-do list on it was done, it's just THAT pretty. So, create a summer themed bullet journal page for fun and see how it turns out. Its super therapeutic to color in drawings like the ice cream cone above (so pretty!).
Via Evie + Sarah
This one is a great example of how you can use a bullet journal with sticky note or washi tape tabs to create and inventive and colorful weekly bullet journal spread. Evie + Sarah have a WHOLE post on how you can use this spread to create the perfect schedule that will work for everyone's unique day.
Via Christina77star
Simple lines and complimentary colors are a great way to make a classic weekly spread. Just look at how this spread makes use of two pages instead of one to make sure the whole week is accounted for. That is a great example of great use of space.
Via Simplify Bujo
I love the color scheme in this journal and how neat everything looks. It's a good example of how you can use patterned washi tape to decorate your weekly spreads.
Via Alltemplates
One great thing about weekly spreads is that there is no limit to how much you can track on a single spread. You can choose to use just one page for each day of the week or you can choose to track your meal planning list for each day as well.
Via Kyoko-Studies
Make a color themed weekly spread! This all pink spread is beautiful and I love how they cut out each day of the week and glued it in. Remember, you can use things like washi tape, sticky notes, and different grade markers to make your weekly spread extra special.
Via Nat_Journals
This weekly spread is lovable because of the free range of rainbow colors and care-free lines and drawings. If straight lines and rulers are just way too stuffy for you, feel free to doodle free hand to help plan your week. Bullet journaling is supposed to be fun and cathartic, not a project of perfection if you don't like it to be so!
Bullet Journal Habit Tracker Page Ideas
Habit trackers are a great way to make sure you're forming great new habits and getting rid of old ones while staying on track with your daily activities. Some things you can track in your habit tracker are:
Daily meditation sessions
Exercise routine
Sleep patterns
Caloric intake
Water intake tracker
step tracker
Menstrual cycle tracker
Study hours
Textbook log
Mood tracker
Investment tracker
Budget Tracker
Health log
Reading log
An effective habit tracker can be designed lots of ways. It doesn't necessarily have to be a horizontal grid. This bullet journal idea gives plenty of space to each habit they're trying to work on and marks each square with an X instead of a color. I love it!
Via Happilyeveafter_
If you want to talk about unique then this gumball tracker is just it. It's a super cool way to keep track of your habits and make sure you're staying on top of your goals. I'd say this tracker is a bit more on the fun side, but a must try for sure.
This particular habit tracker is pretty symmetrical and an idea out of the box for sure. Though I'm not sure how you would keep track of each habit, I'm sure you could add a bullet journal key.
Via Mindbodyjournal
I had not come across this before and it's definitely one of the more original ideas. A Mandala mood tracker is a beautiful and meaningful way to track your progress and you can always step back and look at your artwork when you're all finished. The bullet journal key to the right makes it easy to see what each layer means.
Via Archer and Olive
Archer and Olive never fail to create absolutely beautiful things, and that includes a beautiful bullet journal tracker page like this one. It's perfect for people who like clean and straight lines along with clear legibility and a clear bullet journal key to keep track of your most important habits and goals.
Via Focusign
Study trackers! Perfect for the student trying to keep track of where they're spending their precious time (and if they're getting any sleep). A good old bar graph tracker can be an awesome bullet journal page idea to fill your notebook.
It's also a lot easier to create a bullet journal key for it too.
Via Bujo.by.thao
This habit tracker is the absolute cutest and while it doesn't make use of small boxes like your classic habit tracker, it still keeps your tracking in order because of the dotted paper (which makes bullet journaling a ton easier!).
Bullet Journal List Page Ideas
What can't you keep track of with a pretty list? Bullet journal list pages help you keep track of the most crucial parts of your life. Some helpful ways you can use a bullet journal list page are:
Chores list
About me
Supply list
Weekly grocery list
Snack list
Movies to watch
Books to read
Places to go
Things to buy
Car maintenance dates
Life milestones
Bill payments
Wish list
A to-do list
A goals list
A birthday's list
Contacts list
Passwords list
Fave movie list
Via Wunderstastisch
One of the best ways to use your bullet journal is making lists to help keep you accountable. This one, for example, is accompanied by a beautiful Mandala-like dream catcher that makes it pretty awesome to look at. On top of that, is a nice bullet journal page idea that shows you don't always have to use color.
You can make an 'About Me' page that lets out all your creativity and reminds you of the most important and valuable traits about yourself. This would also make a great 'self care' bullet journal spread because you get to make some time to elevate and highlight the very best things about you.
Via Bujo.nik
Ever thought of making a list of your collection of washi tape? Me neither until I came across THIS idea! It's awesome and something you could try with things other than washi tape, like tab sticky notes.It's a super creative idea!
Via Didypanpie
This is such a creative idea and I had to feature it in this list. If you're a film junkie, then this might just be the perfect way to keep track of all the films you've watched for the month (or year). You could even do the same to keep track of the makeup you go through, or even your cleaning supplies.
Via Loves Flowerslettersnbujos
Keeping a birthday list in your bullet journal is a great way to make sure you never forget someone's special day. This is a perfectly cute and neat way to create a bullet journal list page of important dates to remember birthday or otherwise.
Via Journalrella
Ever thought about including a good old venn diagram in one of your bullet journal spreads? Yeah, me neither. This neat bullet journal page idea can be a great way to compare and contrast or even help you make a decision about certain choices you might have. It's a perfect way to set your goals as well.
Forget a plain old boring list of books to read. Why don't you sketch a whole bookshelf and fill it in with your favorite titles? Add some color for good measure!
Bullet Journal Meal Planner Page Ideas
Meal planners are a great way to save money planning daily meals for your family or even a great weight loss tool to keep track of healthy eating and caloric intake. Some useful things you can use bullet journal meal planners for are:
Daily calories
Ingredients list
Weekly meats
Weekly desserts
Grocery list
Weekly food budget
Portions
Meal recipes
Family favorite foods
Via Teal Notes
Here's an example of how I do my meal planning for the week. I LOVE that the layout allows me to use sticky notes for everything, so when I'm ready to plan the following week on Sunday evening, I can add new stickies to the same pages and start on a clean slate. It's an awesome bullet journal spread that works quite well!
Via Christina77star
Meal planners. They're simply a must have as one of your bullet journal pages. There are TONS of ways you can go about creating a functional meal plan page that will work for you. This one is pretty straight forward and gets the job done.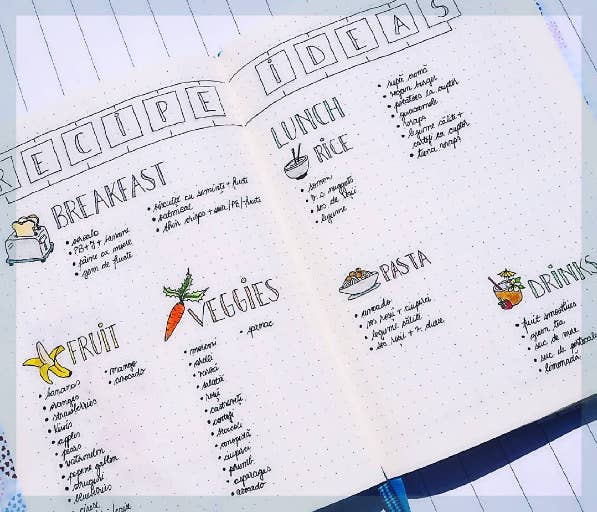 It's always nice to add small sketches of your foods to your meal planner to add a colorful and fun touch. This recipe ideas bullet journal page does just that. Its always great that you can keep everything neat and straight without the direct use of lines because of the dotted bullet journal paper. I love this!
Via Greyandcopper
This is yet another nice and spacious bullet journal page idea design that is pretty straight forward and uncluttered. It works for the folks that are simple and neat at heart!
Via Christina77star
This meal planner is pretty popular around the web and featured by hundreds of bloggers its just that good of an idea. Christina never fails to create awesome bullet journal page ideas that will rock your bullet socks off they're so darn pretty! This one is super functional because you can remove the different sized sticky notes and start afresh each week!
Part of effective meal planning is knowing what your family loves to eat so you can pull from that when you lack cooking inspiration. This bullet journal page shows you how you can make a quick list of yummy foods to pick from and stay organized.
Via Gothamhaus
This bullet journal idea is neat and to the point and doesn't involve much doodling. Perfect for people on the go that don't have much time for artistic expression and want a neat bullet journal entry to help create their perfect day.
Bullet Journal Holiday Page Ideas
Bullet journal holiday pages are a great way to keep track of all your gift giving and help you not go crazy with all the chaos! Here is how you can use your holiday bullet journal spreads:
Stocking stuffers list
Gifting brainstorm
Gift budget
Supplies list
Yearly decorations
Monthly planner leading up to Christmas
Baking goodies list
Special traditions tracker
Gratitude list
Via Paper and Inc
Bullet journal holiday pages are some of the most creative ones out there! There are just so many that leave you awestruck and makes you want to start bullet journaling like yesterday!
Via Quietcollections
Create a snowflake themed bullet journal spread that gets the job done and looks absolutely enchanting at the same time. Heck, this spread is so pretty it could borderline be a Christmas present to someone special for them to fill in themselves.
This holly spread for December is an absolute must. If you notice, its actually made on notebook paper, which goes on to show that you don't need fancy dotted paper to start bullet journaling if you don't want to. A beautiful holiday idea.
Via Bullet Journal
Keep track of what you put in each stocking stuffer! This in case everyone isn't getting coal for Christmas. It's a great example of an organized spread that doesn't necessarily need color!
Via Asarye.creates
Talk about a bullet journal spread you want to frame and hang up. This masterfullly done spread has no rival in the candy cane inspired section. It's an absolutely beautiful way to make sure your loved ones each get their Christmas goodies!
This bullet journal spread screams Christmas like no other! I love the candy cane divider lines and adorable Santa Claus on top. This bullet journal page just goes on to show how creative you can get with your holiday spread ideas!
Bullet Journal Self Care + Gratitude Page Ideas
Self care is one of the best ways to use your bullet journal. This is because there are lots of ways to practice self care and tracking your progress to see how much you've improved over time can be a great motivator. Here are some cool self-care ideas for your bullet journal:
Gratitude log
Daily journal
'Things I love about myself'
Wish list
bucket list
Meditation log
Inspiring quotes list
Sleep cycle log
Via Teal Notes
One part of self-care is setting clear goals for yourself. Taking the time to map out and figure exactly what it is you want can be a GREAT step in helping you feel less stressed and more present.
Via The_Mintti
When it comes to bullet journaling you can't forget about self care. It is one of the most popular bullet journal categories out there that lost of fellow bullet journalers use for peace of mind and to help them destress. This cloud idea is pretty neat and you can fill in each one for something you feel thankful for.
Via Page Flutter
Sometimes a simple gratitude journal entry will do for those moments when you need to be reminded what you are thankful for the most. You can even separate each entry with some colorful and fun washi tape.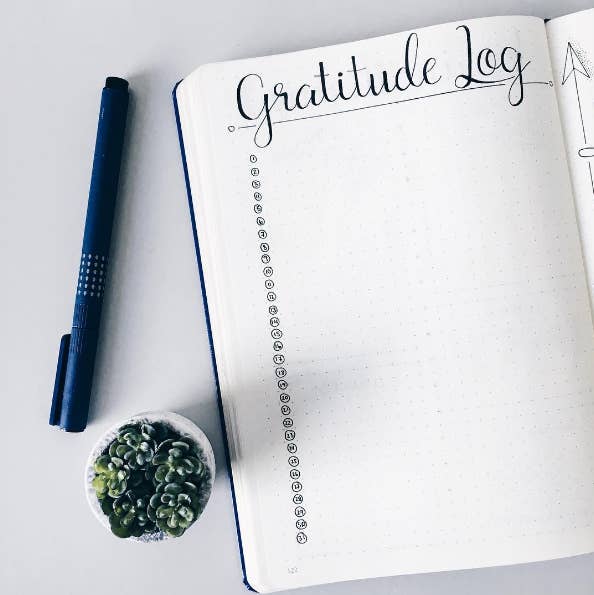 Via Louise.dahle
As a simple bullet journal page idea, make a classic list. The point is to get everything you are thankful for in one page. That way you can be more content with your achievements and everything you cherish!
Via Firschrjournals
The yellow sun is most definitely a symbol of happiness. Why not incorporate that into your gratitude and self care journal entry? It will no doubt brighten up your day to remember what it is you give thanks for!
This is a great way to remember some of the things we take for granted and be thankful for them. Go through each letter of the alphabet and see if you can come up with something you are grateful for that starts with that letter! A pretty neat and unique idea from Little Coffee Fox.
Via Sixeladoodles
A bullet journal mood tracker is a classic way to keep track of your emotional state in the bullet journal community. This one is particularly gorgeous because of it's use of color isn't it? Track your moods and what its regulated by with a tracker like this one for another self-care exercise.
Via Claire.igraphy
Sometimes a small way to practice self-care is to remember personal quotes that ground you. Better yet this particular bullet journal page by Claire incorporates that into her gratitude list. A very pretty idea.
Via Sophiejournals
Gratitude is the vitamin to the soul…I couldn't have said it any better myself. This is a neat way to start a gratitude log, with a nice introductory doodle to frame the rest of the spread.
Via Logthatlife
This entry by Log That Life is colorless yet full of personality. Another great example of an awesome bullet journal page idea that can work for you (especially if you forget your markers and you're on the go!).
Via A Line A Day
What caught my eye about this bullet journal page idea were the lines and how it makes it easier to differentiate between each item if you were to decided to make a classic list. Simple and to the point yet beautiful.
Via Kerry May Makes
Part of effective self-care is keeping track of how you take care of each area in your life. This way you know what to improve on and what you can add or take away. This bullet journal spread does just that by listing out lifestyle habits, me time, and health and beauty.
Here is another cool way to create a mood tracker in the shape of a circle with a bullet journal key to accompany it. If you want to get fancy you can even track the moon phases along with your mood. Pretty cool ,eh?
Doesn't the symmetry of this bullet journal page make you want to create one yourself? It's a different approach to livening up a plain list of either self-care routines or things you're grateful for.
Via Boho.berry
The four pillars: Mood, Sleep, Activity, and Diet are fundamental parts of our self-care routine. You can make sure you are keeping track of each by simply making a four quadrant bullet journal spread or even keeping a graphed tracker like the one on the right.
Via Bulletbeautiful
One way to practice self-care is to create a map of sorts of what your ideal day would look like to help you plan better and beat overwhelm as best as possible. Stress reduction is a huge self-care practice that everyone does in their own way.
Bullet Journal Cover Pages + Doodles
Via Bujowithnato
As we said before, bullet journals are supposed to be fun and not stressful! Don't e afraid to add some life and spice to each page and doodle/sketch/draw your bullet journal heart out! This July cover page is a great example of that!
Via Miss Louie
April is for baking! Or at least Miss Louie, the creator of this spread, seems to think so! All the soft colors go together nicely and naturally and don't clash with each other. You almost want to grab a cupcake and eat it!
This is a great example of bullet journal doodles! Doodle away and have fun with it. These little dinosaur monsters are beautiful creatures you just fall in love with they are so adorable! If I have the time, I like to make small doodles and cut them out to keep a small collection I can then paste into any given bullet journal page if it fits the theme. Just pure genius!
Via Couleursduvent
More plant doodles that could go on for days. This one idea is for all the plant lovers out there who can't get enough of their greenery.
Via Jannplansthings
Drawing a cityscape is a great way to theme a certain bullet journal spread if you feel inspired by living in your city. The detail in this one is amazing and the starry night sky is the perfect way to bring this piece of art/bullet journal page all together.
Flower bouquets are a great way to liven up any bullet journal page no matter what the theme is. The more you draw them the better you'll get. Just doodle away first and see where your imagination takes you!
Via Nicoles.journal
A hot air balloon bullet journal? Who knew this could be an idea! the gradient coloring makes it all that more special and a great cover idea for the month of September!
Via Myyellowjournal
June is a tropical and heat filled month so why not draw wild animals and plants as the theme? This cover idea is a gorgeous cover image you can use for inspiration that adds a nice twist to the sunny summer month.
Via Deeillustra
You can't go wrong with silver stars and clouds to make any page pretty. This one went all out and filled the whole page with a dreamy starry background. A perfect bullet journal idea.
Via Miss Louie
This pretty soft pink spread is sure to catch just about anyone's eye. I love the roses framing the month and the use of cutouts to add 3-D life to it. Yet another beautiful bullet journal creation!
Via Aprilannnine
I absolutely fell IN LOVE with this cover page as soon as I laid my eyes on it. Its absolutely etherial and gorgeous. I love the subtle use of pastel markers that bring it all together to frame the month of April.
Here is either another way to keep track of all your plants, or just an excuse to expertly draw some succulents. Isn't this spread nice and symmetrical? This can even make part of your bullet journal weekly spread to make sure you're watering your plants on a constant basis.
Via Createmore.se
For most of us, January is a snowflake and cold month! Why not make a snowflake themed cover page to brighten up your overcast days?
Incorporate some vines into your monthly cover images like My Life In A Bullet did. Make em colorful and make em bright and remember, they don't all have to be green! Your imagination is key here!
Instagram Bullet Journal Page Inspiration 
To finish this LOOONG list of bullet journal page ideas, here are some beautiful spreads you can find on Instagram. If there are any you particularly like, make sure you give it a follow! Leave a comment if there is any bullet journal page idea that caught your eye the most! Happy bullet journaling! 🙂
Bullet Journal Page Ideas For Days!
Hopefully these bullet journal page ideas inspired you to get started creating your own BUJO spreads. I know that sometimes you can run into a wall when it comes to creating a nice and engaging spread for yourself, but once you find out the endless possibilites, you'll get motivated to create your own.
Any page ideas that stuck out to you the most? Leave it in the comments below!