Get the white chicken chili recipe here
Feeding the whole family can cost a ton if you don't get savvy creating budget-friendly dinners. 
The trick is to be able to whip up some family favorite weeknight dinners that save money and save time. 
It helps to have a quick list of easy meals to look through. Granted, the list has all kinds of dinner ideas on it, ranging from comfort foods to ramen noodle soups and even budget-friendly recipes that are heavy on the veggies in case you're looking for healthy dinner options. 
Related: 31 Dinner Ideas For Two: Here's What You Can Make For Dinner Tonight!
Cooking conversions
Now, most everyone is pressed for time when it comes to making weeknight dinners. That's why it's always a great idea to cook with a crockpot whenever you can.
They're quick and convenient and can help you create make-ahead meals. It's why I created this handy slow cooker times sheet you can print and stick on your fridge. If you aren't new around here, you know we love printables. So, head here to get free printable conversion charts for your kitchen.
Smoked sausage and rice skillet
Recipe Via All Things Mama
As soon as I laid eyes on this recipe my mouth started to water ( I had yet to eat dinner) and thought it was a great addition to the list of cheap easy meals. The sausage, broccoli, and rice all compliment each other nicely, and as you can see it doesn't take too long to throw together. Check out the recipe to learn how to put it together.
Related: 21 Dinner Ideas For Two: What To Make For Dinner Tonight
Black bean stuffed sweet potatoes
Recipe Via Food With Feeling
Not only is this cheap dinner idea good for your wallet it's a much healthier option than a bowl of pasta (though one of those once in a while doesn't hurt either). These bean stuffed sweet potatoes look super good and filling. As a dinner option, they're most definitely worth a try.
Crockpot creamy lemon chicken
Recipe Via Life In The Lofthouse
This creamy lemon chicken looks to die for delicious. You bet your socks any crockpot recipe is going to be easy to make and more budget-friendly can a regular full course meal. This recipe is worth trying, especially if you have some chicken sitting around that you don't quite know what to do with.
Teriyaki turkey rice bowl
Recipe Via Yellow Bliss Road
This Teriyaki bowl of ground turkey (some of the cheapest meat you can get out there) definitely has great potential to become a favorite cheap dinner idea for tonight. It could even be a cheap dinner idea for two if you want to fix something GOOD and quick.
P.F. Chang's garlic noodles
Recipe Via Dinner Then Dessert
Why go out and spend loads of money on PF Chang's when you can make your own version at home? This recipe makes for the perfect cheap dinner idea that can save your weeknight cooking plans and that doesn't have to eat a big hole into your grocery budget. If you're looking for a budget-friendly meal to feed the whole family, this is it.
Southwest chicken and rice
Recipe Via The Chunky Chef
South West Chicken sounds like some good old soul food for dinner. Cheap meal ideas come as easy as this South West Chicken recipe served over some aromatic Jasmine rice.
Spicy fish tacos
Recipe Via Teal Notes
Making fish tacos can be a great change of pace if you're tired of eating the same three meals in rotation. Though they tend to be pricier if you go out and order them at a restaurant, you can make them at home with a few ingredients for a lot less. Get the recipe. 
Classic stuffed shells
Recipe Via Spend With Pennies
Stuffed shells can be an easy alternative to making a full-on lasagna. And if you create it as a side instead of the main dish then you don't have to spend making as much. If you're feeling for cheese and tomato sauce then this recipe is worth a try.
Seasoned rice pilaf
Recipe Via Good Cheap Eats
Rice pilaf is a great cheap meal option because it doesn't take too much of anything at all to make. All you need is some chicken broth, butter, rice, and some seasoning for some expertly cooked rice that doesn't' come out of a box. Cheap and easy!
Easy cheese bomb bread
Recipe Via Avery Cooks
This cheese bomb bread might look fancy and expensive but it's really easy to make and tastes amazing! There are lots of things you can combine the bread with, like tuna patties for example, or a chickpea salad. Totally your call. Check out the recipe over at Avery Cooks.
Spanish spinach with chickpeas
Recipe Via Simple Vegan Blog
Chickpeas are a cheap dinner option that can be incorporated with a lot of things, including meats if you aren't a vegan. If you're trying to watch what you eat more closely or are trying to transition into veganism to save money on meat, then this is a cheap and easy dinner idea you must try!
Easy homemade ramen noodle soup
Recipe Via Killing Thyme
A ramen bowl makes one of the easiest weeknight-dinners you can make in a pinch. Along with your favorite veggies, it's not only a healthy dinner its a fast one to whip up too.  
Cheesy chicken broccoli and rice casserole
Via Mom On Time Out
If you're really looking to save money with your dinner recipes one great way to do that is with casseroles. You can create casseroles out of almost anything imaginable and if you know to mix it with a few key ingredients, they can come out pretty tasty. This particular recipe includes rice and chicken, which makes it extra hearty and filling.
Ham and pineapple sliders
Recipe Via The Recipe Rebel
Pineapple ham subs are a great spin to pineapple ham pizza and are a lot easier to make. You can throw these together after a long night and have a satisfied family. They're also kid-friendly and easy to serve.
One pot garlic parmesan pasta
Via Damn Delicious
You've gotta love one-pot dinners. You can add in some crispy breaded chicken breasts for some delicious comfort food. With pasta, you can get creative, so you can even make a one-pot dinner with feta, or maybe even greek cheese. There are oodles of possibilities. 
Dump and bake chicken broccoli casserole
Recipe Via The Seasoned Mom
A good old chicken and broccoli casserole never hurt anyone, especially your budget. The best part is you can basically dump it all in and have it ready to go in no time. Save money and save time. A total win-win.
Chinese stir fry noodles
Recipe Via Recipe Tin Eats
If you're feeling like having Chinese but don't want to spend the money necessary to order takeout, try making your own dish of stir-fried noodles. It's actually not too hard to make Chinese at home that actually tastes good and is right on budget. Yes, cheap meal recipes can also get a little fancy with some creativity. It's also a winner in the cheap easy meals for two categories that a lot of us are after! Check out the recipe for full directions. 
Ground beef casserole
When you're trying to come up with a budget friendly dinner that beast plain macaroni or the same fajitas you've been having for ages, you should try a good old ground beef casserole. It only takes a few minutes to put together and it's a pasta dish that makes good leftovers. 
Chicken enchilada soup
Recipe Via Skinny Taste
Add a twist to the traditional chicken enchilada by making it a soup! The ingredients you need are cheap and a lot of them can be found in the canned or dried section. Best of all it's a crock-pot recipe that takes no time at all to put together and can be ready by the time you get back home from work. A double win-win for a cheap meal idea.
Easy chili recipe
Recipe Via Julia's Eats And Treats
You really can't go wrong with good old Chili. It's definitely a filling recipe and it makes great leftovers for a couple of days after. You can even add some cornbread to it to complete the meal. The best part is that it doesn't take forever to put together, and you can even leave it simmering in a crock-pot throughout the day. Sometimes it can take a little digging to create cheap dinners. but it's doable for sure!
Baked ranch chicken thighs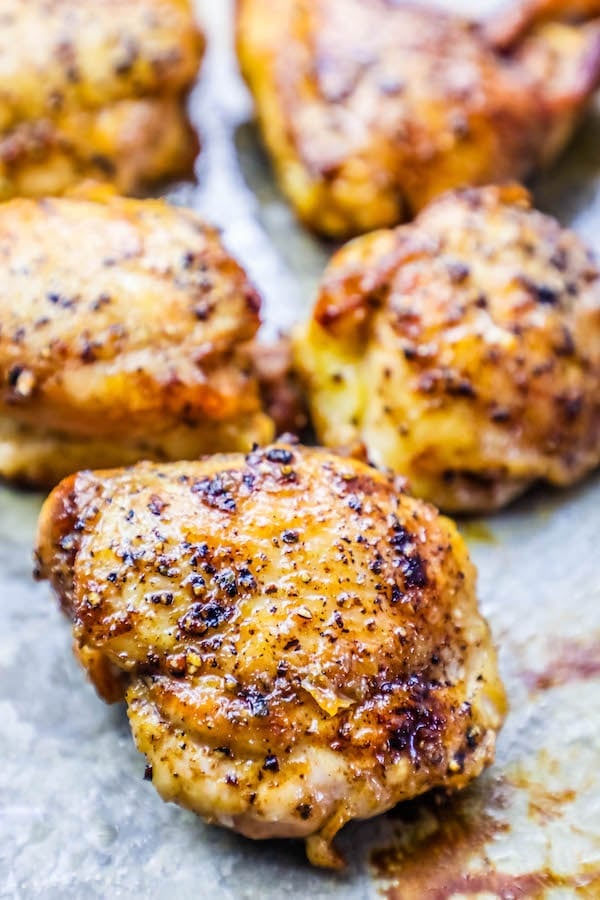 Recipe Via Sweet C's
If you hear 'ranch' and 'chicken thighs' in the same sentence you know it's one of those weeknight dinners that's bound to be good. With some olive oil, some seasoning, and a few minutes baking in the oven, you've got some tasty protein you can pair with some sauteed zucchini. 
Easy italian meatballs
Recipe Via Savory Nothings
You can't go wrong with some classic italian meatballs. Especially when they're so easy to make. If you have ground beef in your fridge, ditch the meatloaf and go for some italian meatballs instead. In my book, they also make great leftovers. 
Lemon chicken soup
Recipe Via Teal Notes
Lemon chicken soup tends to do three things: satisfies you, warms you from the inside out, and saves you money. You can absolutely make this soup your own on the cheap with whatever leftover ingredients you find in your fridge. 
Easy tuna patties
Recipe Via Family Fresh Meals
Tuna patties can be a great easy dinner idea that can bring some much-needed change to your kitchen (and taste buds). They go great with a little spritz of lemon and you can have them with a side salad or some fresh rice. Easy, right?
Adult cobb grilled cheese
Recipe Via Foodie Crush
Try creating adult grilled cheese as an easy meal option. Who said grilled cheese only has to be cheese and bread? Add some avocado, tomato, and bacon to it!
Easy honey garlic pork chops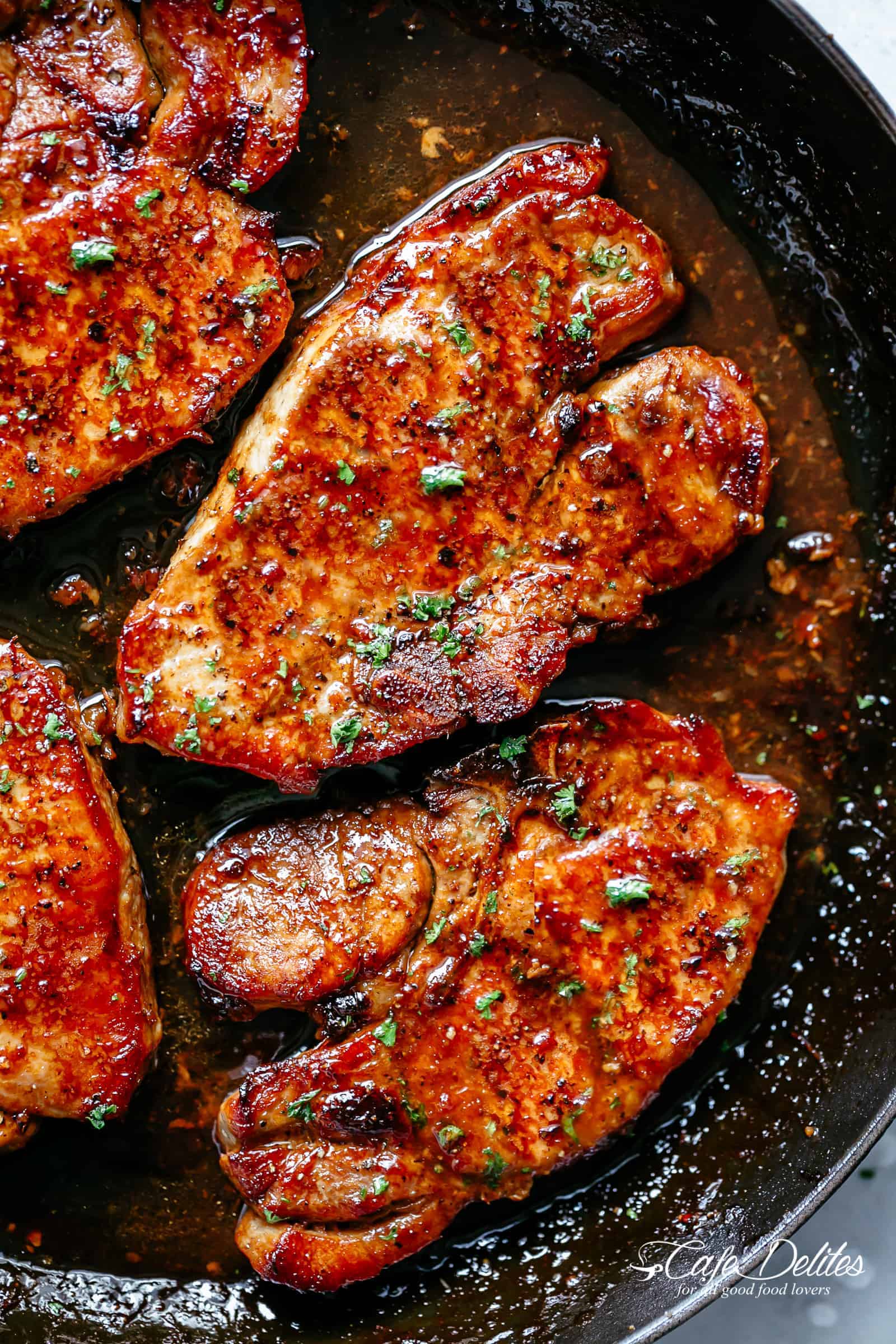 Recipe Via Cafe Delites
If you're tired of picking up the same rotisserie chicken for your weeknight dinners, try your hand at these easy honey garlic pork chops. They look fancy, but they only take about 30 minutes to put together. 
Sheet pan balsamic chicken dinner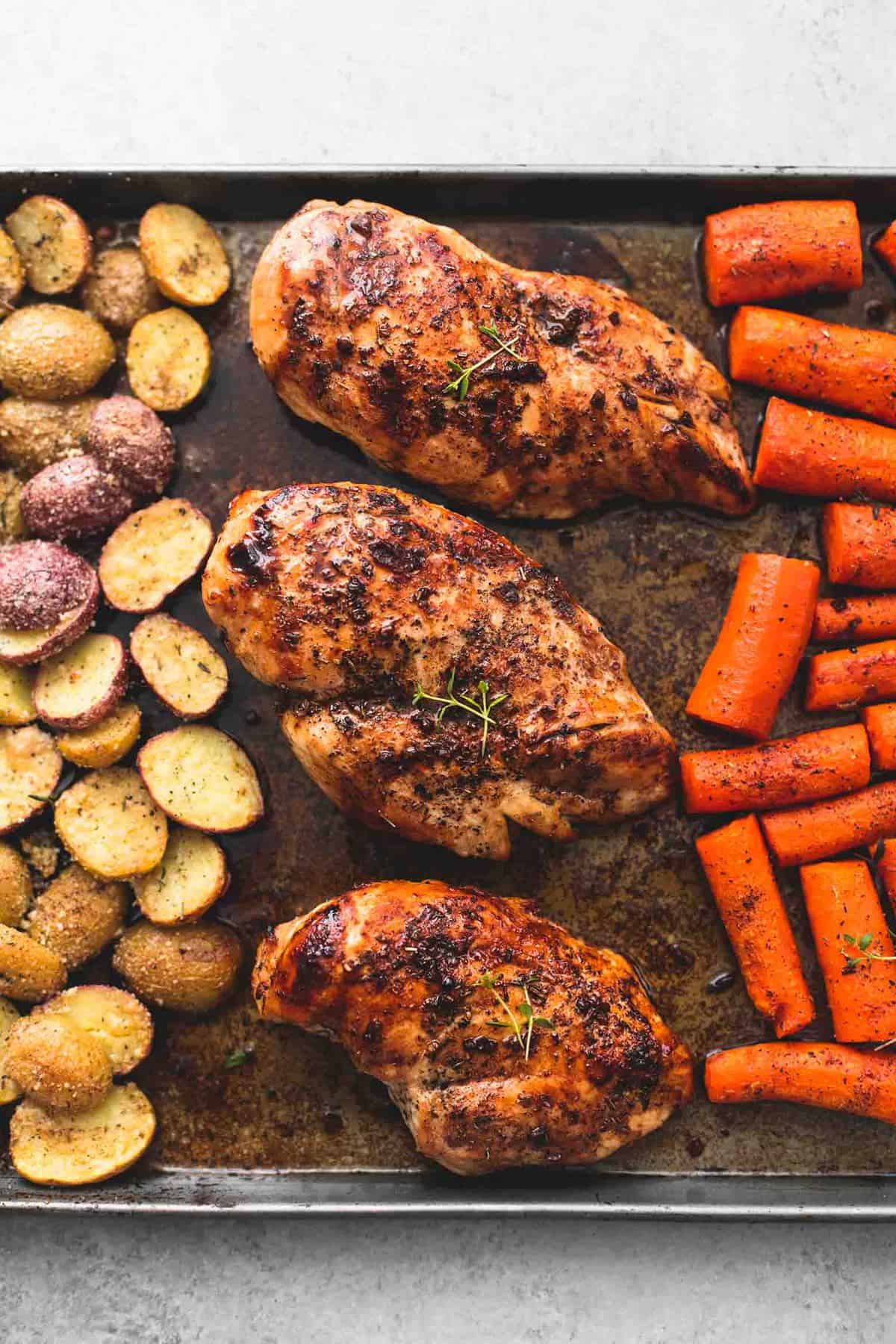 Recipe Via Le Creme De La Crumb
Add some potatoes, red peppers, carrots and hey maybe even some pesto and you've got yourself a healthy dinner. The beauty about sheet pan dinners is that they tend to be budget-friendly and zero fuss.
Poached eggs with rice and lentils
Recipe Via Girl Vs Dough
I used to hate lentils until my mother showed me how to spice them so they didn't taste like cardboard. This dish, with a sunny side egg on top, can be a tasty recipe to keep your family healthy that gets anyway from the norm. Try something new and try some well-prepared lentils for dinner.
Taco melts
Recipe Via Pillsbury
These are great, easy, and tasty because you don't even have to make the dough to put it together (it's a Pillsbury dough recipe). These tacos look too good to pass up and it flips the conventional tortilla tacos on its back and uses flour dough instead. Try this twist on the original taco. Get the recipe here.
Parmesan cheese and chicken sliders
Recipe Via Cooked By Julie
I'm not sure there's anything parmesan cheese could make taste bad. Maybe if you paired it with peanut butter. In this case, we've ham and parmesan cheese sliders. You know, one of those winning weeknight dinners you simply can't go wrong with. 
Kielbasa pepper onion and potato hash
Recipe Via The Two Bite Club
I remember making this type of recipe while on a college retreat. We were on a tight budget and were in need of easy cheap meal ideas that wouldn't put us in the overspending on food zone. Needless to say, the meal was a success and everyone ended up with happy and filled tummies. There's this recipe too, which is only $0.84 per serving Get the recipe here. 
Imitation pasta carbonara
Recipe Via Teal Notes
In college, I learned to make a few cheap meals to save money. And this one is one of my favorites I'd prepare with my close friends. Fancy, but not really, yet still good. Get the recipe.
Slow cooker veggie soup
Recipe Via The Recipe Rebel
Sometimes a tasty slow cooker soup with lots of veggies is all you need. What's not to love about the convenience of a slow cooker, a healthy dinner, and plenty of flavor?
Chili cheese Frito salad
Recipe Via Lets Dish Recipes
This fun and cheap salad can be a light dinner pick me up that you can mix and match with a lot of different sides. If you love the crunchiness of Fritos and the sweetness of corn then you'll love this easy and cheap salad recipe!
Easy potato bacon soup
Recipe Via Plated Cravings
Who says you can't have soup for dinner? Especially this potato-based soup, which is particularly filling. I tried making some potato bacon soup for the first time this year, and I've been making it ever since. It is absolutely delicious, cheap to put together, and super satisfying. Make sure you take a peek at the recipe for another great cheap and easy dinner idea. Get the recipe here.
Vegetarian spaghetti
Recipe Via Family Food On The Table
Of course, as part of the mission to feed your family on a budget, I had to include a vegetarian dish. This means savings on meat products (which can be the biggest wallet drainers on our grocery list). Cheap dinner meals CAN be delicious and healthy, a win-win for a meal on a budget. Get the recipe here.
Mac and cheese with cauliflower and tuna
Recipe Via An Edible Mosaic
We've all heard of mac and beef but have we heard of mac and tuna? It's definitely cheaper than beef and can be just as filling with a new twist on flavor. Make sure you check out the recipe over at An Edible Mosaic to get the full recipe.
Cheesy orzo and sausages
Recipe Via Teal Notes
Admittedly, orzo isn't the cheapest ingredient out there. But that's the beauty of recipes, you can make them your own. instead of orzo, you can use ziti or farfalle and it can work the same. Also, I need to just say, those sausages look delicious. 
Budget-friendly beef wellingtons
Recipe Via This Is Not Diet Food
Beef Wellingtons are some of my favorite recipes to make! I fell in love with them from the first time I tried them and they're definitely on the list of cheap dinner ideas for 4. All you need are basic ingredients like puff pastry, which you can find at almost any convenience store. Wellingtons are a yummy cheap meal idea option for eating in. Get the recipe here. 
5-Ingredient broccoli cheese soup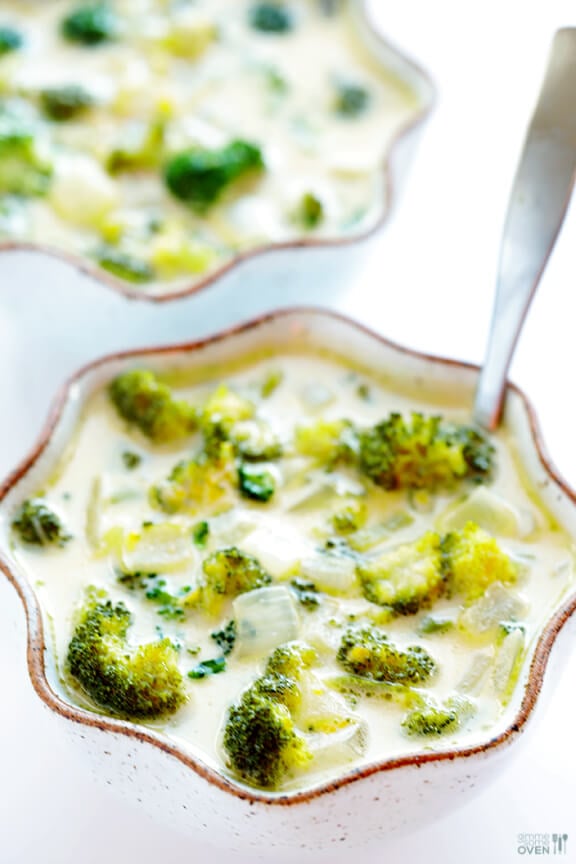 Recipe Via Gimme Some Oven
This one is for all the cheese lovers out there that want to have their cheese and easy and cheap recipes at the same time. This is a classic broccoli cheese soup that makes for some hearty dinner nights with the whole family. get the awesome recipe below. Get the recipe here.
Easy fried rice
Recipe Via The Wicked Noodle
Fried rice is three things: delicious, filling, and easier to make than you think (just go to any hibachi restaurant). It can make a great cheap meal for two and can pack a flavorful punch if you sautee it with the right ingredients (that are cheap and don't cost a ton of money). Learn how to make this easy recipe below! Get the recipe here.
Green chili chicken
Recipe Via Teal Notes
Green chili chicken is absolutely the best. Awesome flavors, affordable ingredients, and great potential to become a family favorite (or a nice dinner for two!)
Easy and inexpensive bean soup
Recipe Via Coley Cooks
Beans are a great source of protein, complex carbs and fiber. They make for a great hearty soup and can be delicious if paired with flavor enhancing spices. This particular recipe is easy to make and doesn't cost much at all. A perfect cheap meal idea especially for colder evenings. Get the recipe here.
Poor man's lasagna
Recipe Via Fabulessly Frugal
If you have some canned tomato sauce and some cheese to spare, try whipping together some poor man's lasagna! It's a dinner classic and it makes great leftovers to take to work the next day or to reinvent for another meal. It's cheap to make and doesn't take long to prepare. All you have to do is remember to put the ingredients on your meal planner the next time you go shopping.
Asian shepherds pie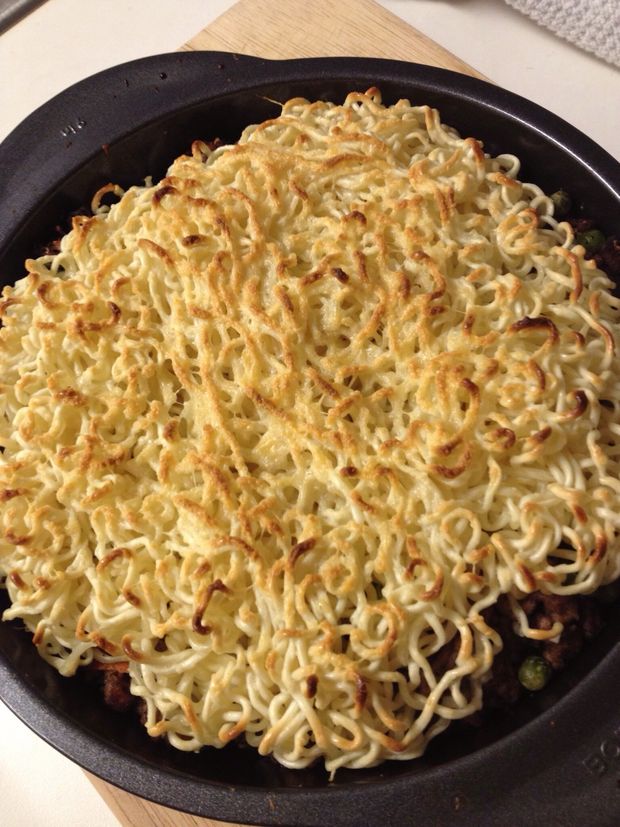 Recipe Via Snap Guide
Ever heard of 'Asian' Shepperd's Pie? Neither had I until recently. Apparently, you can make some bomb Shepperd's pie with some cheap (seriously cheap) ramen noodles. Make sure you check out the recipe for this cheap and easy budget meal. Get the recipe here.
Cheesy chicken fritters
Recipe Via Natasha's Kitchen
If you pair two of the tastiest (and pretty affordable) ingredients around you get this simple yet genius idea: cheese and chicken. It's two things: Affordable and the perfect dinner idea for two (or more). Perfect with sour cream!
Quiche
Recipe Via Good Cheap Eats
For your quest on finding cheap delicious meals try Quiche! Everybody loves Quiche! And if you have a bunch of leftovers that you aren't sure what to do with (along with a few eggs) then this might just be your dinner idea for tonight. This dish is not only great for breakfast but it can also be a perfect fit for a nice quick dinner idea. Quiche-licious! Get the recipe here. 
30-minute one-pan salsa verde recipe
Recipe Via Lexi's Clean Kitchen
Let's get one thing out of the way: Salsa Verde Pork is absolutely delicious…but if pork is too out of your budget range, you can always replace it with chicken chunks. Remember, when you're looking for cheap family meals, you can still use a delicious recipe and just replace it with pricier ingredients with substitutes. This stovetop shows you just how to do it so you end up with some finger-licking good cheap dinner that'll cost you next to nothing.
Veggie cheesy bread
Recipe Via Real House Moms
If you're wanting to have another healthy meal idea that doesn't necessarily involve meat, try this cheesy veggie bread. It can be done in a matter of minutes and can be oh so filling! If you're on the lookout for cheap quick meals then this one is definitely one to put on your to do list. You can always choose your favorite type of bread (like pita or naan) and make it your own. Get the recipe here.
Sheet pan chicken and veggies
Recipe Via Teal Notes
By now you probably know one pan anything will save you money. And this recipe is no different. The secret in getting it right is in the seasoning. No need for fancy or costly ingredients. 
Sweet potato zoodle bowl
Recipe Via Ambitious Kitchen
This Sweet Potato Zoodle Bowl is perfect for when you want to have an awesome explosion of flavors in your mouth! While it's not your conventional noodle soup, you can still cook this meal while on a budget and enjoy something new (and not to mention absolutely tasty!). Get the recipe here.
Classic stuffed peppers
Recipe Via Feast and Farm
Stuffed bell peppers can be a great healthy meal idea if paired with low-fat meat and cheese ingredients. They're a great new recipe to try if you're tired of eating the same things. Once you make them, you can freeze a portion and leave it for a later date. How's that for an easy meal idea? Get the recipe here.
Baked ziti
Recipe Via Cooking With Libby
This is a great cheap meal for large families due to the ingredients being so cheap that you can find them at just about any grocery store. Ziti is not only delicious but pretty easy to make and you can personalize it with the ingredients and spices you and your family prefer. Get the recipe here.
Turkey black bean chili
Recipe Via The Lemon Bowl
If you're looking for a healthy dinner idea how about a turkey black bean chili bowl. With a dollop of sour cream, it's sure to land on the list of comfort food favorites. 
Avocado egg toast
Recipe Via Closet Cooking
This is a bit of a 'breakfast for dinner' twist. Who says dinner has to be meat and potatoes all the time? With some healthy avocado, some spices and some sunny side up eggs, you'll be well on your way to creating a healthy and filling dish for your entire family. Learn about all the ingredients that go into making avocado egg toast successfully through the link below.
Easy dinner recipes that are budget-friendly are possible
There are endless easy meals to make that won't break the bank. The problem is, sometimes you just forget or are at a loss for inspiration on how to come up with your inexpensive dinner ideas. Hopefully, this list gave you some awesome ideas and gets you out of the same dinner rut (and keeps you from needlessly having to overspend).
Budget meals don't have to be a pain when you get a little internet recipe savvy and start saving money on food along the way. If you know of any cheap food recipes worth mentioning, make sure you mention them below.