Slow cooker recipes are convenient.
Not only that but they can taste absolutely amazing too.
Only because they can be set it and forget it recipes it doesn't mean that you don't get to eat something delicious when it's done.
You can make just about anything in a crockpot and one of the easiest recipes to make is slow cooker chicken recipes.
They also tend to make great leftovers that you can pack for work or save for the next day and reheat. One of my favorite crockpot recipes is creating BBQ chicken because of how easy it is to make.
Related: 49 Cheap Dinner Ideas To Help You Stick To Your Budget
You can make pasta recipes, rice recipes, soups, hoagies, dumplings…you name it, chances are you can make it in a crockpot. Did you know you can even roast a chicken in a slow cooker? Yeah, no need to leave a chicken in the oven worried if it'll burn or overcook.
And anything that can save you time while cooking is always a plus. Talking about saving time, you can download a slow cooker cooking times sheet here. Stick it on your fridge and stop guessing how long it takes to cook something! Now for the recipes:
Here are some ideas to get you started spending less time in the kitchen and more time for other stuff.
Crockpot chicken and potatoes with carrots
Via Well Plated
You can't go wrong with chicken and potatoes, especially with this recipe! Once you get all your ingredients together in the slow cooker it can be as easy as 'set it and forget it'. Make sure to get the full recipe on Well Plated. 
Crockpot cheesy chicken and ranch
Via Real Housemoms
Cheesy chicken and ranch sounds absolutely delicious. Especially when you realize how easy and hands free it is to put it together. Check out the recipe on Real Housemoms.
Slow cooker chicken breast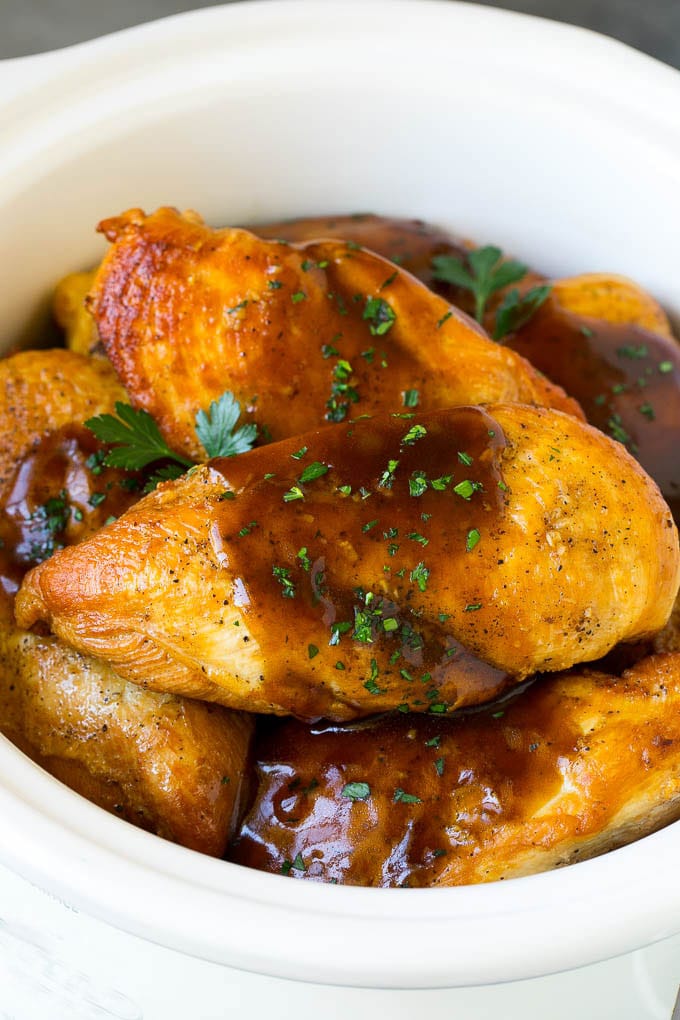 Sometimes for dinner, the easier it is to make, the better. And a couple of chicken breasts can do the trick. Just don't forget to set them on the right time so it's nice and ready when you're serving some for dinner.
Crokpot creamy ranch and chicken potatoes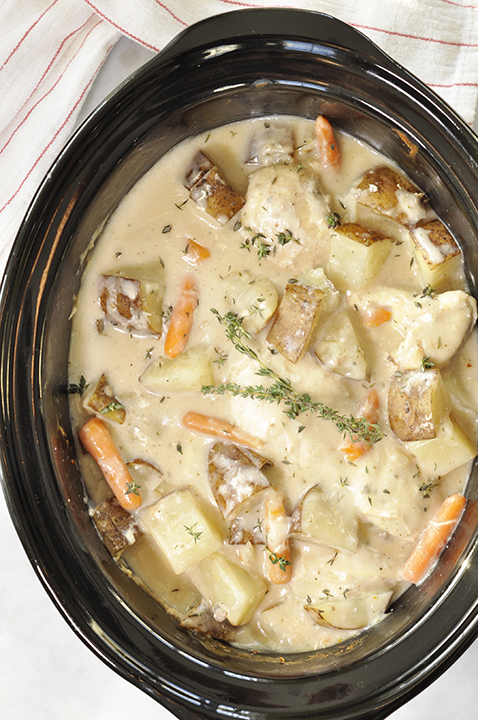 Via Wishes N Dishes
A potato soup recipe is always a recipe you can't pass up. Using a slow cooker makes it easier to create, like this creamy ranch and chicken potatoes.
Slow cooker pork carnitas tacos
Via Teal Notes
This is one of the favorite recipes on the blog! It's an absolutely delicious recipe that gives a nice flavorful twist to the pork carnitas tacos recipe. Go head and try it this week. 
Crockpot chicken and gravy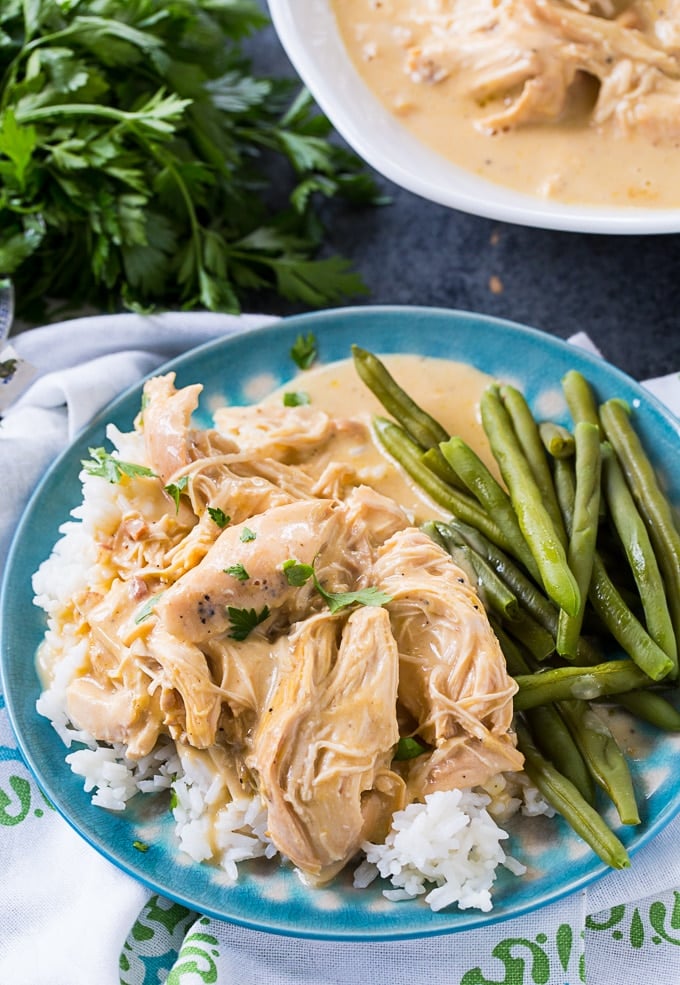 Chicken and gravy is yet another recipe worth trying out. Once you see how easy it is to make you'll probably want to stick it into your favorite recipes book for future reference. 
Crockpot chicken and noodles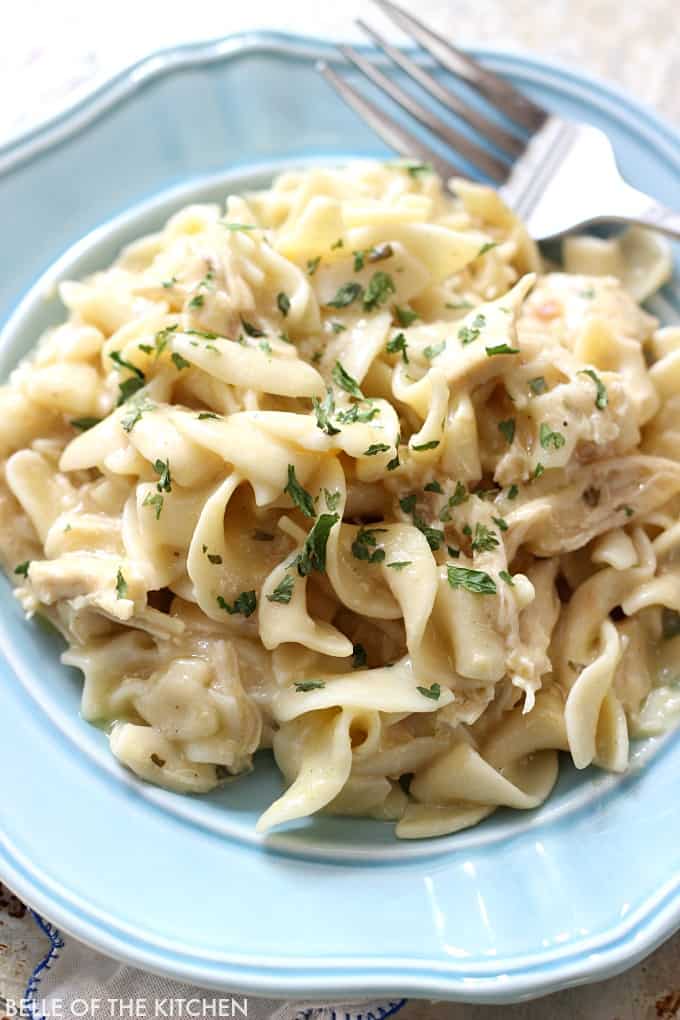 Try this chicken and noodles recipe as part of your meal planning. Easy, not too many ingredients, and to the point. Can't go wrong with a cheap dinner idea like that, especially if you have a big family to feed!
Slow cooker chicken curry

Via Evolving Table
Chicken curry is an absolute favorite because of how much flavor it has. You can make it with a simple white rice and call it a day. It can also make great leftovers so you don't have to spend money on eating out as much. 
Crockpot Mushroom Chicken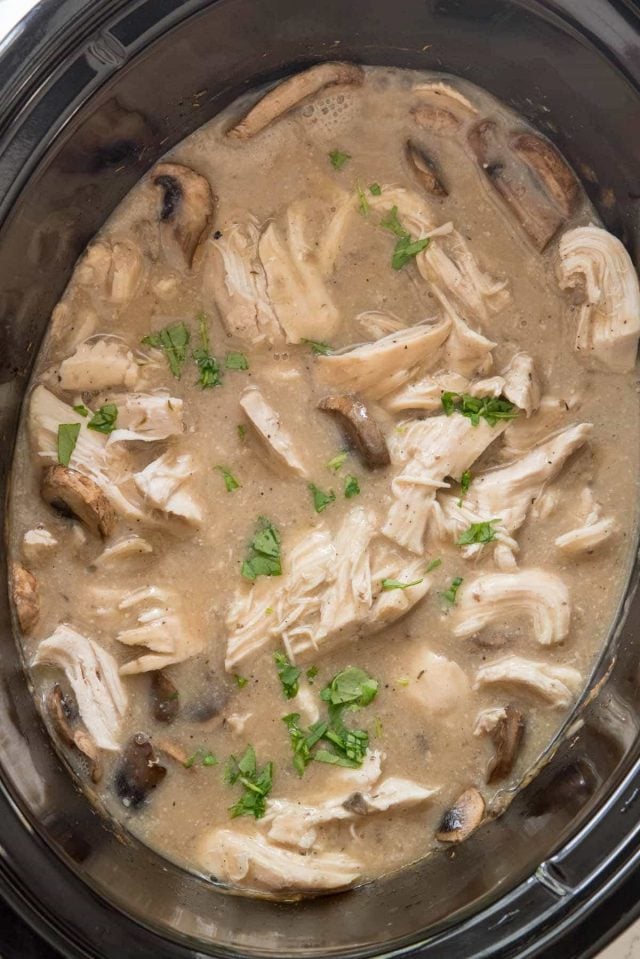 Via Crazy For Crust
Mushrooms and chicken go together beautifully, especially when you learn to season them well for a soup, like this slow cooker mushroom chicken. 
Crockpot chicken and rice
If you're ever doubting what you should be making your family for dinner, making some crockpot chicken and rice is probably your best bet. Easy and tasty, and honestly hard to hat. 
Crockpot Honey Garlic Chicken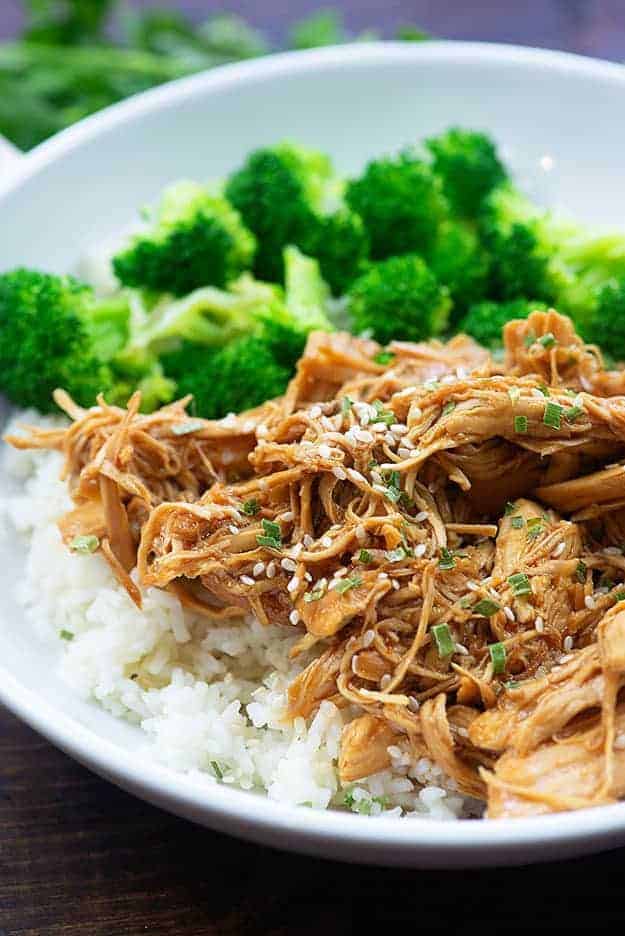 Via Buns In My Oven
Honey garlic chicken can add a nice twist to the same old traditionally seasoned chicken breasts. Best of all it doesn't take a lot of time to create. Get the full run down at Buns In My Oven. 
Easy Crockpot Shredded Chicken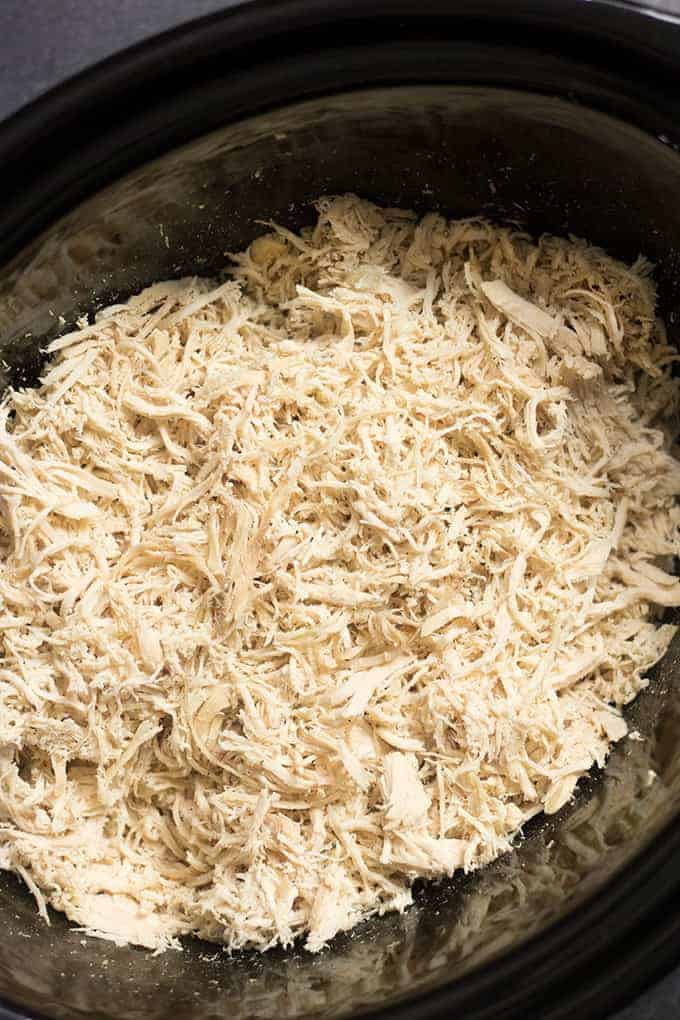 The great thing about shredded chicken is that you can make it and use it in many different ways with many different recipes. Whatever is left over you can always store for later, especially if you're into meal prepping and creating affordable dinners.
Slow cooker cajun chicken alfredo
Via Number 2 Pencil
This recipe is a must try for anyone who loves pasta and the taste of cajun seasoning. The sausages in there look amazing and seriously mouth watering. It definitely gets a 100 in my book. 
White chicken chili crockpot recipe
White chicken chili is one of those hearty recipes great for the fall or winter time, when it's considerably colder outside and you need something to warm you up from the inside. 
Slow cooker thai peanut chicken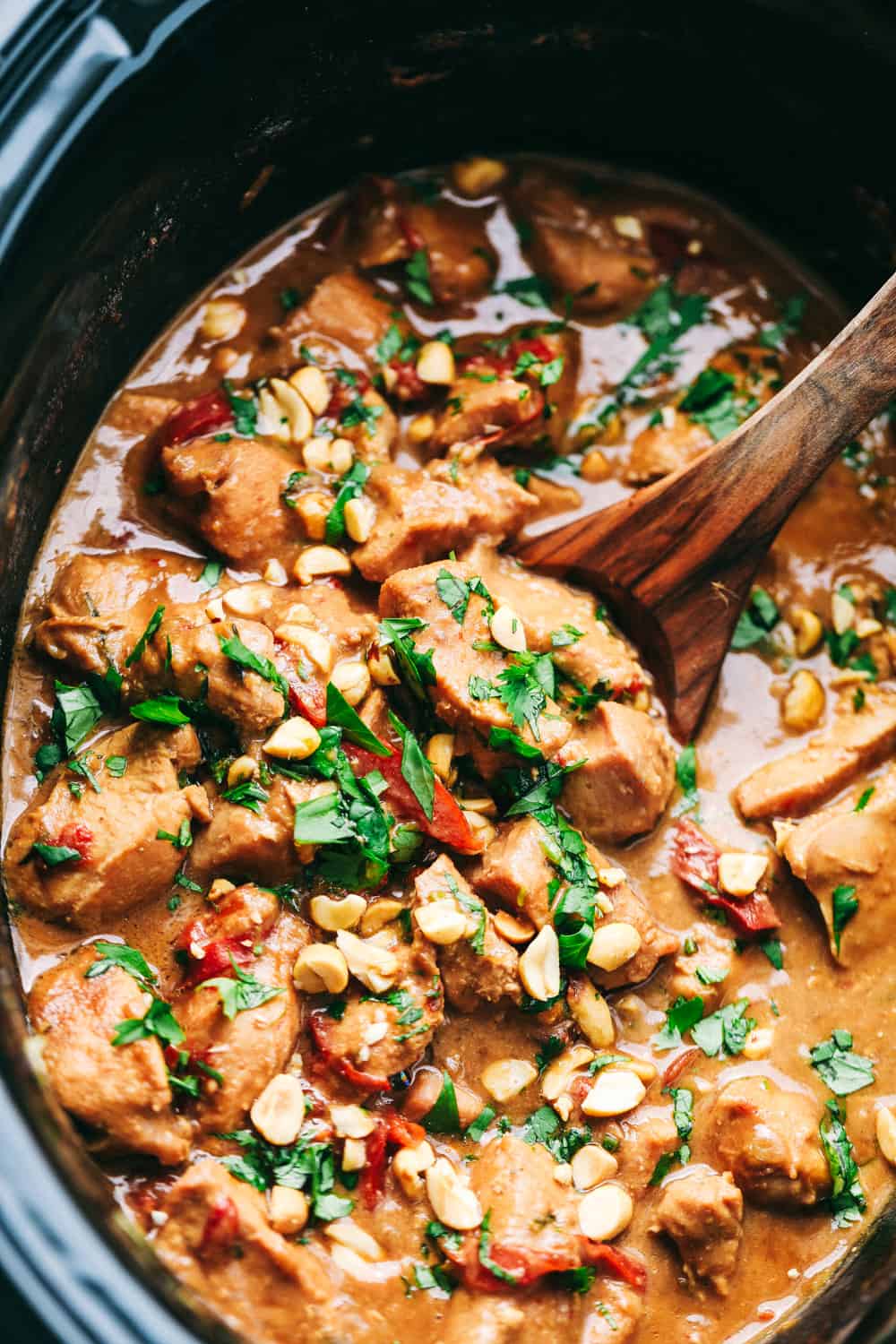 Skip the overpriced asian takeout and try your hand at creating thai peanut chicken! This recipe was found on The Recipe Critic and is definitely worth a try. 
Slow cooker BBQ pulled chicken
There are SO many ways to eat BBQ pulled chicken, so this recipe is definitely worth making because you can multipurpose it to your liking. It's sure to turn into a family favorite and it's a pretty cheap dinner idea to make during the week. 
Slow cooker honey garlic chicken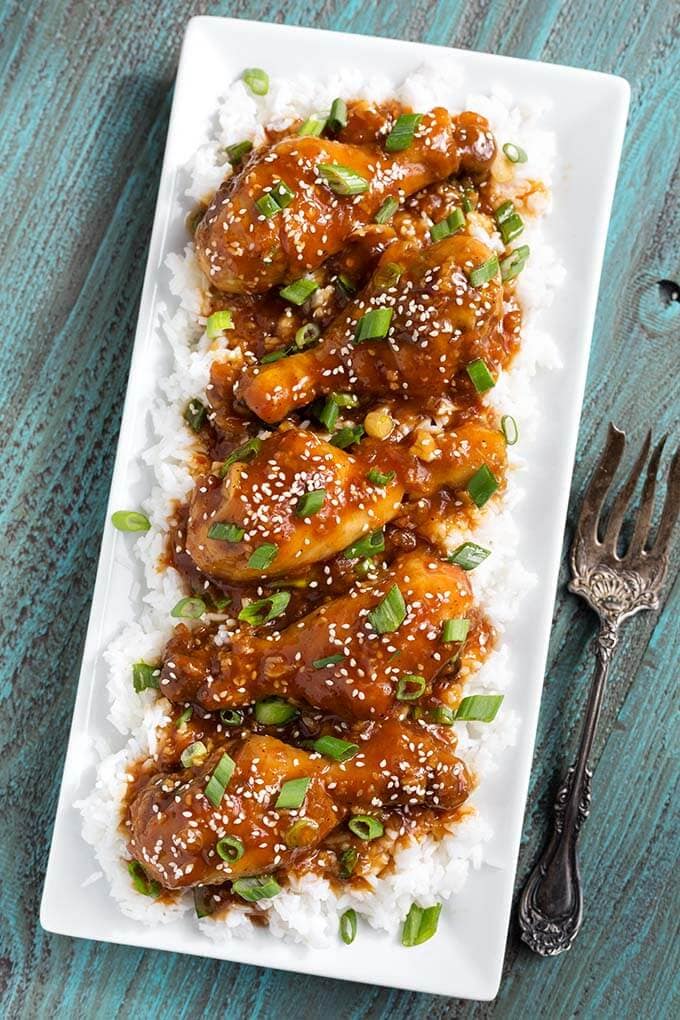 Honey garlic chicken sounds sweet and savory, why not try to make it this weekend. Your tummy will be sure to thank you. 
Slow cooker bacon garlic chicken breast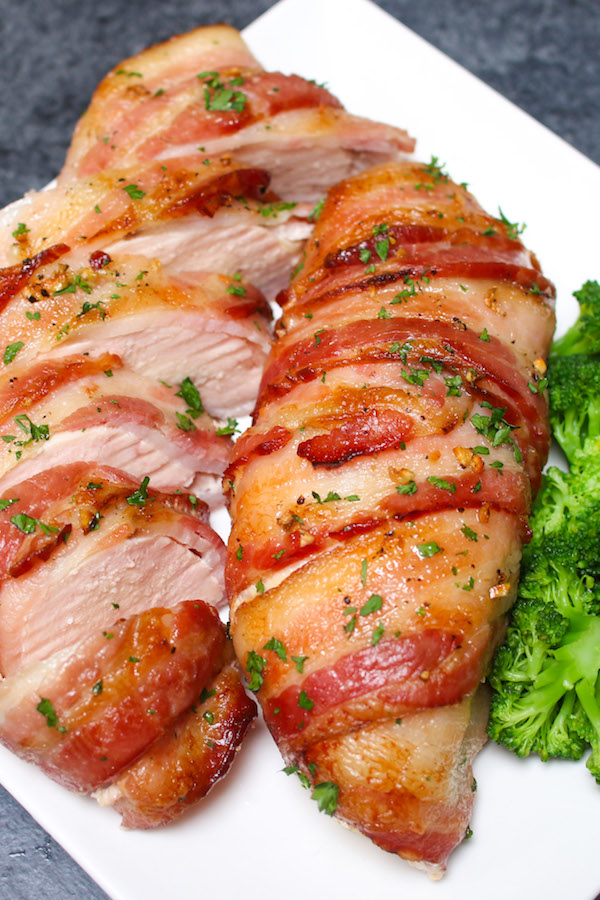 Via Tipp Buzz
Chicken and bacon together? Yeah, that's always a good idea because the taste factor in a recipe like that is over the roof. It's kind of hard to mess this type of recipe up. 
Southwestern crockpot chicken tacos
Via Savory Nothings
Here's another way to make chicken tacos, Southwestern style. When you're ready to eat, scoop it up in a tortilla or don't. Whatever fits your fancy. 
Slow cooker chicken noodle soup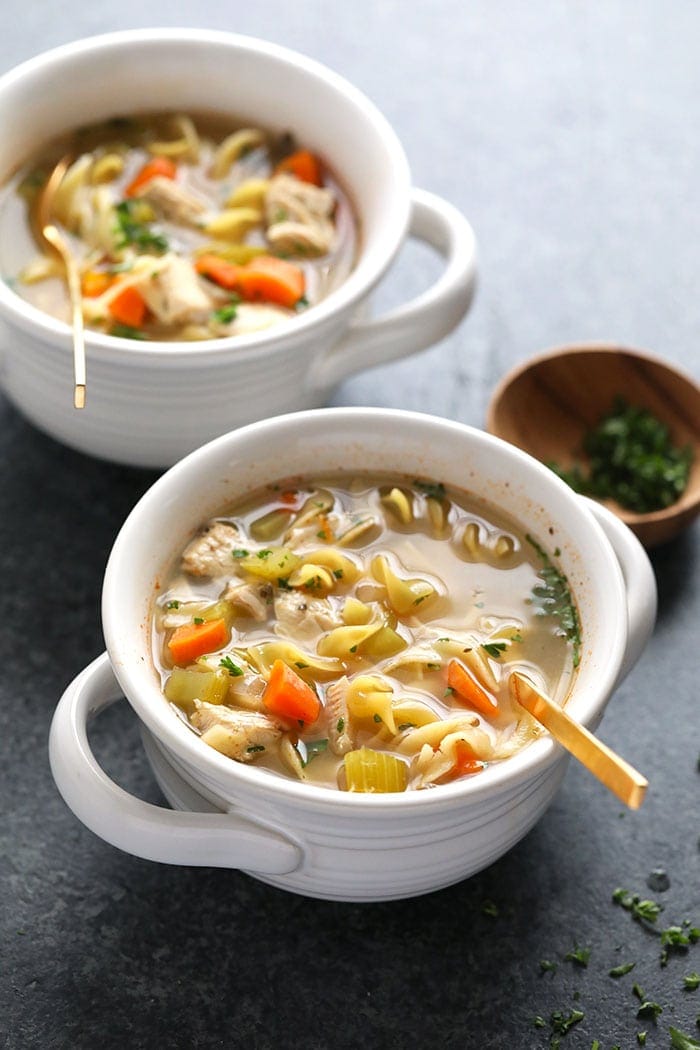 Via Fit Foodie Finds
One of the easiest things to create is a chicken noodle soup in your slow cooker. It's a great cheap meal idea and doesn't cost you much in time at all. 
Slow cooker chicken cacciatore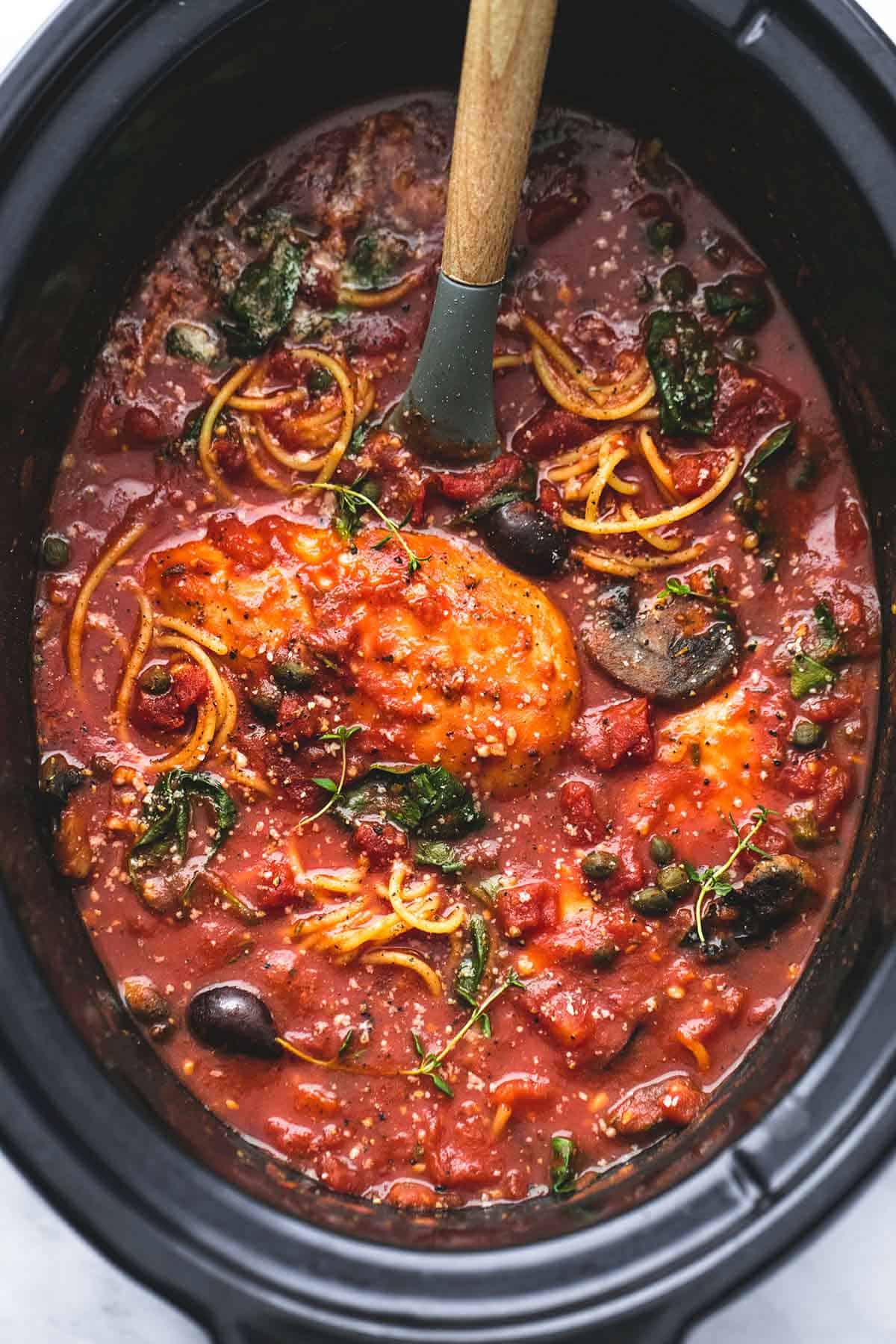 Looking for a more tomato saucey type recipe? Try this one from Le Creme De La Crumb. Looks, healthy, delicious, and super duper tasty. 
Slow cooker asian chicken drumsticks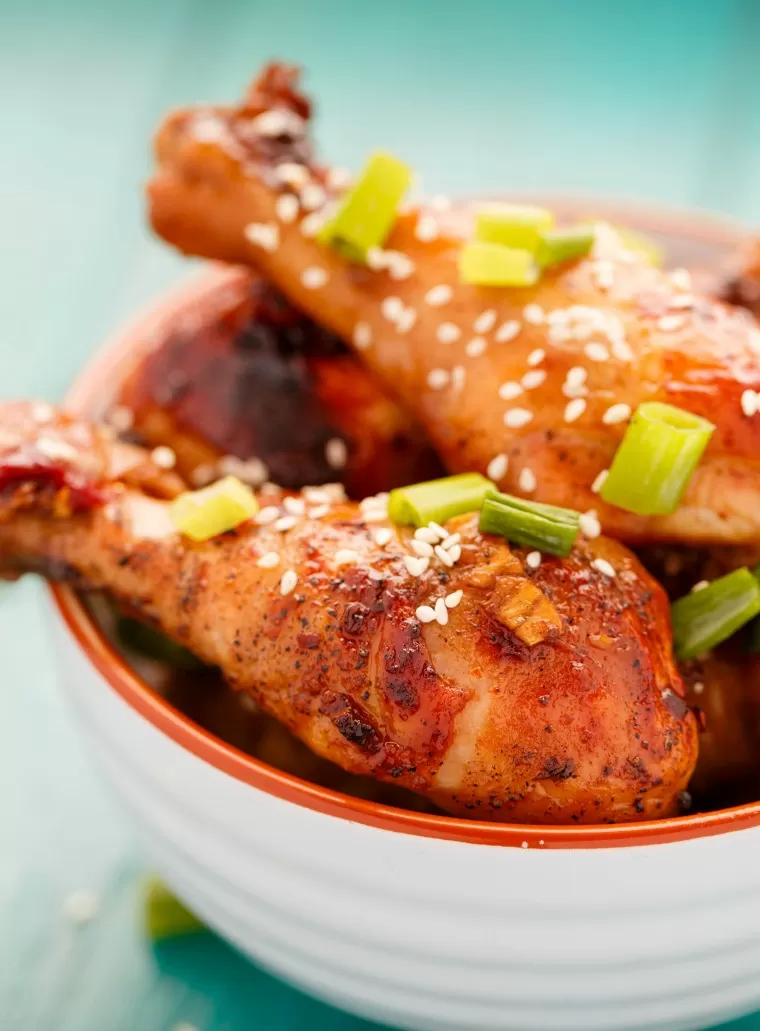 Besides chicken breasts drumsticks are also a great way to put your slow cooker to good use. It's basically giant chicken wings if you really think about it. Add an asian twist to it and you're good to go. Get the full recipe on Yellow Bliss Road. 
Rustic slow cooker chicken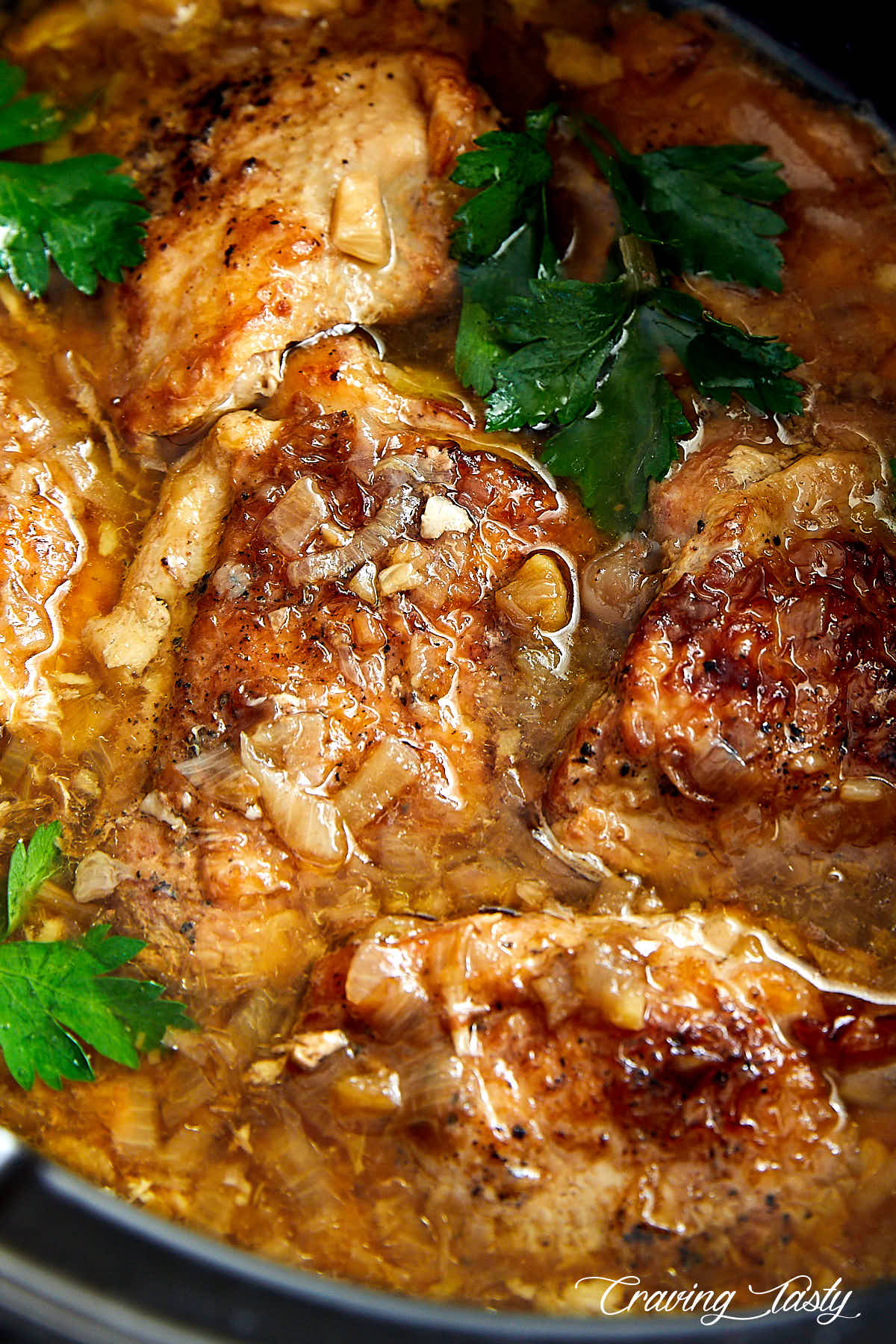 Via Craving Tasty
I don't know what it is about this rustic slow cooker chicken but I just had to feature it on the list. It looks like the taste would be out of this world. But I guess you can't really know until you try it. Get the recipe at Craving Tasty. 
Slow cooker cilantro lime chicken
Cilantro lime chicken is one of the tastiest things out there and you can combine it with lots of other things. Like a bed of veggies or plain white rice. Totally your call. 
Slow cooker creamy tuscan chicken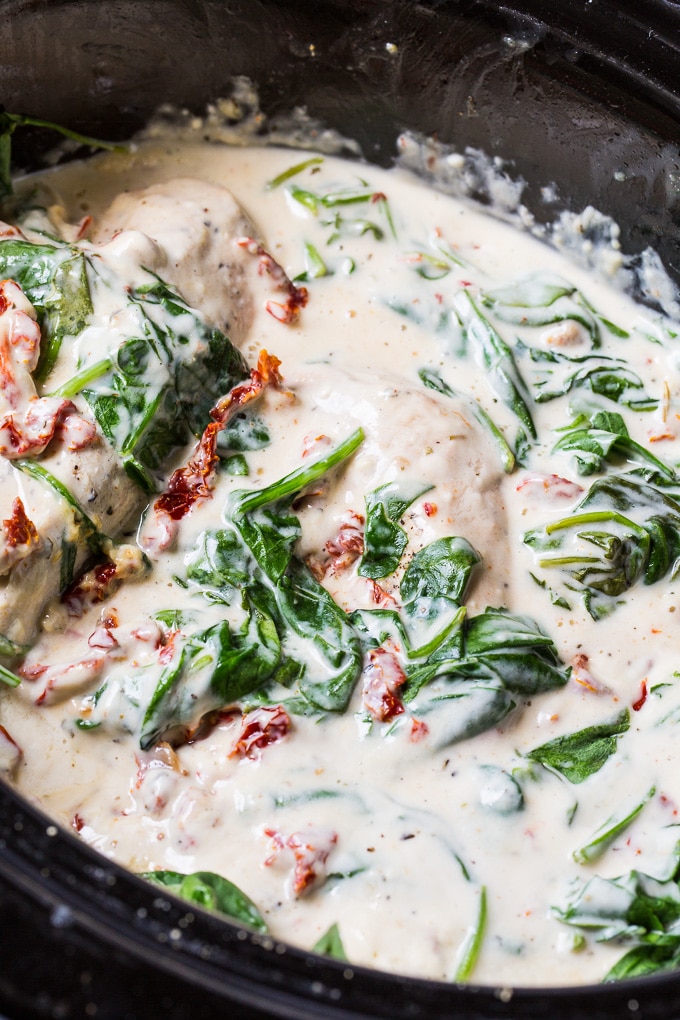 Tuscan chicken in your slow cooker is a must try. If you're looking for a cream based recipe that isn't try but hearty at the same time, then this recipe is worth your time. 
Slow cooker sweet potato chicken curry
If you're looking for healthier options then look no further than sweet potatoes and chicken curry to make your day just a tad healthier. Not to mention it can also be a really filling dish. 
Crockpot Chicken Tacos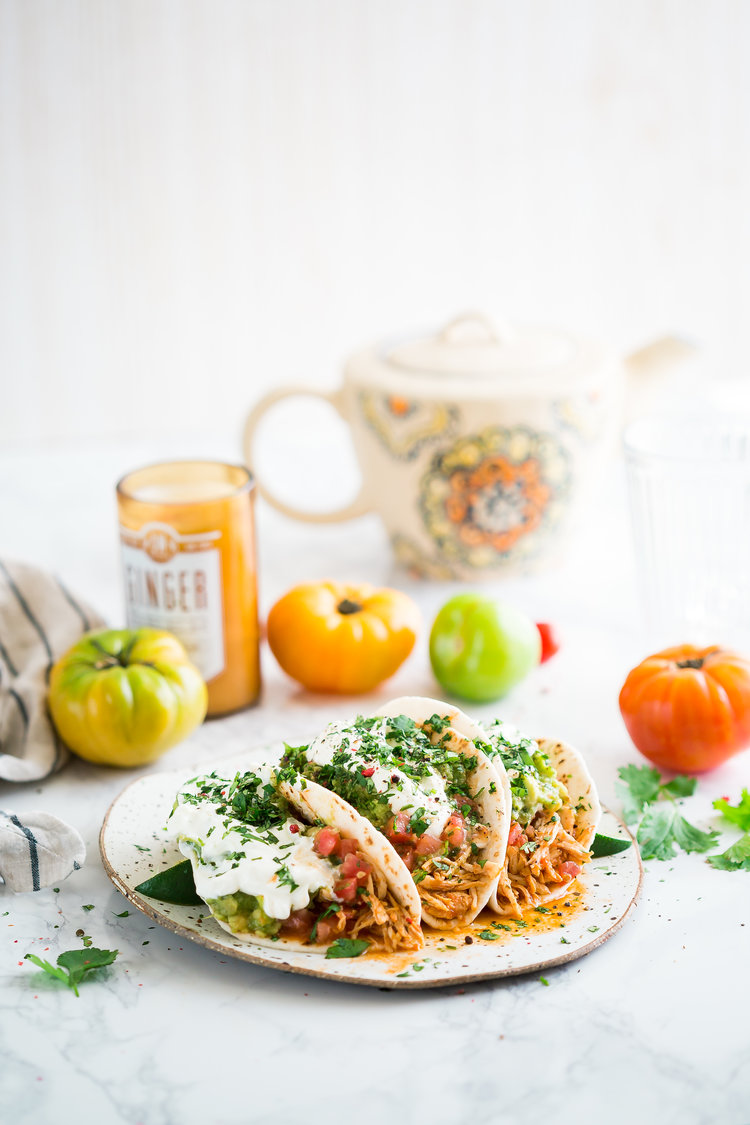 Via Brooke Lark
This list couldn't be complete without a good and tasty chicken taco recipe you can easily make at home with your slow cooker. You can garnish them to your liking and fix them up in no time. 
Slow cooker olive garden chicken gnocchi soup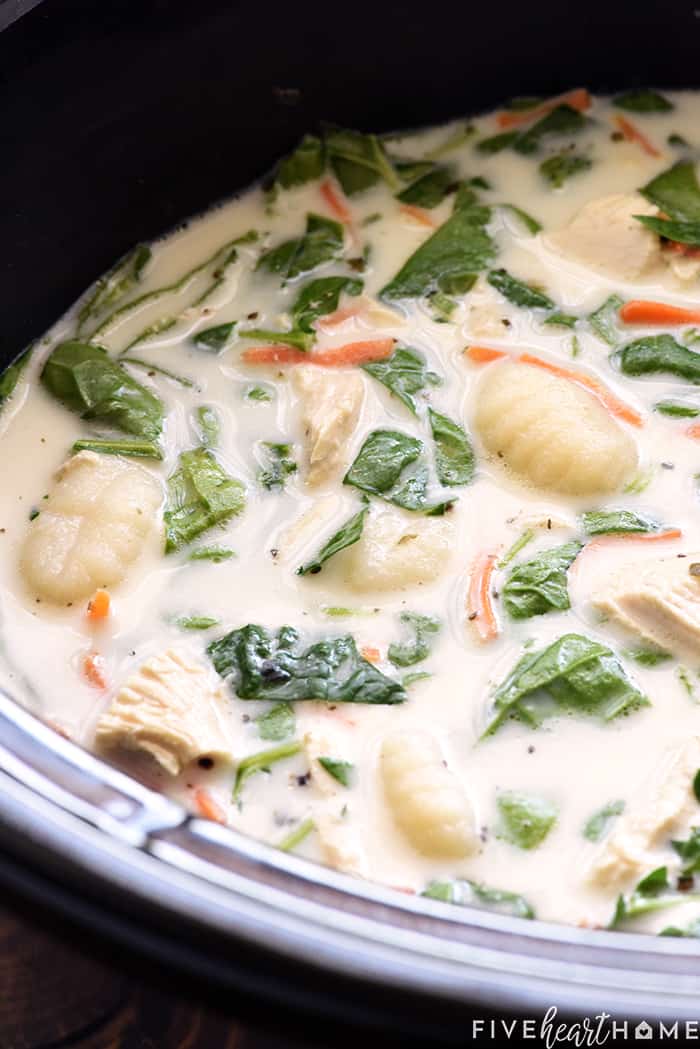 Via Five Heart Home
You don't have to go to Olive Garden to get the Olive Garden taste when you can do it at home with this gnocchi soup!
Slow cooker chicken enchilada soup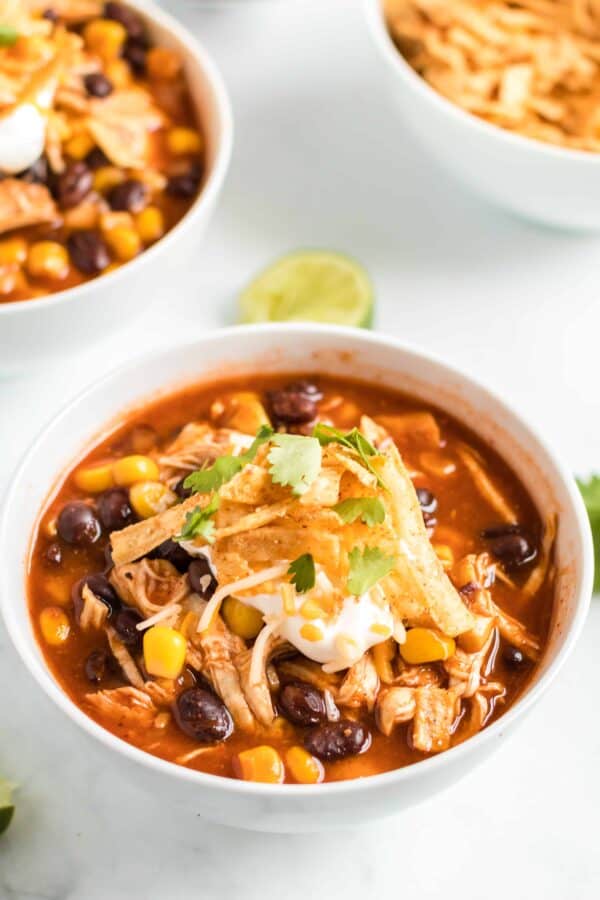 Via Shugary Sweets
A nice and warm soup can always make for a successful dinner and or lunch idea too. The best part about it is how hands off it can be and how delicious it can turn out. Sprinkle it with queso for good measure. 
Slow cooker rotisserie chicken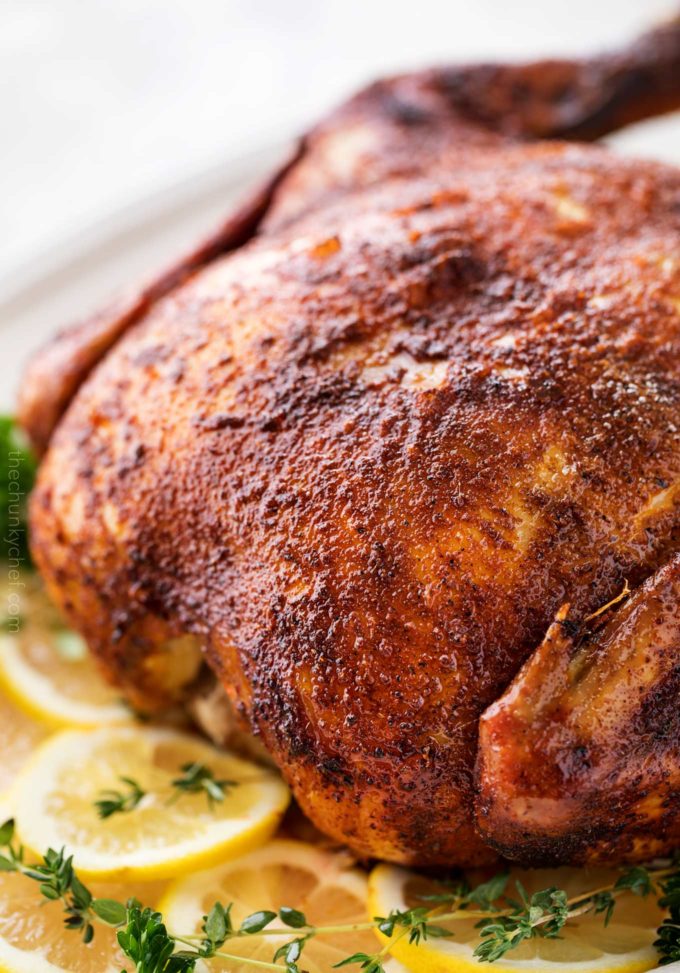 Via The Chunky Chef
Did you know you can also make a rotisserie chicken in your slow cooker? Yeah I had no idea either. But if you can make a rotisserie chicken in your slow cooker and it can look like this, I'll take the recipe any day! Get the full run down on The Chunky Chef.
Slow cooker crack chicken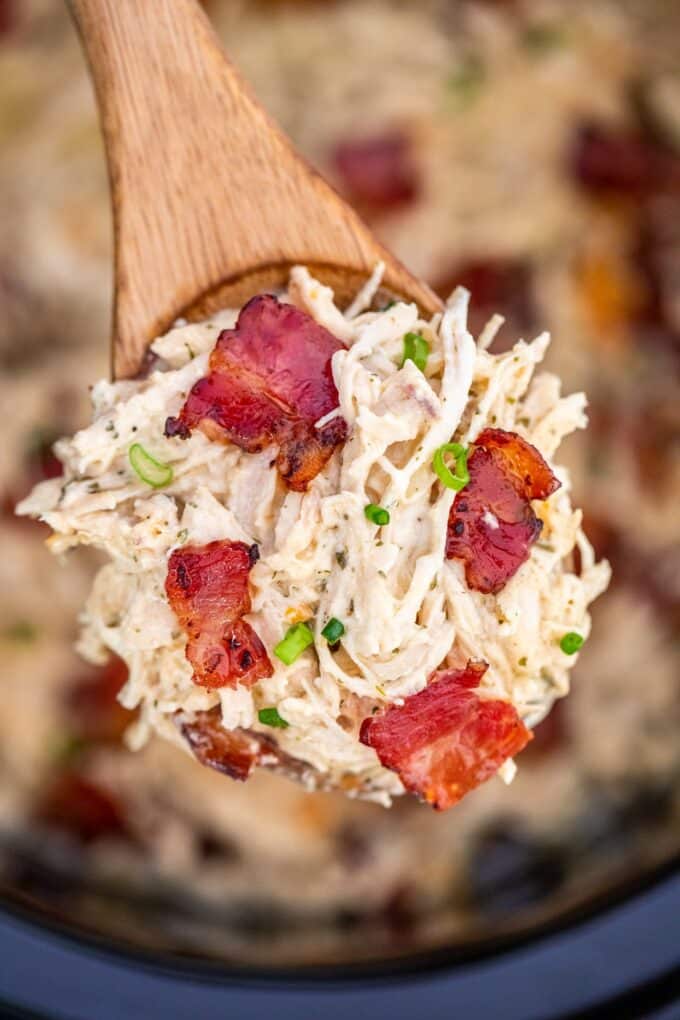 Crack chicken! It's a must try and the cool thing is you can do it with all kinds of meat, not only chicken. But if you're looking for cheap meal idea options then chicken is the way to go. 
Slow cooker pesto mozzarella chicken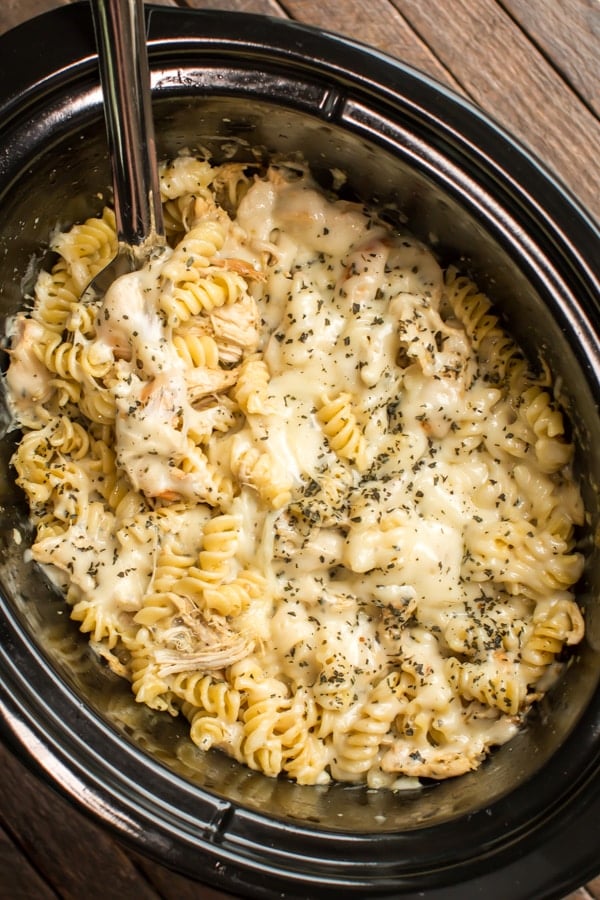 Probably one of the easiest meals to make in your slow cooker is a slow cooker mozzarella chicken. It makes for an incredibly easy meal idea you can make when you're short on time and short on cash. 
Skinny slow cooker kung pao chicken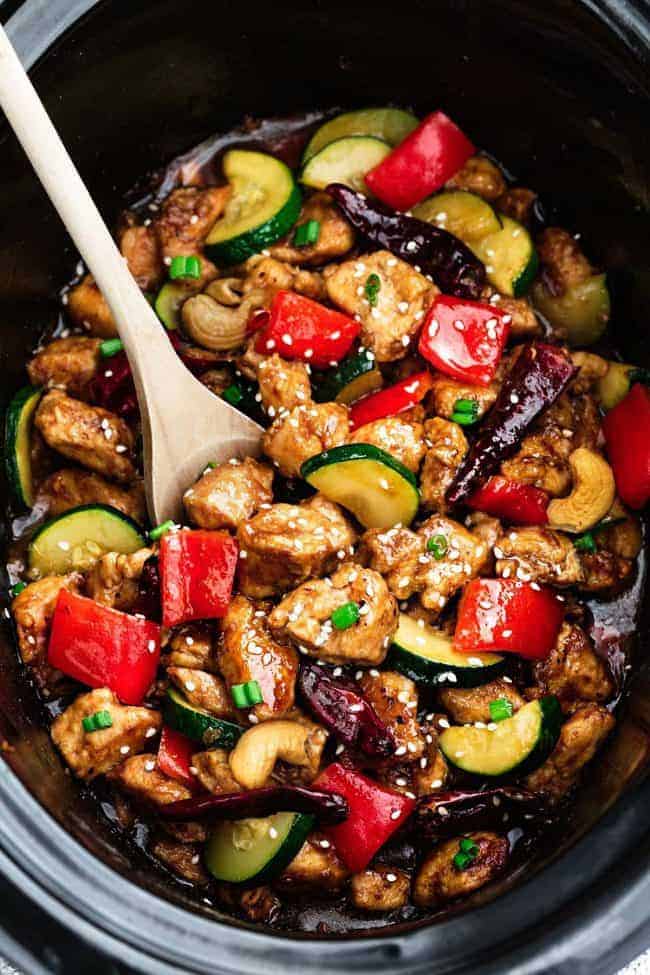 Did you know you can make kung pao chicken in a slow cooker? This was definitely news to me after finding this delicious recipe from The Recipe Critic. It's worth a try and great for meal prepping. 
Slow cooker gumbo
Gumbo is one of those delicious dishes you need to make at least once a month or really whenever you fancy a good old plate of goodness. Get the full recipe on Healthy Seasonal Recipes!
Crockpot chicken pot pie
Via Eazy Peazy Meals
Chicken pot pie is always a recipe you can try making, since you almost see it everywhere. It's definitely a recipe you can keep on the back burner if you're low on ingredients and want to make something quick. 
Slow cooker cilian chicken soup
Here's another version of the original chicken noodle soup you can try, a cilian chicken soup. It's also a great way to make sure you're getting your fair share of veggies for the day. 
Slow cooker parmesan chicken pasta
Via Eating On A Dime
If you're a pasta lover, but don't want to spend hours in the kitchen making food and cleaning a ton of dishes afterwards, just dump and go with this slow cooker parmesan chicken pasta. 
Slow cooker chicken enchilada quinoa
You can make your chicken enchiladas and eat them too with this healthy quinoa version of the traditional recipe. The cheesy top makes it enticing enough to want to make the recipe, like, right now!
Looking for more recipes? Check out some more below!
Best Flan Recipe: How To Make Mexican Flan With This Easy Flan Recipe!
45 Healthy Snacks Ideas to Lose Weight and Satisfy Your Cravings
10 Healthy Smoothie Recipes to Super Charge Your Day
The Beginner's Guide to Meal Prep
23 Easy Meal Prep Ideas For When You Don't Know What To Make
How To Make The Best Hot Chocolate: The Best Hot Chocolate Recipe With Cocoa Powder
Weekly Meal Plan: What To Make For Dinner Tonight And This Week
Authentic Guacamole Recipe- How To Make An Easy & Delicious Guacamole Dip
23 Healthy Snack Ideas For Work 23 Simple Dinner Ideas For Tonight
27 Quick Dinner Ideas You Can Make In 25 Minutes Or Less
Cheap And Easy Pasta Carbonara